H
ow important is the right weight loss diet plan for men? Believe it or not, but a it's almost certainly more important than a workout routine.
When I first began my weight loss struggle, I thought I could still eat Burger King so long as I took a jog every day.
When that didn't work, I switched to broccoli and chicken. When I got tired of that, I started a diet one of my friends gave me.
None of these methods worked for me.
After each failed attempt, I became less motivated and committed to try to lose weight again.
Why? Because NO ONE likes to fail. Especially when you're trying to get fit!
However, after the dozens of fad diets, and countless hours of research, I have discovered what makes a successful weight loss plan for men.
And here's the big secret: it's not magic, and it's not rocket science.
The best weight loss plan for men doesn't assume that you have multiple hours each day to spend at the gym, or still have the metabolism of a 25-year-old.
Instead, the program is specifically designed for aging men who are incredibly busy.
I personally swear by this program because it's a healthy, realistic balance of motivation, nutrition, and exercise.
If you fully commit to the program I've outlined below, this can be the last time you "try" to get fit.
This is your opportunity to claim your health back once and for all!
Keep reading for the best weight loss diet plan for men — a plan that will truly work for YOU!
Ready to make the rest of your life the best part of your life? Check out these top tips for losing weight after 40!
The Best Mindset for Weight Loss
There is a specific mindset that you must have to commit to a weight loss diet plan for men.
To understand this mindset, let's first recognize that there are many different situations that can cause or encourage us to be overweight.
Sickness or injury, the stress of your job or just life in general, can lead to unwanted weight gain.
While some of these scenarios — like illness or injury — can be unexpected, we MUST have a positive, determined mindset that can guide us back to health.
Here's where the top 5 reasons men lose motivation to lose weight comes in.
Our detailed account of the key motivators that men need to succeed at weight loss is detailed in the link above.
They include creating proper goals, defining your reason to lose weight, and developing good habits.
Overall, the mindset you need, to conquer a weight loss diet plan for men, is one of dedication, commitment, and positivity.
Before you work out, try saying the following things to yourself:
I WILL succeed if I work hard at this
My body WILL respond to training if I eat healthily
I WILL be satisfied with my body again if I fully commit to this program
Notice that in order for you to succeed, you must put in work.
Luckily, we have outlined below the best methods for you to put in this work to see the most success!
The Best Nutrition for Weight Loss
Any good weight loss diet plan for men includes a nutritional aspect.
But usually, these diets sound something like this:
Egg whites and oatmeal every morning — no exceptions.
Chicken, rice, and broccoli every noon and night — no exceptions.
Not only are these low-carb, repetitive diets boring, but they're hard to commit to, especially in the long-term.
Why on earth would you say yes to eating the same damn thing every day?
That's why we created the Fit Father 1-day meal plan, especially for guys like you.
In this free meal plan, you will see that our nutritional advice is practical and not time-consuming.
Even better, our recipes are delicious.
The thing is, weight-loss diets don't have to be monotonous and boring for them to work.
What they DO need to do is follow a principle we call "Perfect Plates."
Here's the simple formula:
1/2 of your plate should be any kind of vegetable
1/4 of your plate should be lean protein
1/4 of your plate should be healthy carbs
The best part? There are HUNDREDS of food combinations that you can create with this framework.
It's essential that you follow the guidelines in our 1-day meal plan because proper nutrition is the first step to losing weight.
As we say at the Fit Father Project: "You can't out-exercise a bad diet."
Here's A Free Weight Loss Meal Plan For Busy Men 40+
Discover exactly what to eat for breakfast, lunch, and dinner to lose belly fat & feel energized 24/7 without hard dieting...
The Best Exercises for Weight Loss
Speaking of exercise — you probably have a few questions.
What type of exercise should I be doing?
How long do I need to spend exercising each week?
Do I need a gym membership now?
The beauty of the Fit Father Project workouts is that they're designed with men over 40 in mind.
That means we understand your metabolism, how little time you have, how your body reacts to injury and stress, and how your hormone balances are changing as you age.
Our popular 24-min workout is the perfect introduction to proper weight loss workouts.
Here's A Free 24-Min Fat Burn Workout For Busy Men 40+
This powerful workout will reignite your metabolism to burn fat 24/7 like you did in your 20s…
This quick, fat-burning workout is designed to get you hooked on fitness again.
It will get your heart pumping and give you the benefits of a full workout in 24 short minutes.
This workout can be done anywhere from the gym, the park, to your living room.
There's no reason not to give it a try!
Here's How Busy Fathers Over 40 Are Finally Burning Stubborn Belly Fat & Getting Healthy Without Restrictive Diets or Time-Consuming Workouts
This proven "Fit Father Program" has helped 38,000 busy men 40+ lose weight, rebuild muscle, and finally keep the weight off.
If you're frustrated with stubborn belly fat, failed diets, and time-consuming workouts, this is the answer you've been looking for…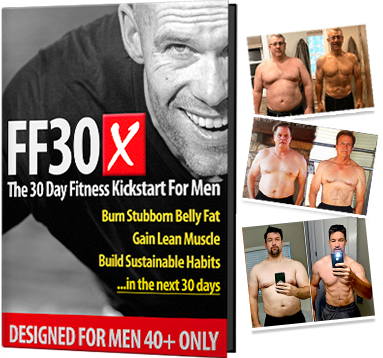 Join 38,000 guys in over 108 countries that are using FF30X to lose weight. You get everything you need to succeed – including:
The Fit Father Meal Plan – with simple & delicious recipes
Safe & Effective Workouts Program – only 90 min/week
VIP Accountability Coaching – our Fit Father Team will personally walk you to success, step-by-step.
LEARN MORE ABOUT FF30X >>
See the FF30X Program overview here. You'll discover how this proven Fit Father Program can help you lose weight and actually keep it off – without the complication and restriction of normal diets. »
*Please know that weight loss results & health changes/improvements vary from individual to individual; you may not achieve similar results. Always consult with your doctor before making health decisions. This is not medical advice – simply very well-researched info on the best weight loss diet plan for men.