I
t seems like everyone around us is looking into weight loss programs and trying to get fit. You hear so many friends and coworkers talking about their great experiences on fad diets and programs. Sometimes it seems like all people talk about.
If you could take a step back and listen to how you talk about fitness, what would you hear?
"I can't ever commit to a weight loss program."

"I just don't have the time for fitness."

"Dieting is too expensive."

If these quotes sound anything like you, it may be time to evaluate why you think this way. When we talk to and about ourselves, negative phrases like "I can't" truly do impact our mental state.
Negative thoughts and words find their way into our actions, and can actually prevent us from making progress.

In this age of social media and constant comparison, it's extremely important to focus instead on positive self-talk.
We're here to show you how you can transform your life through positive self-talk and proper motivation! Read on to see our favorite mantras for staying fit and pushing through your personal barriers.
Positive Self-Talk 101
Here's a quick quiz that will show you how your self-confidence scores:
How many times have you thought positively about yourself today? How many times have you criticized yourself?


Typically, it's easier to see our shortcomings than it is our strengths. It's so easy to compare ourselves to friends, co-workers, and celebrities and wonder why our waistlines don't look like theirs.
But what most people don't realize is: the way you think and talk about yourself seriously impacts your life.
Self-defeating thoughts like "I'm not good enough for a raise" or "I'm not attractive enough for my partner" or "I'll never lose these extra 20 pounds" create barriers in our minds.
The way you speak to yourself shapes your confidence and mood in addition to determining whether or not you achieve your goals.

If you find a way to stimulate yourself with positive self-talk that relates to your goals in life, you will be able to manifest the success that you want.
Creating Success
Okay, so you might be thinking, "All I need to do to find success is talk nicely to myself? Give me a break."
While positive self-talk sounds like such a simple, even silly idea at times, there are concrete ways that you can integrate it into your life.
Find Gratefulness
Finding reasons to be grateful for the life you already have will inspire lots of positive self-talk. Think about the things in your life that are simple but meaningful, things that you often forget about in day-to-day life.
It could be how your spouse always makes you a cup of coffee in the morning, or your child always wants one more bedtime story before lights out, or even the beautiful trees you drive past every morning to work. Taking time to appreciate the small things in life that make you happy will help you to become more grateful and at peace.
Guard Your Peace
This piece of advice may sound a little harsh, but it's important. As adults, it's important to hold tightly to the people and things that bring you peace and cast aside those that bring you unhappiness.


This may mean drifting away from caustic friendships or removing harmful parts of your routine (like checking social media daily). When you surround yourself with people and things that make you feel happy, your self-talk will become more positive.
Set Goals
Setting goals can sound intimidating, but it's really just the first step to success! Good things don't happen to those who wait – they happen to those who plan for them.

Sit down with your spouse or with a friend to discuss what you liked and didn't like about the past year. Find tangible ways that you can change it, and schedule check ins to hold yourself accountable.
Weight Loss Motivational Quotes
Do you still need more inspiration for your positive self-talk? Here are some of our favorite weight loss motivational quotes that may inspire you to kick your life into high gear.
Slow and Steady Wins the Race
When you're working on your diet and fitness, it's important to conquer one part of your routine before moving on to the next. If you try to change too much all at once, you may become so frustrated that you give up.
If You're Tired of Starting Over,

Stop Giving Up
Resilience is a trait that will keep you going when you want to give up. By focusing on the positive, you will be able to conquer your goals.
It's Not a Diet, It's a Lifestyle Change
This is important. Any fitness plan or diet is part of a lifestyle that you must adopt in order to be successful. You cannot eat junk food but go to the gym regularly and expect to have an amazing body. You must commit to the lifestyle.
Just Do It
What more can we say? If you've made it all the way through this article, you are ready to move forward with positive self-talk and with the confidence that you can tackle the road ahead.
If you need someone to set goals with and to help motivate you, learn how the Fit Father Project can help you with your goals.
FF30X is our most popular program that provides meal planning and exercise plans for the on-the-go father. You'll also meet a group of dads just like yourself who are in the program daily.
What are you waiting for? All you need to do is take the first step.
Here's How Busy Guys 40+ Are Finally Losing Weight…
If you're in your 40s, 50s, & 60s, you need to eat and exercise differently to lose weight & actually keep it off…
Your friend in health,

Here's How Busy Fathers Over 40 Are Finally Burning Stubborn Belly Fat & Getting Healthy Without Restrictive Diets or Time-Consuming Workouts
This proven "Fit Father Program" has helped 25,000 busy men 40+ lose weight, rebuild muscle, and finally keep the weight off.
If you're frustrated with stubborn belly fat, failed diets, and time-consuming workouts, this is the answer you've been looking for…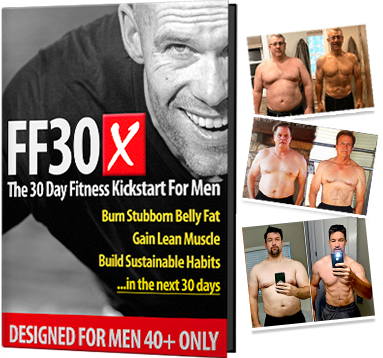 Join 22,000 guys in over 98 countries are using FF30X to lose weight. You get everything you need to succeed – including:
The Fit Father Meal Plan – with simple & delicious recipes
Safe & Effective Workouts Program – only 90 min/week
VIP Accountability Coaching – our Fit Father Team will personally walk you to success, step-by-step.
LEARN MORE ABOUT FF30X >>
See the FF30X Program overview here. You'll discover how this proven Fit Father Program can help you lose weight and actually keep it off – without the complication and restriction of normal diets. »
*Please know that weight loss results & health changes/improvements vary from individual to individual; you may not achieve similar results. Always consult with your doctor before making health decisions. This is not medical advice – simply very well-researched info and weight loss motivational quotes.