Y
ou've probably heard about numerous weight loss philosophies, and may be confused as to which is the best strategy for losing weight over 40.
It's true that metabolism decreases with age, but weight loss is still within reach!
Distinguishing between myth and fact when it comes to shedding pounds helps you achieve weight loss success, regardless of your age.
Myth #1:

You Have to Count Calories to Lose Weight



Counting calories is one way of losing weight over 40 — but it can be tedious and time-consuming, or make you want to give up on dieting altogether. Many men over 40 need about 1,500 to 1,800 calories a day to get the excess weight off, according to the National Heart, Lung, and Blood Institute.
If you'd like to track calories initially to see where your starting point is, that's perfectly okay!
The U.S. Department of Agriculture provides a food composition database with corresponding calorie content and nutrition information for all of your favorite foods.
Using a food journal to track what you eat is beneficial when calorie counting is your goal.
However, you don't have to count calories to shed pounds.


Try reducing your current intake by 500 to 1,000 calories a day to lose 1 to 2 pounds per week, or simply divide each meal plate into sections.
Separate your plate using the following healthy eating strategy:
Fill 1/2 of your plate with vegetables (plus some fruits if you'd like)
Fill 1/4 of your plate with protein foods (lean meats, grilled chicken, fish, tofu, eggs, peas, dried beans, etc.)
Fill 1/4 of your plate with fiber-rich starches (quinoa, brown rice, oatmeal, or sweet potatoes)
Don't forget to include healthy fats (oils, olives, nuts, seeds, nut butter, or avocados)
If you divide your plate properly and you're still not losing weight, decrease the portion sizes.
>>Download our free meal plan to make the process easier. <<<
Here's A Free Weight Loss Meal Plan For Busy Men 40+
Discover exactly what to eat for breakfast, lunch, and dinner to lose belly fat & feel energized 24/7 without hard dieting...
Myth #2:

If You Eat Carbohydrates, You Won't Lose Weight
It's true that eating too many unhealthy carbs can hinder weight loss.
However, high-fiber, carb-rich foods can give you the energy needed to stay physically active throughout the day and get in regular workouts.
Limiting carbohydrates is okay and effective for losing weight over 40, but the carbohydrate recommended dietary allowance (RDA) is 130 grams per day for adults.
When choosing carbohydrates to add to weight loss menus, select carbs rich in fiber, protein, or both.
Examples of healthy carbs include:
Brown rice
Wild rice
Quinoa
Oatmeal
Sweet potatoes
Peas
Dried beans
Other vegetables
Plain yogurt
Low-fat milk
Fruits
Nuts
Seeds
Carbohydrates to steer clear of (due to added sugar or low fiber content) during weight loss are:
Sugary drinks (sodas, sweet tea, and juices)
Candy
Ice cream
Other desserts
Baked goods
White bread
White rice
Sauces, dressings, and dips containing added sugar
Sports drinks containing added sugar
Cutting your intake of unhealthy carbs reduces your overall calorie intake, which enhances weight loss and is an absolute must for losing weight over 40.
Myth #3:

Low-Fat Diets Work Best for Losing Weight Over 40
Low-fat diets were once popular for weight loss, as dietary fat provides 9 calories per gram and carbohydrates and protein contain just 4 calories per gram.
However, going low-fat isn't necessarily the best way to drop weight over 40.
A 2018 study published in the Journal of the American Medical Association found that after a period of 12 months, low-carb dieters lost slightly more weight than low-fat dieters.
So while low-fat diets can help you cut calories to shed pounds, low-carb diets are equally (if not more so) effective.
Because dietary fat boosts satiety, aids in vitamin absorption, and is necessary to keep your hair, nails, skin, and brain (especially omega-3 fatty acids) healthy, you may want to think twice about choosing a low-fat diet for losing weight over 40.
Myth #4:

Weight Loss after 40 Isn't Possible
Metabolism does decrease with age. The American Council on Exercise (ACE) says daily energy expenditure decreases by about 150 calories per decade after age 20, and reductions in metabolism appear to happen most rapidly in men over age 40.
This is due to changes associated with age and decreases in muscle mass.
However, your metabolism doesn't determine whether or not you can effectively drop weight. If you continuously burn more calories than you eat daily, you can shed pounds at any age — even after 40.
Some ways to boost daily calorie expenditure after 40 include:
Walk or bike to work instead of driving
Take the stairs instead of the elevator
Use a sit-stand desk at work
Make regular yard work a habit
Lift weights most days of the week
Complete at least 30 minutes of aerobic exercise most of the week
Clean the house regularly to burn extra calories
Practice sports training with your kids
Stand vs. sit whenever possible
Increasing the calories you burn daily makes up for decreases in metabolism associated with age, which means losing weight over 40 is not only possible — it can be easy and fun!
Myth #5:

Resistance Training Isn't Important for Losing Weight Over 40
Weight training isn't necessarily the most important part of losing weight over 40, but adding it to your regular routine helps you maintain (or even gain) lean body mass when shedding pounds.
This is important for several reasons, including:
Increased muscle mass from resistance training helps your body burn extra calories throughout the entire day
Maintaining lean body mass enhances weight loss, and improves muscle definition
Resistance training improves strength in men over 40, and prevents loss of muscle associated with aging
A 2017 study published in Advances in Nutrition found that both endurance and resistance training exercises prevent lean body mass loss associated with weight loss.
Researchers say reducing calories combined with increased resistance exercise prevents muscle loss and improves strength in people who are overweight.
With improved strength comes increased energy, which helps you stay active throughout the entire day. You don't even have to lift weights to reap the benefits of muscle and strength gains.
Using your own body weight (pushups, planks, lunges, and squats, for example) does the trick!
Myth #6:

Switching to Diet Drinks Works Well for Weight Loss



Diet sodas and other artificially-sweetened drinks may be low in calories or even calorie-free, but that doesn't mean these beverages work well for weight loss.
In fact, the opposite may be true, when comparing diet drinks to water for losing weight over 40.
One 2014 study published in the American Journal of Public Health found that obese and overweight adults drink more diet drinks than normal-weight adults.
Researchers found that diet beverage drinkers consume total calorie intakes similar to overweight adults who drink sugar-sweetened beverages (such as regular sodas). This might be due to:
Sweet-tasting diet drinks (even those that are calorie-free) may enhance cravings for high-calorie, sugary foods
Overweight adults trying to shed pounds with diet drinks may have additional unhealthy eating habits
Researchers who conducted the study in the American Journal of Public Health say overweight adults who drink diet beverages must reduce their intake of solid-food calories to effectively shed pounds.
If sweet-tasting diet drinks cause increases in sugar cravings for you, it's probably best to switch to water (or low-sugar protein drinks that boost satiety).
Myth #7:

Cheat Days Hinder Weight Loss
Eating too much junk food does hinder weight loss, but that doesn't mean you can't enjoy some of your favorite foods while losing weight over 40. In fact, alternating periods of strict dieting with more liberal menus might be more effective for weight loss.
That's because allowing yourself cheat days is a form of dieting that's often easier to stick with long term.
A 2018 study published in the International Journal of Obesity found that obese men who alternated between periods of calorie restriction and days off (intermittent energy restriction) lost more weight and body fat than obese men who restricted calories every single day.
Researchers say this may be due to reductions in slower metabolisms associated with calorie restriction.
So while energy reduction is important for losing weight over 40, taking "cheat days" off may help enhance weight loss — as long as you don't splurge and eat more calories than you burn off.
Myth #8:

You Have to Hit the Gym Daily to Shed Pounds
Regular exercise helps you get the lean body you're striving for, but you don't have to hit the gym daily or complete grueling sweat sessions to shed pounds.
Diet is most important when it comes to weight loss, but combining diet with exercise does give you an advantage.
The reason dieting appears to be the biggest predictor of weight loss success is because it's often easier to cut calories than to burn off extra calories.
For example, by replacing three regular cans of soda with water, you'll reduce your intake by almost 500 calories per day.
This can lead to a weight loss rate of about 1 pound per week!
In comparison, burning an extra 500 calories daily means you may have to walk at a pace of 4 miles per hour for 60 minutes (or more, depending on your initial body weight).
While exercise isn't required for losing weight over 40, it certainly makes weight loss easier. And, regular workout sessions help give you the slim, lean body you deserve.
Myth #9:

The Older You Get, the Harder it is to Shed Pounds
While it appears that U.S. men ages 40 to 59 have some of the highest obesity rates in the nation (almost 41 % of U.S. men in this age category are classified as obese), obesity prevalence in men and women appears to decline around age 60.
This could be due to decreases in muscle mass, fluctuations in hormones or metabolism, or something else.
Even U.S. men ages 20 to 39 have high obesity rates of almost 35 %, which isn't much lower than the obesity prevalence of men over 40.
So while you may have a slight disadvantage if you want to shed pounds over 40, it can still be done with ease when using the right diet and exercise program.
How to Begin a Weight Loss Journey
With so much contradictory weight loss advice available online, it can be overwhelming trying to figure out where to begin.
Fit Father Project has a weight loss program specifically designed for busy men over 40 trying to get rid of excess body weight and keep lost weight off for good.
>>>Download our free meal plan to get started<<<
Here's A Free Weight Loss Meal Plan For Busy Men 40+
Discover exactly what to eat for breakfast, lunch, and dinner to lose belly fat & feel energized 24/7 without hard dieting...
Coming up with your own weight loss diet and exercise routine is certainly feasible, but signing up for an organized program gets you headed in the right direction by:
Saving you time planning meals and workouts
Offering coaching and social support to keep you accountable long term
Providing a proven way to achieve the lean body you deserve
Don't fall for myths related to losing weight over 40, or get discouraged if the weight doesn't come off right away. Weight loss is possible regardless of how old you are, and is simple when using the Fit Father Project!

Here's How Busy Fathers Over 40 Are Finally Burning Stubborn Belly Fat & Getting Healthy Without Restrictive Diets or Time-Consuming Workouts
This proven "Fit Father Program" has helped 25,000 busy men 40+ lose weight, rebuild muscle, and finally keep the weight off.
If you're frustrated with stubborn belly fat, failed diets, and time-consuming workouts, this is the answer you've been looking for…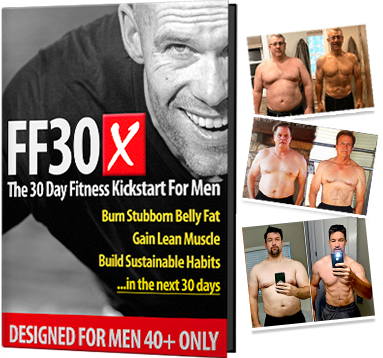 Join 22,000 guys in over 98 countries are using FF30X to lose weight. You get everything you need to succeed – including:
The Fit Father Meal Plan – with simple & delicious recipes
Safe & Effective Workouts Program – only 90 min/week
VIP Accountability Coaching – our Fit Father Team will personally walk you to success, step-by-step.
LEARN MORE ABOUT FF30X >>
See the FF30X Program overview here. You'll discover how this proven Fit Father Program can help you lose weight and actually keep it off – without the complication and restriction of normal diets. »
*Please know that weight loss results & health changes/improvements vary from individual to individual; you may not achieve similar results. Always consult with your doctor before making health decisions. This is not medical advice – simply very well-researched info on losing weight over 40.