I
f you're serious about losing weight then you probably want to adopt a
weight loss program for men
that really works. A weight loss program for men means more than just lifting a few weights or cutting back on your food intake.
To successfully lose weight and keep it off you need to seriously review the way you are currently eating, and switch to a healthy eating plan.
Remember, you should be focusing on developing healthy eating habits for life. This will ensure the weight stays off. A diet is seen as a short-term thing. Once you stop, the weight is likely to go back on. If you're wondering how to get started on this then you can take a look at our free 1-day meal plan if you haven't already.
Of course, exercise must also play a part in your weight loss program for men. Exercise boosts your metabolic rate and allows you to burn more calories. A great place to start is with our free workout program.
In conjunction with eating less than your maintenance calories, you'll find that results of 2 pound per week are realistic. Just ask the members of the Fit Father project who've already achieved this goal. You can emulate their success and get the support you need by joining FF30X today.
Top Tip: Taking it slow is the more sustainable approach. You can lose 30 pounds in just 15 weeks and keep it off by focusing on a small goal each week.
Why A Weight Loss Program Is Important
A weight loss program for men must take into account your current lifestyle. For example, if you currently work a 12-hour shift, you may struggle to eat six small meals a day.
That's why you need a weight loss plan for men that offers an achievable schedule and proven results.
But that's only part of it.
A weight loss program for men will give you a schedule and targets; these make you accountable and motivated; helping to ensure you actually stick to a healthy eating plan and your exercise routine. Without a plan, it is easy to skip exercise sessions and cheat on your eating habits; ruining your potential gains.
To really make sure your weight loss plan for men is successful you need to ensure you are accountable. This means signing up to FF30X and reporting in with your results. You'll find the support of other men invaluable.
What To Look For In A Weight Loss Program For Men
A good weight loss program for men will focus on several things before you even get to exercise. There are 7 key steps you need to take to transform your life, lose weight and improve your health. There is no set timescale for these; you'll need to do it at the pace that suits you:
Visualize
You need to visualize what you want to be in order to reach that goal. This is the method that Arnie used to become a legendary bodybuilder. It will work for you too.
Eat Right
You must eat healthily in order to lose weight and improve your health. This means cutting out processed foods, eating more whole grains and balancing your carbohydrates, proteins and vegetables.
Get Physical
Every weight loss program for men needs to involve exercise. Ideally you should start with anything that involves movement; even walking. You can then progress to more formal exercise, such as gym sessions, our old school muscle program or running regularly.
Variety
The trick to committing to and sticking with a healthier lifestyle is to vary your exercise routine and your eating habits. If you don't, you'll end up bored and are likely to stop doing it.
Sleep
Your body recovers from the stress of the day when you sleep, which balances your hormones and repairs your muscles.
You need between 6 and 8 hours sleep a night for your body to do this properly. It's an essential part of any weight loss program for men.
Hydration
Roughly 60% of you is water. It is essential for the proper functioning of your cells. Water allows nutrients to move around your body, removes toxins, and keeps your body working to the best of its ability.
Drinking approximately eight 8oz glasses of water a day will help you to stay hydrated.
Log It
Finally a good weight loss program for men will want you to log your results and efforts. This can be in the form of a daily journal or you can make yourself accountable by telling the other members of the FF30X how you've done each week.
The log should help to motivate you and illustrate where you struggle. You can then adjust your schedule to overcome these issues.
Why You Should Choose the Fit Father Project
The proof of any weight loss program for men is not in the credentials of the plan's author. It is actually in the success rate.
That's why you need to consider adopting the Fit Father Weight Loss Program. There are thousands of members who are already satisfied with the results of their plan, and they will all help you to achieve your own goal.
Remember: A good weight loss program for men will change your lifestyle habits to ensure you can achieve and maintain your weight loss goals.
However, it is worth taking a look at the credentials of anyone who is devising your weight loss program. After all, this is such a competitive and relatively unregulated market that nearly anyone can offer advice.
That's where the FF30X from the Fit Father Project is different. The project was founded by Dr. Anthony Balduzzi to help men stay healthy and be there for their children. As a direct result of the loss of his father as a young child, Dr. Anthony dedicated his life to discovering everything he could about health and fitness.
This led to him attending the University of Pennsylvania, participating in bodybuilding competitions and learning all about psychology, nutrition, and neuroscience. He gained his doctorate in naturopathy in 2016 and continued to study nutrition and health in all its forms.
In short, his commitment to health has led to the creation of the Fit Father Project and helping thousands of men lose weight and improve their health.
You can join these men and achieve your goals by joining the FF30X weight loss program for men today. Start the next step of your journey today and become the man you want to be.
THE 30-Day Health Program for Men 40+
Fit Father 30X is the world's first sustainable weight loss plan for fathers.
Get yourself back into great shape - at any age the Fit Father way.
Your new friend & health coach,
Stuart Carter
Head Training Staff, The Fit Father Project
Brotherhood Nickname: "The Fit Brit"
Bragging Rights: 16 Years in the fitness industry, Author of 'The Easy Fitness Guide', Father of 4 boys and Husband to a Venezuelan beauty.
If you're interested in a proven and completely laid out "done-for-you" weight loss meal plan & workout routine – designed for you as a busy man…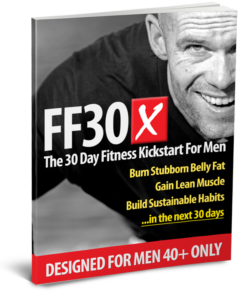 I'd recommend you read the program overview letter for our Fit Father 30-Day Program (FF30X).
Inside FF30X, you'll receive:
The simple & delicious Fit Father Meal Plan
The metabolism boosting Fit Father 30X Workout (under 90 min/week)
VIP email coaching where I'll personally walk you through the program
Read the FF30X Program overview letter here to see how our plan can help you lose weight – without the complication & restriction of normal diets.
*Please know that weight loss results & health changes/improvements vary from individual to individual; you may not achieve similar results. Always consult with your doctor before making health decisions. This is not medical advice – simply very well-researched info weight loss program for men.