P
rotein is a macronutrient that must be consumed in large amounts by everyone. If you are working out regularly, and have goals to put on muscle or lose weight, you should probably be taking supplemental protein powder to get all the protein your body needs.
Selecting a protein powder can be a confusing process as there are so many different options and factors to consider. Weighing your alternatives depends entirely on your personal situation.
If you're looking to use protein powder for weight loss, it is especially important to pay attention to the label and make an informed decision.
Shopping for a Weight Loss Protein Powder: Things to Consider
There are several things to keep in mind when shopping for a weight loss protein powder. Out of the enormous variety available, the two most prevalent are whey and casein.
Tons of new products have the hit market in the past decade, so if it's been a while for you, it may be a good idea to shop around to see what's available.
Your Personal Goals
When making your selection consider your own personal goals and preferences, even if you know you're looking for a weight loss protein powder.
Almost any protein powder can be labeled as a weight loss protein powder, but not all of them are effective at helping you lose weight.

A muscle-building diet plan is obviously different than a weight loss diet plan. Since most protein powders were created with muscle building in mind, it's very important to check the nutritional information.

Plan everything out if you want to use a weight loss protein powder as a meal replacement. Write down the number of calories you intend to consume, then decide how many of those calories you want to come from protein sources.
Check the label to see how many calories you'll be replacing with a protein shake. Set a specific calorie limit based on your needs and stick to it.
It may be helpful to set aside one day each week to portion out all of the ingredients. Place them in individual bags and put them in the freezer to easily grab when you're ready for something to eat.
You'll be much more likely to create a properly portioned shake if you plan it out and know exactly how many calories you'll be consuming from each of the macronutrients. Plus, you'll waste less produce this way and be able to cut bananas in half for a more suitable weight loss serving.
Here's A Free Weight Loss Meal Plan For Busy Men 40+
Discover exactly what to eat for breakfast, lunch, and dinner to lose belly fat & feel energized 24/7 without hard dieting...
Amount of Sugar
Protein powders are notorious for having high amounts of sugar. Make sure to check the label before buying it. Anything more than a gram or two of sugar should be ignored if your goal is weight loss.
While it can be difficult to find a completely sugar free protein powder, they do exist.
NAKED, Legion Athletics, and Garden of Life, all make a completely sugar free, grass-fed whey protein that's low in carbs. Choosing a brand depends on a number of factors, including price and taste preferences.
Digestive Enzymes
Large amounts of protein can wreak havoc on your digestive system. Many people who begin taking protein powders will experience symptoms such as constipation or diarrhea.
To prevent these issues, some companies have included digestive enzymes such as lactase and Aminogen in their protein products. Although these enzymes will make your protein more expensive, the prevention of digestive distress may be worth it.
Calories
While you don't want to drink a disgusting shake, you also don't want to be adding a ton of empty calories into your diet. Protein supplements are a great way to ensure that you hit all of your necessary macronutrient levels for the day.
Sugar isn't the only thing to watch out for. Checking the calories per serving and calories from protein is the best way to ensure you're not overdoing it.
Ethics
Whey and casein protein are dairy products, and because of this, there may be ethical considerations to think about. Unfortunately, the more refined a product is, the more disconnected it is from the chain of custody.
Look for grass-fed or pasture-raised on the label or choose one of the plant-based alternatives listed below. Grass-fed and pasture-raised animals are not just happier animals, but their products also contain higher amounts of vitamins, nutrients, micro-nutrients, and other essential substances.
What is the Best
Protein Powder for 
Weight Loss?
Whey Protein
Whey is known as the best protein powder because of its high biological value. Whey protein powder is made up of a wide of range amino acids and contains more branched-chain amino acids than any other source of protein.
Whey is a liquid byproduct that comes from making cheese. It can be made from many different types of cheese, most commonly coming from cows and goats.
Whey is very easily consumed by your body. It only takes 20 minutes or so after drinking whey for your blood to reach peak levels of amino acids.

Because of its popularity, there are many different whey products available. Whey is one of the best choices when it comes to a weight loss protein powder, provided you're following a diet and staying active on a regular basis.
Casein Protein  
Also a byproduct of cheese, casein protein is a thicker, meatier substance than whey. Casein is very similar to cottage cheese.
Both whey and casein provide your body with all of the amino acids that it needs to build muscle mass. The difference between these types of protein is how quickly they digest. Your body digests whey very quickly.
Casein takes a much longer time to digest. After drinking a casein protein shake, your body will slowly digest the material, taking as long as 3-4 hours to reach peak availability. 


Casein is good to take before bed so that your body can continue to synthesize protein throughout your sleep.
Casein also improves and extends satiety, one of the biggest reasons some people recommend casein over whey as a weight loss protein powder.
Like many things in health science, there is conflicting evidence for both sides of the story.
Deciding on the best weight loss protein powder depends entirely on your situation. If you're more active, it may be beneficial to include multiple types of protein.
If you're eating a healthy diet and working your tail off in the gym, you could stand to benefit from purchasing 3-4 different types of protein powders.
It also depends on what you're doing that day. If your plan is to hike 15 miles, and a protein shake is all you're going to eat for breakfast, you might want to load up on the casein and whey. If you're on the way to the gym, you can ignore the casein and go with the whey.
People with lactose intolerance will need to avoid both whey and casein protein, but there may be a few products that can help. Eggs are another good alternative in this case.
Dietary Alternatives
Since whey and casein are both dairy-based, people who are vegan or lactose intolerant will not be able to consume them. There are alternative types of protein that people with these dietary restrictions can have.
Egg white protein is a great choice for people who are lactose intolerant, but you may find it cheaper to just simply eat eggs.
Soy protein powder is an option for people who do not want to consume any animal products at all.
A 2011 study conducted a study on obese patients using whey and soy protein for weight loss. Researchers found the waistline of the patients using whey protein powder was smaller than the patients using soy protein powder.
Some people may also have bad reactions to an excess of soy, so it's a good idea to keep an eye on how it affects you and moderate the consumption if necessary.
Vegan Weight Loss Protein Powders 
Proteins are complex molecules that are comprised of complicated amino acid chains, and they are absolutely imperative to the functioning of the human body. Without complete protein, optimum health is impossible.


Not everyone wants to eat animals in order to fulfill a dietary need, and some people just want to limit their animal consumption. If done with care, a vegetarian or vegan diet can provide the essential amino acids and enzymes needed for a healthy body.
Taking the time to put the right combination of plant proteins can be complicated and time-consuming, but it's necessary for anyone on a vegan or vegetarian diet. Protein powder is a great way to get the job done.
Fortunately, there are a number of easy-to-use plant-based protein powders that pack a powerful protein punch. These alternatives may also be helpful for those of you who are lactose intolerant.
Pumpkin Seed Protein Powder
Saying it may tangle your tongue, but protein powder prepared from pumpkin seed is one of the best and most complete sources of non-animal protein.
Pumpkin seeds are a true superfood containing all 18 amino acids.
Pea Protein Powder
Light and delicious, pea powder may be incorporated into a range of vegetarian dishes. It is important to keep in mind the fact that peas do not provide the complete range of amino acids the way that pumpkin seed does, but it is rich in BCAAs.
Pea protein powder also contains high amounts of arginine and lysine. Pea protein is also easily digestible with a high quantity of bioavailability.
If you're already eating meat-based protein sources, pea protein may be the best choice.
If you're on a plant-based diet, try pairing pea protein with another plant-based source such as brown rice or hemp seed.
Hemp Protein Powder
If you are not trying to lose weight, powdered hemp seed may be the ideal protein supplement to incorporate into your daily diet.
Hemp seeds are roughly 50% protein and contain a hefty portion of omega-3 and omega-6 fatty acids. Hemp-seed protein is also easily digested.
Choose to go totally vegan or opt for several vegetarian meals per week. Either way, you can get all the protein your body requires by the simple addition of plant-based powders to your daily diet.
Recipes Using Weight Loss Protein Powders
Adding a weight loss protein powder shake or smoothie is a great way to monitor your caloric intake and macronutrient consumption.
Banana Nut Smoothie

½ cup water
1 cup unsweetened vanilla almond milk
1 tablespoon almond butter or other nut butter
1 scoop protein powder
½ banana
7 to 8 ice cubes
Chocolate Raspberry Protein Shake

½ cup skim or sugar-free soy/nut milk
6 oz vanilla yogurt
1 scoop of protein powder
1 small piece of softened dark chocolate
½ cup frozen raspberries
7 to 8 ice cubes
For more great recipes, download our free one-day meal plan and sign up for our newsletter! We're always trying to provide you with the best information and materials we can find.
Here's A Free Weight Loss Meal Plan For Busy Men 40+
Discover exactly what to eat for breakfast, lunch, and dinner to lose belly fat & feel energized 24/7 without hard dieting...
Your new friend & health coach,

Here's How Busy Fathers Over 40 Are Finally Burning Stubborn Belly Fat & Getting Healthy Without Restrictive Diets or Time-Consuming Workouts
This proven "Fit Father Program" has helped 25,000 busy men 40+ lose weight, rebuild muscle, and finally keep the weight off.
If you're frustrated with stubborn belly fat, failed diets, and time-consuming workouts, this is the answer you've been looking for…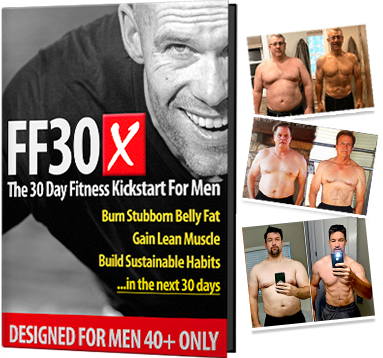 Join 22,000 guys in over 98 countries are using FF30X to lose weight. You get everything you need to succeed – including:
The Fit Father Meal Plan – with simple & delicious recipes
Safe & Effective Workouts Program – only 90 min/week
VIP Accountability Coaching – our Fit Father Team will personally walk you to success, step-by-step.
See the FF30X Program overview here. You'll discover how this proven Fit Father Program can help you lose weight and actually keep it off – without the complication and restriction of normal diets. »
*Please know that weight loss results & health changes/improvements vary from individual to individual; you may not achieve similar results. Always consult with your doctor before making health decisions. This is not medical advice – simply very well-researched info on weight loss protein powders.