I
f you look down every day and just wish that you could get rid of that beer belly, it's time to start using weight loss recipes.

Here at the Fit Father Project, we've helped thousands of men to achieve a healthy diet that they're able to afford and stay consistent with.

For Fit Fathers, it's not about the fads. It's about giving your body the nutrients it needs and understanding how our needs change as we get older.
This blog outlines quick and easy weight loss recipes that you can integrate into your every day life.
You might be surprised at how delicious these all sound. But take it from us, truly healthy foods are some of the most delicious things you can eat!
Here's A Free Weight Loss Meal Plan For Busy Men 40+
Discover exactly what to eat for breakfast, lunch, and dinner to lose belly fat & feel energized 24/7 without hard dieting...
Weight Loss Recipes: Breakfast
The most important thing to remember when planning out weight loss recipes for breakfast is to focus on protein and healthy fats.

That's pretty much the opposite of what you see in movies, when the mom is pouring a tall glass of orange juice, spooning out fruit, and popping carbs into the toaster.


Breakfast is meant to start your day off with protein to keep you going and healthy fats to feed your brain.
An avocado-banana smoothie is a great way to kickstart your day.

The healthy fats of the avocado give you a brain boost, while banana gives you a burst of flavor and a smooth texture.
The protein powder brings this smoothie from just a yummy treat to a home-run for breakfast.
You can try using frozen bananas for an ice-free and thicker approach to the smoothie.
From a leisurely breakfast at home to a grab-and-go, this smoothie makes it easy to stick with your weight loss plans.
If you're game to jump on the bandwagon, avocado toast with Ezekiel bread is a delicious breakfast choice.

Avocado toast happens to be a huge brunch fad right now, but it's actually a very healthy one!


Ezekiel bread is the X-factor to a truly healthy avocado toast, however.
Ezekiel bread contains no added sugar (that most breads have), has sprouted grains (which allow the body to absorb nutrients better), and contains a variety of grains and legumes (which is more diverse than in a white bread).
Once you add an over-easy egg or hard-boiled egg on top of mashed avocado, you have a sustaining breakfast that will keep you going until lunchtime.
With the number of ways you can dress avocado toast up– with sea salt, different spices, raw onion, etc– it's hard to get bored of it!
Weight Loss Recipes: Lunch
By the time lunch rolls around, you may be very hungry and craving some fast food.
But the best thing you can do for yourself during lunch is to pack it yourself!


Bringing a packed lunch allows you to plan your nutrients ahead and make sure you have enough healthy food to fill you up.
A tuna and chickpea salad is a delicious way to get full without heavy carbs.

Now, some of you may not be excited by the concept of canned tuna.
But with the right flavors, like the bright cherry tomatoes, onion and avocado, it's delicious!
And tuna's benefits go beyond the taste.
Canned tuna is inexpensive when compared to other proteins, and it's a great source of lean proteins, healthy fats and Omega-3s.
Along with the chickpeas, this is a salad that will actually fill you up!
Try transitioning one of your lunches a week to a salad and see how you feel.
With fall upon us, a sausage and lentil dish is a great way to welcome the season and keep trim!

Lentils and sausage are a simple dish that is easy to make for dinner and reheat for lunch the next day.
Choosing chicken or turkey sausage will help you stick with lean meats, instead of beef.
The dish is full of vegetables and rounded out by lentils to keep you full.
While the base of sausage and lentil is simple, there are many ways that you can dress it up with different spices and keep the dish current.
Weight Loss Recipes: Dinner
When it comes to dinner, your goal is to keep it as healthy as the rest of the day!
It's also best to focus on dishes that heat up well for lunch the next day!


A good rule of thumb to monitor your dinner dishes is to make vegetables half of your plate, meat one fourth of your plate and starch/carbs the last fourth of your plate.
Try a twist on the classic turkey stroganoff by making it with spaghetti squash!

The spaghetti squash eliminates the carbs of the usual egg noodles, adds a unique flavor and provides additional vegetables to the dish.
Spaghetti squash is a winter produce, which makes it an especially delicious dish for this time of year. Full of vitamin C, B-vitamins, manganese and potassium, spaghetti squash is much more nutritious than normal noodles.
Using lean ground turkey, you will get protein into your diet with a low-fat meat.
Another delicious dinner option is a beef and vegetable salad!


Yes, we are trying to sneak as many salads as possible into your diet. But with carbs being one of the top culprits of weight gain, can you blame us?
This beef and vegetable salad is rich with quinoa, beef, broccoli and bell peppers.
Set on a bed of greens, this meal makes it easy to eat half of your plate in vegetables!
Topping the salad with a light oil and vinegar dressing ensures that you avoid the heavy dressings like ranch and caesar.
Committing Weight Loss through Your Entire Day
Chunking out weight loss into specific meals is a fantastic way to start eating less calories and more nutrient-dense meals.


If you are still looking for more guidance when it comes to healthy eating throughout the day, look into our free one-day meal plan.

Our daily meal plan provides you not only with recipes to try, but also with guidance on key skills like budgeting and meal prep.
Your weight is something that only you can change! So start investing in your health today with our meal plan.
You will feel stronger and leaner than ever before.
Here's A Free Weight Loss Meal Plan For Busy Men 40+
Discover exactly what to eat for breakfast, lunch, and dinner to lose belly fat & feel energized 24/7 without hard dieting...
Your friend in health,

Here's How Busy Fathers Over 40 Are Finally Burning Stubborn Belly Fat & Getting Healthy Without Restrictive Diets or Time-Consuming Workouts
This proven "Fit Father Program" has helped 25,000 busy men 40+ lose weight, rebuild muscle, and finally keep the weight off.
If you're frustrated with stubborn belly fat, failed diets, and time-consuming workouts, this is the answer you've been looking for…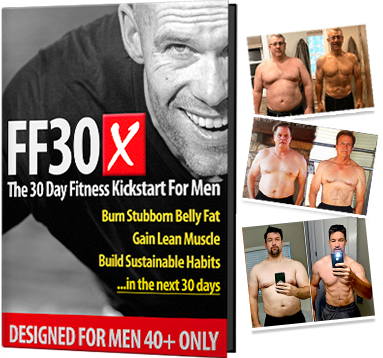 Join 22,000 guys in over 98 countries are using FF30X to lose weight. You get everything you need to succeed – including:
The Fit Father Meal Plan – with simple & delicious recipes
Safe & Effective Workouts Program – only 90 min/week
VIP Accountability Coaching – our Fit Father Team will personally walk you to success, step-by-step.
See the FF30X Program overview here. You'll discover how this proven Fit Father Program can help you lose weight and actually keep it off – without the complication and restriction of normal diets. »
*Please know that weight loss results & health changes/improvements vary from individual to individual; you may not achieve similar results. Always consult with your doctor before making health decisions. This is not medical advice – just quick and easy weight loss recipes.