Weight Loss Rewards for Men – How to Use Them for Motivation
M
en are allowed to diet. This is now the official line. In fact, surveys suggest that there are now more men dieting than women. This is particularly true for men in the 35 – 55 age range.
The first step in weight loss is to review your diet and decide what weight loss rewards are appropriate for you and will help you stick to your new diet.
Weight loss for men involves more than just adding exercise to your diet. You need to understand how your body works in order to maximize the results you can achieve.
A big part of this is the concept that we promote here at the Fit Father Project; you can't out exercise a bad diet.
Why Weight Loss Is Essential
Gaining weight generally happens slowly. You eat the same as you did in your 20's but are perhaps a little less active. After all, work and family commitments can tend to get in the way of finding the time to exercise.
The result of this, is a gradual increase in body fat. Eventually, and usually with much reluctance, you may accept that you need to move up a pant size or two.
The crunch usually comes when you have a health scare or you may simply see a photo of yourself and realize how big you have become.
Losing weight will improve your health and long term quality of life. It will also improve your self-esteem. Now is a good time to try our free 1-day meal plan and our 24-min workout.
How To Use Weight Loss Rewards
Once you have started your weight loss journey you need to consider the right weight loss rewards. These are treats you give yourself when you reach certain goals.
You will find it is generally best to keep each of your goals small and achievable; you need to feel like you are achieving something to ensure your motivation stays high.
The best approach to weight loss rewards is to have two tiers.
Small rewards are for the weekly goals you set and a larger reward as you hit significant goals; such as dropping a waist size or losing 20lbs.
Of course, these weight loss rewards cannot be high calorie treats; you do not want to ruin your hard work!
The important factor when choosing your weight loss rewards is to think of something that will really motivate you to achieve a goal.
Weight Loss Reward Ideas For Smaller Goals
The following are just a few of the many different ways to reward yourself on a weekly or even daily basis:
Method # 1 – Workout Clothes
Your workout clothes are an essential part of your exercise routine. Running shoes in particularly should be changed every 6 months.
However you can give yourself a weight loss reward when you hit specific targets simply by purchasing a new item of clothing for your chosen sport.
Method # 2 – Take in a Movie
Taking in a movie is something that most men no longer have time for. This is what makes it a great weight loss reward.
Take a friend, a partner or even go by yourself and take the time to enjoy it. Just avoid the popcorn and other sweets!
Method # 3 – Go fishing or hunting
If you're into outdoor activities such as hunting, fishing, or camping, then go!
Reaching a goal means you have earned the right to your trip!
If your family are interested in joining you then take them as well; it will help them to be inspired and motivate you!
Method # 4 – Get a Tattoo
Despite what people say you are never too old to get a tattoo.
Choose a design that compliments your journey and symbolizes your achievement, then book it in as soon as you reach your goal.
As weight loss rewards go this one keeps on giving because you can see it every time you exercise and use it to keep your motivation high.
Method # 5 – Upgrade your belt or shoes
You should feel great as you lose weight.
Even small losses can change your waist size and a new belt will show this off while reminding you of your achievement.
Alternatively you may be able to see your feet for the first time in years; a new pair of shoes is a great way to emphasize this!
Weight Loss Rewards For Big Milestones
When you see your waist shrink a size or you know you've lost 20lbs, these weight loss rewards will make you realize the effort was worthwhile and inspire you to keep going.
Reward # 1 – Book a Vacation
A vacation may have been the inspiration for your weight loss journey.
Even if it wasn't you can take a vacation for surprisingly little money and enjoy one of the best weight loss rewards possible.
It will give you the opportunity to show off your achievements and enjoy the positive comments that go with your new body.
Reward # 2 – Get Professional Photos taken
Weight loss rewards should always include a photo shoot; preferably a professional one.
Not only will you be able to compare them to the old you, it will also be an excellent motivator.
The moment you are unable to fit into the clothes you wore on your shoot then you know that you have fallen off the wagon.
Start losing weight with our free 1-day meal plan and keep it off with our array of other meal plans and exercise routines.

Reward # 3 – Get a New Gadget
If you have been promising yourself a new cell phone or the latest electronic gizmo then set your target.
These types of weight loss rewards will definitely drive your success as you'll feel good about yourself when you've reached a goal and hold the gizmo in your hand.
Reward # 4 – Buy a New Suit
A new you will often equate to a new wardrobe.
Once you hit your target weight indulge in a new suit. Then wear it out somewhere and enjoy the attention you receive!
A sharp suit can emphasize your new figure and your improved confidence.
Reward # 5 – Have a Barbeque
Your friends may have seen the weight coming off and may even want to try it themselves.
Make one of your weight loss rewards the opportunity to throw a barbeque and get your mates round.
You can demonstrate to them the foods you have been eating and may even inspire them to copy your journey!
Reward # 6 – Take a Day Off For No Reason
Ferris Bueller had one of the best days off ever by simply taking a day off for no reason and making the most of it.
Usually days off are for vacations or specific events; change the routine and give yourself a day off as one of your weight loss rewards.
Then do whatever you want for the day and try to beat Ferris!
Reward # 7 Have a Race Car Experience
One thing that most men, myself included, dream of doing is driving a real race car at speeds of over 150 miles per hour.
Make this one of your weight loss rewards.
Find a track near you and book your appointment; it's a great motivator and a fantastic story for the future.
Use Weight Loss Rewards
The idea behind weight loss rewards is to inspire you and motivate you to achieve your target weight.
This is best done in small steps with the support of me and all the others here at the Fit Father Project.
Big rewards for big milestones can really give you something to work towards and help to motivate you on the dark cold mornings when your bed is so much more inviting.
Make your list today and you might be surprised at how much quicker you reach your goals.
Just remember I'm here to help every step of the way, you are not alone and are not the first to undertake and complete this journey!
Your new friend & health coach,
Stuart Carter
Head Training Staff, The Fit Father Project
Brotherhood Nickname: "The Fit Brit"
Bragging Rights: 16 Years in the fitness industry, Author of 'The Easy Fitness Guide', Father of 4 boys and Husband to a Venezuelan beauty.
If you're interested in a proven and completely laid out "done-for-you" weight loss meal plan & workout routine – designed for you as a busy man…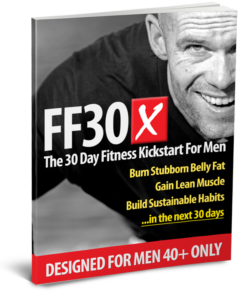 I'd recommend you read the program overview letter for our Fit Father 30-Day Program (FF30X). Inside FF30X, you'll receive:
The simple & delicious Fit Father Meal Plan
The metabolism boosting Fit Father 30X Workout (under 90 min/week)
VIP email coaching where I'll personally walk you through the program
Read the FF30X Program overview letter here to see how our plan can help you lose weight – without the complication & restriction of normal diets.
*Please know that weight loss results & health changes/improvements vary from individual to individual; you may not achieve similar results. Always consult with your doctor before making health decisions. This is not medical advice – simply very well-researched info on conditioning workouts.