I
f you've ever asked yourself "What are carbohydrates?", "Where do they come from?", or "What do they do for my body?", then read on. I'm going to answer those exact questions in this very short post, dedicated especially to… you've guessed it… carbohydrates!
Watch this video and read the article below to discover whether or not carbs make you fat, the best carbs to eat, the worst carbs to avoid, and how to make all this "nutrition stuff" simple and doable for your busy life.
Also, for exact recipes of meals for breakfast, lunch, & dinner – including the right carbs (and portion sizes) to eat, I highly recommend you download a free copy of our famous "1-Day Weight Loss Meal Plan" for busy fathers. Click the image below to download it free today.


What are Carbohydrates?
Carbohydrates are separated into 2 categories. These are simple carbohydrates and complex carbohydrates.
Simple carbohydrates, which are made up of monosaccharides (one unit sugars) and disaccharides (two unit sugars), are the worst of the two types, due to their lack of vitamin and mineral content as well as a lack of dietary fiber.
Complex carbohydrates, which are made up of polysaccharides, are the better of the two types, due to the higher vitamin and mineral content and a higher amount of dietary fiber.
What do Carbohydrates do?
When carbohydrates are consumed, they are broken down into glucose by the body and stored as glycogen in the liver and the muscles. When we exercise at a high intensity, this stored glycogen is broken back down into glucose and used as energy."
The remaining, unused glycogen will be stored as body-fat. This shows the importance of exercise, as well as a good eating plan, to develop a healthy working and healthy looking body.
How much Carbohydrates do I need?
Your carbohydrate intake should be approximately 35-40% of your daily calorific intake. This should be spread throughout your meals per day, but quantities should be adjusted to be more before periods of activity, and less before periods of rest or inactivity.
Your intake may need to change slightly depending on the activity you are doing for that day.
If you are on a rest day or are lifting lighter, you will not need to eat as many carbohydrates as you would if you were lifting heavy or doing an intense cardio session.
Where do I get it?
As mentioned above, complex carbohydrates are the better, healthier choice of carbohydrates. These are found in unrefined foods such as:
Wholemeal, Rye, and Granary breads
Brown rice
Wholemeal pasta
Quinoa
Pulses
Simple carbohydrates should be avoided as much as possible. They can be found in refined foods, like:
Candy
Soda
Cakes
Refined bread
Sugary cereal
So now you know what carbohydrates are, what they do, how much you need and where you get it from. You are all set to incorporate them into your diet in the proper way.
I hope this has been informative for you. If you do have any questions, please drop me a note via the website, post a question in the comments, or leave me a message on our FFP Facebook Page. I will be happy to answer anything you need to know.
Here's How Busy Fathers Over 40 Are Finally Burning Stubborn Belly Fat & Getting Healthy Without Restrictive Diets or Time-Consuming Workouts
This proven "Fit Father Program" has helped 25,000 busy men 40+ lose weight, rebuild muscle, and finally keep the weight off.
If you're frustrated with stubborn belly fat, failed diets, and time-consuming workouts, this is the answer you've been looking for…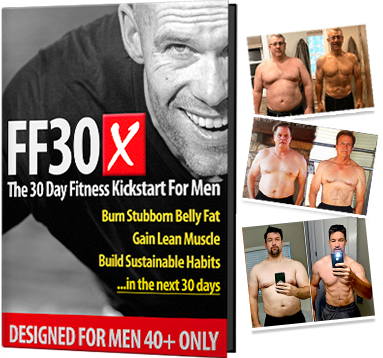 Join 22,000 guys in over 98 countries are using FF30X to lose weight. You get everything you need to succeed – including:
The Fit Father Meal Plan – with simple & delicious recipes
Safe & Effective Workouts Program – only 90 min/week
VIP Accountability Coaching – our Fit Father Team will personally walk you to success, step-by-step.
LEARN MORE ABOUT FF30X >>
See the FF30X Program overview here. You'll discover how this proven Fit Father Program can help you lose weight and actually keep it off – without the complication and restriction of normal diets. »
*We hoped you enjoyed this article. Remember to always consult your doctor before making any health changes. This is not medical advice – just well researched info.