M
illions of people worldwide take a multivitamin supplement to support health, but do any of us actually know what we are taking or why we are taking it? What are vitamins anyways?
In most cases, we could get the vitamins through a healthy eating plan.
I will tell you below, what vitamins are, what each does for your body and what foodstuff you can get these vitamins from. Let's get stuck in..
What are Vitamins?
Vitamins are a micronutrient found in plant and animal products that have derived their vitamin content from the animals' diet. They are made up of 2 types, which are water soluble and fat soluble.
Water-soluble vitamins are the B complex and vitamin C.
Fat soluble vitamins are vitamins A, D, E, K.
What do they do?
As there are two types, I will break down their individual uses to make things as clear as possible.
Water soluble:
B Complex (B1 – Thiamine, B2 – Riboflavin, B3 – Niacin, B5 – Pantothenic Acid, B6 – Pyridoxine, B12 – Cobalamin, and Folic Acid.)

These are generally helpful in the proper use of Carbohydrates, and the release of energy.
You should make sure that enough of these vitamins are consumed within your normal diet.
Otherwise, a deficiency can lead to negative effects on the hair, nails, skin, nervous system, and digestive system.
Vitamin C – This vitamin works with the B complex, to assist with the recovery process after intense training. It will help to avoid muscle pain and stiffness and help to alleviate delayed onset of muscle soreness (D.O.M.S). It also helps to keep your gums, and skin healthy and helps to control stress.
Fat soluble:
Vitamin A – This vitamins job is to help with your eyesight and to have a protective effect on the cell membranes within our body and skin.
Vitamin D – This vitamin assists with strengthening teeth and bones, by maintaining the correct levels of calcium and phosphorous in the body.
Vitamin E – Many bodily functions are assisted by this vitamin, namely enabling proper blood circulation, reducing water retention, stimulating the healing of scar tissue and decreasing the bodies Oxygen requirement.
Vitamin K – This vitamins' main purpose is to enable our blood to clot.
How much do I need?
The RDA of vitamins is shown in the table below.
Where do I get them?
As well as from what is shown in the above table, each vitamin can be found in these foods. In addition to food, we can take supplements, but a healthy and diverse diet should give us a great foundation of vitamins.
B1 (Thiamin) – Milk, Eggs, Whole-wheat grain.
B2 (Riboflavin) – Milk, Liver, Kidney, Cereals.
B3 (Niacin) – Milk, Fish, Meat, Potatoes.
B5 (Pantothenic Acid) – Cereals, Beans, Peas.
B6 (Pyridoxine) – Eggs, Meat, Fish, Whole-wheat grain.
B12 (Cobalamin) – Milk, Fish, Liver, Eggs, Cheese.
Folic Acid – Green, Leafy Vegetables. (preferably raw)
Vitamin C – Citrus Fruit, Fresh Vegetables.
Vitamin A – Liver, Kidney, Eggs, Carrots, Squash.
Vitamin D – Eggs, Fish, Cereals.
Vitamin E – Vegetables & Vegetable Oil, Milk, Soya Beans.
Vitamin K – Vegetables, Liver, Egg yolk.
I hope this short guide has given you some food for thought (pun partly intended) and gives you an understanding of what each vitamin does for your body.
If there is any particular area of your body that you are having a health problem, it could be caused by a vitamin deficiency. If you include the foods that deliver that vitamin into your diet, you could start to notice a positive improvement.
If you would like to take a look at our meal plan here at the Fit Father Project, we offer a full 1-Day meal plan that can be sent directly to your inbox within the next few minutes.
All you need to do is click the box below, tell us which email address to send it to, and we'll get it taken care of.


If you have any questions, please feel free to drop a note in the comments box below or on our Fit Father Project Facebook Page. I read and respond to every comment, so it would be a pleasure to hear from you.
I wish you every success!

Here's How Busy Fathers Over 40 Are Finally Burning Stubborn Belly Fat & Getting Healthy Without Restrictive Diets or Time-Consuming Workouts
This proven "Fit Father Program" has helped 38,000 busy men 40+ lose weight, rebuild muscle, and finally keep the weight off.
If you're frustrated with stubborn belly fat, failed diets, and time-consuming workouts, this is the answer you've been looking for…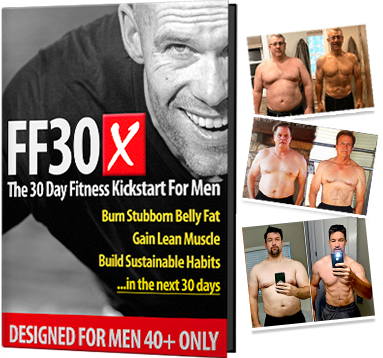 Join
38,000
guys in over
108
countries that are using FF30X to lose weight. You get everything you need to succeed – including:
The Fit Father Meal Plan – with simple & delicious recipes
Safe & Effective Workouts Program – only 90 min/week
VIP Accountability Coaching – our Fit Father Team will personally walk you to success, step-by-step.
LEARN MORE ABOUT FF30X >>
See the FF30X Program overview here. You'll discover how this proven Fit Father Program can help you lose weight and actually keep it off – without the complication and restriction of normal diets. »
Small note about research cited in this article:

*Always remember: weight loss results & health changes/improvements vary from individual to individual. Just because these studies cite certain data does not mean you will experience these results/outcomes. Always consult with your doctor before making decisions about your health. This is not medical advice – simply well-researched information. Thanks for reading!