Working out at home has become the new normal these days, but it's always good to have an at-home workout plan in your arsenal!
The coronavirus pandemic brought about a number of changes in everyone's lives. This includes disruption to many people's workout routines.
Just because your gym is closed doesn't mean that your fitness should be neglected!
Continuing your workouts will keep your body and mind healthy during this time. And this can easily be done by working out at home.
No Gym? No Problem
There are tons of ways to make working out at home similar to your usual gym workouts.
Plus, your home workouts can incorporate all aspects of fitness, including cardio, strength training, balance, and flexibility.
Working out at home also gives you the benefit of doing your workouts on your own time.
No need to worry about gym hours or big crowds.
You can even do several shorter workouts throughout the day!
High-Intensity Interval Training Home Workout
Home workouts should be varied to include cardio and resistance training.
High-intensity interval training (HIIT) is easy to do at home and will get your heart pumping and build muscle strength at the same time.
HIIT workouts are great for those working out at home that want to incorporate a CrossFit type of workout into their day.
Warm-Up
Dynamic stretches should be done at the beginning of every workout.
Studies have shown that dynamic stretching is better for muscle coordination and power during a workout, while static stretching could actually decrease muscle power.
Arm Circles
Stand with your feet shoulder-width apart and hold your arms out to the side at shoulder height.
Circle around your arms forward, starting with small circles, working up to larger circles.
Perform 20 circles.
Reverse direction and perform 20 more.
Front Arm Swings
Start with your arms extended out to your sides.
Swing both arms in front of your chest, crossing your left arm over your right, then reverse back to the starting position.
Then swing both arms back in front of your chest, this time crossing your right arm over your left, then bring back again.
Continue alternating like this for about 20-30 seconds.
Leg Kicks With Arm Reach
Kick your left leg out in front of you while reaching for your toes with the right hand.
Then kick your right leg out and reach to your toes with your left hand.
Repeat for 10 reps on each side
Main Set
This is a high intensity, Tabata style of workout.
Perform each exercise for 40 seconds, then rest for 20 seconds.
Immediately move to the next exercise.
If you are just starting out, you can decrease the exercise interval to 30 seconds and rest for 30 seconds.
Each exercise focuses on either cardio or strength training, utilizing your body weight or dumbbells if you have them available.
Burpees With Push-Ups
Stand with your feet shoulder-width apart.
Bend your knees and lower your body into a squat as you place your hands between your feet.
Jump your feet back into the plank position.
Do one push-up.
Then jump your feet back to your hands.
Reach your arms overhead and jump up into the air.
Land and immediately lower back into a squat for your next rep.
Renegade Row
Start in a push-up position while grasping two light dumbbells underneath you.
Engage your core and pull up your left arm into a row while balancing on the right arm.
Return the left arm back to the starting position, then repeat on the opposite side.
Aim for three sets of eight to 10 reps on each side.
Squats
Start with feet shoulder-width apart with a dumbbell in each hand.
Squat until your hamstrings are parallel to the ground with the weights at your side.
Straighten your legs and stand up to the starting position.
Be sure to maintain proper form throughout the movement.
You can start with no weight at first and gradually add weight as you perfect your form and gain strength.
Russian Twists
Sit with your knees bent and feet flat on the floor, holding one dumbbell with both hands in front of your chest.
Lean back slightly and lift your feet a few inches off the floor.
Slowly twist the torso to the left and bring the dumbbell to the left hip.
Return to center, and then slowly twist to the right and bring the weight to the right hip.
Continue alternating sides.
Repeat this circuit five times for an intense 20-minute workout!
Cool Down
Walk around your living room or in place to bring your heart rate back towards normal.
Finish with some static stretching that targets both the upper and lower body.
Some examples of stretches to finish your workout include:
Glute Stretch
Sit on the ground with both knees bent and both feet on the floor.
Lift your right leg and cross it over your left thigh.
Pull both legs inwards toward your stomach for a deep stretch of your glutes.
Hold this position for 30 seconds and then switch sides and repeat.
Chest Opener
Push your arms up behind you while pulling your shoulder blades together and your back straight until you feel the stretch in your chest.
Hold for about 20-30 seconds before releasing.
Quad Stretch
Stand with your left arm holding a chair for balance and support.
Next, bend your right knee and hold your right foot in your right hand.
Hold for 20-30 seconds then switch to the left leg and hold for 20-30 seconds.
Low Back Stretch
Start lying on your back with your knees bent and pulled up toward your chest.
Hold for 30 seconds before releasing.
Strength Training Home Workout
You can still get a high-quality strength workout without any gym equipment.
Bodyweight workouts provide a great alternative for working out at home.
Use resistance bands or dumbbells to challenge yourself even more!
There has even been research that shows that bodyweight exercises can produce similar strength gains to exercises utilizing weights.
For example, a 2015 study showed that similar strength gains could be achieved in those performing push-ups versus bench press.
Push-ups are the ultimate bodyweight chest workout. Just another reason why working out at home is a great way to stay in shape!
Warm-Up
Again, a dynamic warm-up is the best way to prime your muscles to prepare for resistance training when working out at home.
Dynamic stretches that target both the upper and lower body need to be incorporated to maximize your workout potential.
Here's How Busy Guys 40+ Are Finally Losing Weight…
If you're in your 40s, 50s, & 60s, you need to eat and exercise differently to lose weight & actually keep it off…
Main Set
You can perform these exercises in a circuit style of training.
Rest 15-20 seconds after each move then move to the next.
Repeat two to three times depending on your level of fitness.
Push-Ups
Position your hands under your shoulders with your feet straight behind you.
Lower your chest towards the ground, pause, then extend your arms to push back up.
Forward to Reverse Lunges
Start in a standing position and step your right foot forward into a lunge.
Bend your knees as you bring your left knee just above the ground, while your right thigh comes parallel to the floor.
Push back up with your right leg to a standing position.
Then bring your right leg behind you to perform a reverse lunge, and then bring back to the starting position.
Repeat on the left side.
Continue alternating sides.
Perform eight to 10 reps on each side.
If you have dumbbells you can hold these by your side to add a challenge.
V Push-Ups
Start in a push-up position and lift your hips up so your body forms an upside-down V.
Keep your legs and arms straight.
Bend your elbows and lower your upper body until the top of your head nearly touches the floor.
Pause, and then push yourself back up until your arms are straight.
Bent Over Rows
Stand while holding a dumbbell in each hand.
Hinge forward until your torso is roughly parallel with the floor.
Bring your elbows up to your torso while bringing your shoulder blades together.
Then slowly lower the dumbbells back to the starting position under control.
You can also use resistance bands for this exercise.
Wall Sits
Stand with your back flat against a wall and feet shoulder-width apart.
Walk your feet in front of you about two steps and slide your back down the wall until your thighs are parallel to the ground.
Hold this position for 30 seconds.
Rest for 30 seconds then repeat two more times.
As you gain strength, try to increase your hold time to a minute.
Progressively challenge yourself by adding more time to this exercise.
You can hold a weight in front of you to make this move harder.
Bicep Curls
Stand with your feet shoulder-width apart with dumbbells or a tube resistance band under your feet so that you can grab the handles at both ends.
Curl the dumbbells or resistance bands up, then lower back down slowly.
If you don't have dumbbells or bands, you can even use objects around the house, like soup cans or milk jugs!
Plank Hold
Try to hold a plank for as long as you can until your form fails.
Aim for at least 15 seconds, then increase your time as you gain more core strength.
Stay in Shape By Working Out At Home
Working out is important on so many levels.
The obvious are the physical benefits — improved cardiovascular fitness, weight loss, strength gains, and improving chronic diseases like high blood pressure and diabetes.
There are also immense psychological benefits of exercise.
A study of 1.2 million people in the USA has found that people who exercise report having 1.5 fewer days of poor mental health a month, compared to people who do not exercise.
This cannot be overlooked in times when your normal workout routine is interrupted.
Finding new ways to continue to workout from home will allow you to maintain your overall health, both mentally and physically.
Studies have shown that symptoms of anxiety and depression are improved after even a single bout of exercise.
Here's A Free 24-Min Fat Burn Workout For Busy Men 40+
This powerful workout will reignite your metabolism to burn fat 24/7 like you did in your 20s…
The Fit Father Project
There are additional home workouts offered by The Fit Father Project that you can also add to your weekly fitness routine.
The free workouts, like the 24 Minute Metabolism Boosting Workout, are a great alternative when you don't have access to a gym.
Plus, the ongoing support from the Fit Father team will keep you motivated even in these challenging times!
Here's How Busy Fathers Over 40 Are Finally Burning Stubborn Belly Fat & Getting Healthy Without Restrictive Diets or Time-Consuming Workouts
This proven "Fit Father Program" has helped 38,000 busy men 40+ lose weight, rebuild muscle, and finally keep the weight off.
If you're frustrated with stubborn belly fat, failed diets, and time-consuming workouts, this is the answer you've been looking for…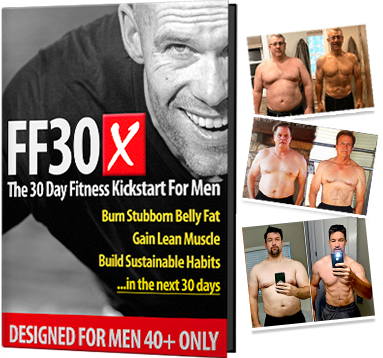 Join 38,000 guys in over 108 countries that are using FF30X to lose weight. You get everything you need to succeed – including:
The Fit Father Meal Plan – with simple & delicious recipes
Safe & Effective Workouts Program – only 90 min/week
VIP Accountability Coaching – our Fit Father Team will personally walk you to success, step-by-step.
LEARN MORE ABOUT FF30X >> See the FF30X Program overview here. You'll discover how this proven Fit Father Program can help you lose weight and actually keep it off – without the complication and restriction of normal diets. »

*Please know that weight loss results & health changes/improvements vary from individual to individual; you may not achieve similar results. Always consult with your doctor before making health decisions. This is not medical advice – simply very well-researched info on working out at home.