I'm too tired. I'm too busy. I don't have the right gear/equipment. If you're like many men, you've probably used some of these workout excuses before.
It's time to change your mindset!
Eliminate common workout excuses in favor of lifestyle changes that increase motivation, happiness, and health – and drastically improve your quality of life.
Think about the many benefits associated with regular exercise when planning daily activities for you and your family.
This includes more self-confidence, increased muscle mass, more energy, a stronger immune system, and reduced chronic disease risk factors.
Setting a good health and fitness example can improve the health habits of your spouse and kids too!
Tired of making workout excuses? Here's how to stop once and for all!
Here's A Free 24-Min Fat Burn Workout For Busy Men 40+
This powerful workout will reignite your metabolism to burn fat 24/7 like you did in your 20s…
The Top 10 Workout Excuses — And How to Avoid Them!
Medical Problems
If you have a chronic disease, such as arthritis, diabetes, heart disease, or a disability, it may seem like a plausible excuse to avoid exercise.
However, lack of exercise can worsen the effects of a chronic disease or its risk factors.
For example, being sedentary puts you at risk of high blood pressure, high cholesterol, diabetes, heart disease, and obesity.
If you already have a medical problem, not exercising might make your condition or its symptoms worse over time.
If you have a chronic medical issue, speak with your doctor about safe and effective ways to exercise that accommodate your condition.
They might approve you for non-weight-bearing exercises (swimming, rowing, or biking), low-impact physical activity like walking, or even high-intensity exercise in some cases.
Injuries
Believe it or not, having an injury isn't necessarily a justified workout excuse.
Unless you have a severe injury, chances are you can safely complete at least some types of physical activity.
Your doctor can let you know which workouts are safe to complete while injured, depending on the type of injury you have.
They may restrict you to non-weight bearing exercises, low-intensity exercises, upper body workouts, or lower body workouts.
You might have to wear a brace, splint, or cast while an injury heals.
Rather than avoiding physical activity altogether, work with your doctor to find ways you can safely stay active without risking further injury.
Depression
Depression is common among men, as it affects over 30% of men at some point during their lifetime.
Feeling down in the dumps might make getting motivated for exercise feel impossible.
But, exercise can reduce feelings of sadness naturally. It may also help you gain confidence.
Common signs and symptoms of depression include:
Feeling hopeless or worthless
Constant sadness
Loss of favorite activities
Lack of motivation
Feeling worthlessness, guilt, or shame
Thoughts of suicide
Sleeping too much or too little
Weight gain or weight loss
Tiredness
Mood swings or irritability
Physical aches and pains
To combat feeling of depression that may contribute to skipping workouts, see your doctor.
They might recommend you make lifestyle changes, take medications, try individual or group counseling, or join a support group depending on the severity of your depression and its cause.
No Energy
Lack of energy is a common workout excuse, especially for busy men over 40.
While you might not feel like working out because of tiredness, avoiding regular exercise can contribute to chronic fatigue, muscle loss, reduced strength, and a higher risk of chronic diseases.
Finding the root cause of fatigue can help you combat tiredness, making it easier to exercise every day.
See your doctor for an medical evaluation and blood tests as needed.
Natural ways to boost your energy include eating plenty of plant-based and other nutritious foods, getting at least 7 hours of uninterrupted sleep each might, taking dietary supplements for men, and drinking coffee or tea before you work out.
If you have low testosterone levels, as many men over 40 do, you probably experience fatigue.
If this is the case, your doctor might recommend you take testosterone-boosting supplements or try testosterone therapy in the form of subdermal pellets, injections, gels, or patches.
The Natural Testosterone Booster Guys 40+ Are Using For More Energy, Drive, & Results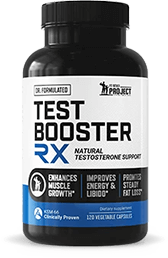 After age 30, your Testosterone levels start declining. Add in some stress and a "less than perfect" diet… everything gets worse fast. You feel tired all the time. It's hard to lose fat. It feels like you lost your edge. That's the sad story that happens to most guys 40+. But now, it doesn't have to be that way for you….
Surgeries
If you've recently had surgery, you might skip workouts for a short time and for good reason.
However, avoiding physical activity altogether can be problematic for your health.
Ask your doctor when it's safe for you to be physically active after surgery.
In many cases, they can give you permission to at least walk around soon after a procedure to stimulate blood flow and reduce the risk of blood clots.
However, expect to avoid high-intensity exercise initially after surgery.
Don't use surgery as a workout excuse unless your doctor tells you to avoid physical activity entirely.
A Busy Schedule
Just about every dad has a busy schedule, which is why being too busy is one of the top workout excuses for men.
Make daily exercise a priority, even if it means waking up 20-30 minutes earlier than usual.
Walk, jog, bike, or lift weights before work or on your lunch break. Or, get outside to play sports with your kids after work.
Consider at-home Fit Father Project workouts when planning a home workout schedule.
Even on days you have just 20 minutes for planned workouts, getting a small amount of exercise daily is better than skipping exercise altogether.
Sitting down too much is a chronic disease risk factor. Stand instead of sitting down while working at your computer or during your child's sporting events to spend less time sitting.
If you're traveling for work or a vacation, look for hotels with workout rooms. Jog outdoors or complete body weight and aerobic exercises in your hotel room (pushups, sit-ups, squats, jumping jacks, rope jumping, planks, etc.).
Make a daily to-do list and include physical activity on it.
You can also add drinking plenty of water (aim for 16 cups of fluids daily for men) to your list, as well as doing something active in addition to planned exercise.
Poor Time Management
Not everyone has exceptional time management skills, which is why poor time management makes the list of the top 10 workout excuses for men.
Properly managing your time could simply mean creating a daily schedule and sticking to it.
Prioritize exercise as much as you do with work and spending time with your family.
Include physical activity during family time whenever possible.
Examples of activities to try with your spouse and kids include roller blade skating, ice skating, skiing, snowboarding, snowshoeing, playing basketball or football, hiking, swimming, and playing tennis.
No Motivation
Not feeling motivated is one of the most common workout excuses for men and women.
They key to staying motivated for exercise is to find workouts you enjoy doing. This could mean being active outdoors, joining a gym or fitness class, or finding a family member or friend to work out with.
Create an at-home gym by purchasing a treadmill, stationary bike, rowing machine, stair climber, elliptical machine, or weights for strength training.
Find an online health coach. Studies show that having a health coach can keep you motivated to achieve health and fitness goals, and increase your chance of long-lasting success.
The Fit Father Project offers online health coaching support from medical experts, as well as social media group support from other busy dads.
Having someone to exercise with is half of the battle when it comes to boosting workout motivation. You might choose a coworker, friend, spouse, or another family member to exercise with regularly.
Consider in-person or online exercise classes with other people who encourage, support, and keep you accountable during workouts.
Tracking health parameters might motivate you to begin or continue on with regular exercise, and it's crucial in some cases to maintain exceptional health and wellness.
At home (or with the help of your doctor), track your body weight, waist circumference, and body fat percentage as well as blood pressure, cholesterol, blood sugar, and testosterone or other hormones.
Research supports daily weigh-ins as an effective weight management strategy. Weigh yourself when you first wake up each morning and record the results – especially if weight loss is you goal.
Meet Heart RX. The Blood Pressure, Cholesterol, and Healthy Circulation Support For Guys 40+
Heart RX is for guys who are taking (or have taken) medication for lowering cholesterol and blood pressure. Heart RX will provide you with the natural support to improve all aspects of your heart health – including: blood pressure, healthy cholesterol, and better circulation.
No Gym Equipment
Not having gym equipment at home might be a temporary workout excuse. However, it's simple to create a home gym space or exercise outside on nice-weather days.
Creating a home gym is as simple as making space in your home to move around comfortably. You might purchase dumbbells, barbells, kettlebells, resistance bands, weighted vests, or other equipment to enhance resistance training.
Depending on how much money you'd like to spend, you may decide to purchase a stationary bike, treadmill, rowing machine, elliptical machine, or stair climber.
One nice-weather days, consider exercising outdoors. Go for a bike ride, jog, or play basketball outside with your kids. Consider swimming, kayaking, water skiing, or paddle boarding in the summer and cross-country skiing or snowshoeing in the winter.
If you'd like access to a wide variety of exercise equipment and don't like to work out at home, consider getting a gym membership.
At-home workouts are as fun as you make them. If you have a home cardio machine (treadmill, stationary bike, rowing machine, etc.), watch your favorite TV show during workouts to make indoor aerobic exercise more enjoyable.
Choose online fitness classes or recruit friends or family members to exercise with you. Change up at-home workouts often to avoid monotony.
No Workout Plans
Having health and fitness goals helps you hone in on finding a workout plan that best matches your needs and preferences. Studies show that goal setting promotes a healthy lifestyle.
Set targets for your body weight, body fat percentage, miles completed, number of minutes exercised, or number of calories burned or consumed. Consider using fitness or workout apps to set goals and track exercise progress and over time.
If you don't have a workout plan designed for men and don't know where to begin, consider joining a men's health program like the Fit Father Project.
Upon joining you receive unlimited fat-burning and muscle-building workouts, custom meal plans, recipes, newsletters, online health coaching support, and much more.
If weight loss is your goal, try the Fit Father Project 30X (FF30X) program, which includes custom weight-loss workouts and meal plans.
The program has helped hundreds of thousands of busy dads get excess weight off and keep it off for a lifetime.
Keep a daily journal to track exercise activity and write down daily workout plans as needed.
Record the number of minutes you work out, distance traveled, and the number of minutes you spend completing activities of daily living (walking your dog, grocery shopping, and doing yard work or house chores).
Over time, aim to increase the number of minutes you stay active, the number of calories you burn, or the intensity of exercise you complete.
Set health and fitness goals, track progress in your journal, and reward yourself for meeting your targets!
Here's How Busy Fathers Over 40 Are Finally Burning Stubborn Belly Fat & Getting Healthy Without Restrictive Diets or Time-Consuming Workouts
This proven "Fit Father Program" has helped 38,000 busy men 40+ lose weight, rebuild muscle, and finally keep the weight off.
If you're frustrated with stubborn belly fat, failed diets, and time-consuming workouts, this is the answer you've been looking for…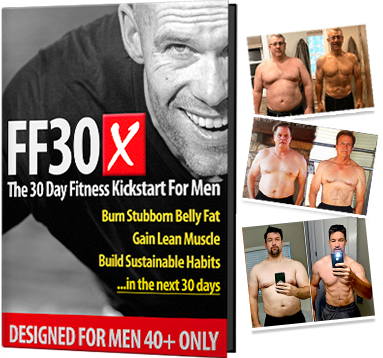 Join 38,000 guys in over 108 countries that are using FF30X to lose weight. You get everything you need to succeed – including:
The Fit Father Meal Plan – with simple & delicious recipes
Safe & Effective Workouts Program – only 90 min/week
VIP Accountability Coaching – our Fit Father Team will personally walk you to success, step-by-step.
LEARN MORE ABOUT FF30X >>
See the FF30X Program overview here. You'll discover how this proven Fit Father Program can help you lose weight and actually keep it off – without the complication and restriction of normal diets. »
*Please know that weight loss results & health changes/improvements vary from individual to individual; you may not achieve similar results. Always consult with your doctor before making health decisions. This is not medical advice – simply very well-researched info on workout excuses.