Finding the best workout gear for men is about more than just looking great in the gym or having the latest and greatest technologies.
The right gear can help improve your performance and the wrong gear can negatively affect your form and ability to effectively complete your workouts.
Specific exercise will dictate exactly what workout gear for men you'll need, but there are definitely some essentials that everyone should have.
Exercise Clothes
When picking out workout gear for men, you want to wear clothes that are light and won't restrict your movements.
Whether you are running on a treadmill or lifting heavy weights, you need to have a full range of motion of your extremities.
A shirt that is too tight will restrict your shoulder and arm movements and can even impact your breathing.
In addition, you want to pick clothes that are the right material.
If you know that you are going to be sweating a lot, say during a high-intensity interval session, you want clothes that are going to help wick the sweat away from your body.
When checking the tags of your workout apparel look for these fabrics:
Nylon
This fabric is mildew resistant and dries quickly.
It's also breathable and wicks sweat from your skin to the fabric's surface, where it can evaporate.
Plus the fabric will stretch with your body and not restrict your movements.
Polyester
Polyester is the workhorse of the workout fabrics, the one you see on labels most often.
Basically plastic cloth, it's durable, wrinkle-resistant, lightweight, breathable, and non-absorbent, which means that moisture from your skin evaporates instead of being drawn into the material.
Polyester's main drawback is the stink factor. Synthetic material can foster bacteria growth, and it also doesn't dry quite as quickly as nylon.
Here's How Busy Guys 40+ Are Finally Losing Weight…
If you're in your 40s, 50s, & 60s, you need to eat and exercise differently to lose weight & actually keep it off…
Spandex
Spandex has a tremendous stretch, giving you an unrestricted range of motion.
This fabric is also breathable, wicks moisture, and dries quickly.
This is why it remains a staple in exercise clothes.
Cotton
If you are setting out for an intense, sweaty cardio session, you want to stay away from cotton.
This material absorbs moisture, which will keep you soaked in your own sweat and dripping wet during a tough workout.
Still, for yoga and low-intensity weight training, you can still go with clothes made from cotton blends.
A 2014 study from Applied and Environmental Microbiology found that cotton gives off less post-workout odor than polyester.
This is because odor-causing bacteria tend to reside in synthetic fabrics like polyester.
Socks
Most guys don't really think about what socks they are wearing to the gym.
But just like any other workout gear for men, wearing the right socks can have a big impact on your workout.
Similar to your workout apparel, you want to choose a fabric that is going to wick away moisture so you don't feel like you are sloshing around in your shoes after a heart-pumping, high-intensity workout.
So choose socks with moisture-wicking materials like polyester, and steer clear of cotton for these types of workouts.
Also, be sure to read the packaging when you are out sock shopping.
A lot of companies offer different technologies for moisture-wicking and minimizing odor.
And keeping your feet dry during a workout will make the session much more enjoyable!
Water Bottles
The best workout gear for men isn't just clothing.
No matter what activity you are doing — strength training, cardio, or a lower intensity yoga session — staying well hydrated is essential.
So be sure to bring along a water bottle to each and every one of your workout sessions.
When choosing a water bottle, pick one that is BPA free.
BPA, or Bisphenol A, is a chemical found in certain plastic products. It has been found to alter hormonal levels and can even increase the risk of obesity.
If you know that you are going to be doing a high-intensity cardio session, you may want to bring along a water bottle with an easy to open spout or flip cap so that you're not trying to twist off the top of the bottle in between intervals.
Shaker Bottles
After a tough strength training or cardio workout, your muscles will be the most responsive to protein and carbohydrates.
Bring along a shaker bottle and some protein powder and you can mix up a quick protein shake right after your workout to maximize your strength gains.
Most shaker bottles come with a metal ball whisk that incorporates the powder into your water (or whatever liquid you are mixing with).
There are also some electric shaker bottles if you really want to splurge.
You can also choose a bottle with a built-in compartment to hold a premeasured amount of protein powder if you don't want to haul around a big tub of your favorite supplement.
Fitness Watches
Many people think that you only need a fitness watch for running or cardio workouts.
But the fact is, a watch with a heart rate monitor is a great investment for any type of fitness activity you are doing.
If you are big into multisports, like triathlons, then sure, a watch that records run pace, bike splits, and swim laps is great.
But even if you are lifting weights or doing high-intensity intervals, a watch that can record your heart rate, sets, and reps is a nice addition to your gym gear.
By monitoring your heart rate during workouts you can track your fitness progress.
And, even if you are just pumping iron, there are watches out there that you can input the amount of weight use and the number of reps so that you can follow this over time.
Headphones
Getting through a tough workout can be much easier when you have some motivational tunes playing.
Whether it's blasting out a final rep of bench press, or finishing off the last five seconds of a killer cardio interval, the right song can give you that extra push that you need.
But, you also need the right headphones for your workout.
For lifting weights, you can typically get away with over-the-ear headphones or earbuds.
If you want to really block out the rest of the gym, choose an over-the-ear sound-canceling headphone.
If you are going to be doing high-intensity cardio, or really anything that will have you sweating quite a bit, earbuds are the best choice.
These allow your ears to "breathe" and will keep you from overheating.
And with all of your training sessions, wireless headphones that allow you to listen to music via BlueTooth will give you the most freedom during your workouts.
It's much easier to lift weights, sprint, and jump without wires hanging around from your ears.
Compression Gear
After a workout, compression gear is a great recovery tool.
Compression garments are made for both the upper and lower body and help to increase blood flow to your muscles and speed recovery.
Wearing compression garments during the recovery period between exercise sessions has been shown to help reduce delayed onset muscle soreness, blood lactate levels, and overall performance recovery between exercise sessions.
Another 2015 study found that marathon runners who wore compression socks 48 hours after marathon running had improved functional recovery.
You can find compression gear in all forms, from long-sleeved shirts, tights, socks, arm sleeves, and calf sleeves.
This makes it easy to choose what you need based on your specific workouts and activities to maximize your recovery.
Gym Bags
Last, but not least, a good gym bag is an essential piece of workout gear for men.
This is especially true if you are working out and need to shower and change right after your sweat session to get to your next engagement.
There are a number of different bags out there to choose from.
The best gym bags will have multiple compartments so you can separate your sweaty exercise clothes and shoes from the rest of your gear.
Men who have an intense cardio regimen where they sweat profusely will likely want to get a waterproof lined bag as well.
You will also want to choose a bag that's easy to carry with shoulder straps or backpack straps.
Convenient, easy-access pockets on the outside, for things like your gym card and ID, are a nice addition, as well as secure inner pockets for valuables, like your wallet, keys, and phone.
Get In Shape With the Best Workout Gear for Men
While you can likely get through your gym sessions with minimal extras, having the right workout gear for men can enhance your workouts in so many ways.
For example, wearing clothing that wicks away sweat along with a water bottle by your side and your favorite song playing through your headphones can help push you through your last hard set or interval.
In addition, bringing along a shaker bottle with some recovery protein powder and compression gear will help you maximize your gains in the gym and get you primed for your next workout.
No matter what kind of workouts you are doing, you can boost your efforts with any of this high-quality workout gear and apparel!
Here's How Busy Fathers Over 40 Are Finally Burning Stubborn Belly Fat & Getting Healthy Without Restrictive Diets or Time-Consuming Workouts
This proven "Fit Father Program" has helped 25,000 busy men 40+ lose weight, rebuild muscle, and finally keep the weight off.
If you're frustrated with stubborn belly fat, failed diets, and time-consuming workouts, this is the answer you've been looking for…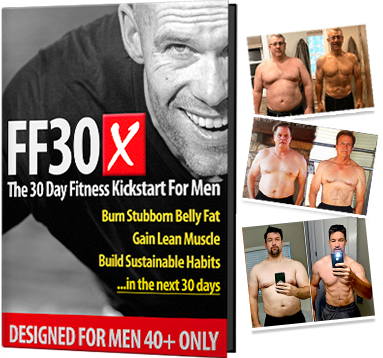 Join 22,000 guys in over 98 countries are using FF30X to lose weight. You get everything you need to succeed – including:
The Fit Father Meal Plan – with simple & delicious recipes
Safe & Effective Workouts Program – only 90 min/week
VIP Accountability Coaching – our Fit Father Team will personally walk you to success, step-by-step.
LEARN MORE ABOUT FF30X >>
See the FF30X Program overview here. You'll discover how this proven Fit Father Program can help you lose weight and actually keep it off – without the complication and restriction of normal diets. »
*Please know that weight loss results & health changes/improvements vary from individual to individual; you may not achieve similar results. Always consult with your doctor before making health decisions. This is not medical advice – simply very well-researched info on workout gear for men.