"The men's health experts for busy fathers and men 40+"
This FREE Meal Plan: has been Dowloaded over 400,000 times.
The #1 Most Downloaded FREE Fat Loss Meal Plan

Exclusively For Busy Men Over 40+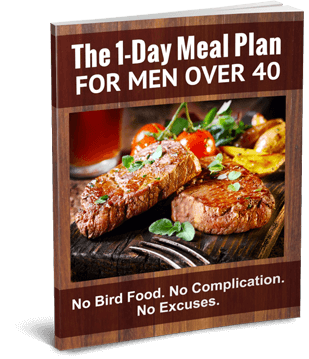 Discover exactly what to eat to lose belly fat & feel energized 24/7 - without hard dieting.
FACT: Men over 40 need to eat differently than younger guys to burn off belly fat, feel energized, & stay healthy. This Free 1-Day Meal Plan will show you what to eat without the frustration of "normal diets."
You'll discover the 3x "Busy Father Meals" you NEED to eat for breakfast, lunch, & dinner - to lose weight & feel energized 24/7 (pg. 2)
The #1 "dirty meal timing secret" to enjoy DELICIOUS MAN FOODS without gaining weight or feeling guilty - based on new science (pg. 4)
Enter your best email below to get FREE Instant Access:
Designed exclusively for busy men over 40 by the men's health experts at the Fit Father Project.
Downloaded over 400,000 times.
**DISCLAIMER** By adding your email address and clicking the 'Yes! Email my meal plan now' button, you are confirming that you agree to our terms and conditions and our privacy policy, and are happy to receive future discounts, offers & free training.

Your Free 1-Day Meal Plan will be sent tothe email address you submit above!
Joe Cardini, 54 years young*
"I love this plan! I honestly can't see myself living and eating any other way. I feel terrific. Sustained energy levels throughout the day. Better sleep. Can't that you enough for this help Anthony."
Founder, The Fit Father Project
Dr. Anthony is a men's health & weight loss expert who specifically helps busy men over 40. Growing up, Dr. Anthony watched his own Dad work himself to the bone, get sick, and eventually die at 42. He founded the Fit Father Project on the mission to help other busy fathers lose weight and build the sustainable health habits that will keep them strong and healthy for life.
Jim Younger, 62 years young*

"Dr. Anthony is the best in the business when it comes to helping busy guys get back in shape . I highly recommend you download his meal plan it's truly been a lifesaver for me."
**DISCLAIMER** By clicking the 'Get free meal plan now' button and adding your email address above, you are confirming that you agree to our terms and conditions and our privacy policy, and are happy to receive future discounts, offers & free training.
© 2021 The Fit Father Project | All Rights Reserved.

"Fitness For Busy Fathers 40+"

*Results vary from individual to individual.
Free Meal Plan: Dowloaded over 400,000 times.