"The #1 health & fitness experts
for busy fathers & men over 40."
CONGRATULATIONS! HERE'S YOUR WORKOUT
As promised, here's your 24-minute metabolism boosting workout. Watch the video below.
Want more FREE tips + workouts like this? Like us on Facebook here
WELCOME TO THE
FIT FATHER PROJECT
WE ARE SO GLAD YOU FOUND US. WE'RE THE MEN'S HEALTH EXPERTS WHO WILL HELP YOU GET BACK INTO INCREDIBLE SHAPE - AT ANY AGE
Helping busy fathers lose weight and get healthy is what we "do." We're extremely proud of the fact that we've already helped over 22,000 busy men lose over 75,000 lbs.
Our team of men's health experts has created some of the best meal plans, workouts, and motivation videos - specifically built for you as a busy father in your 40s, 50s, & 60s.
We're really glad you found our site to get started with us!
*Results vary. This is a required legal disclaimer.
AS WE'RE GETTING TO KNOW EACH OTHER, HERE ARE OUR CORE VALUES: "HEALTH, FAMILY, GOD, EXCELLENCE, COURAGE, & LEADERSHIP"
Although we have some of the best workouts & meal plans on the internet, we are most proud of our core values & mission.
It's our CORE MISSION to help you - a busy father with a family who depends on you - lose weight and build lean muscle so that you can get your old body back and STAY HEALTHY for your family for decades to come.
I guess you can say we're NOT your "average fitness site." We are a brotherhood, and we like it that way.


Message from: Dr. Anthony Balduzzi.
Founder, The Fit Father Project
Hey man! Thanks for taking the time to check out my free 24-minute fat burning workout. I hope you are starting to see that there's a specific way that men over 40 need to exercise and eat to burn off belly fat & see results.
Over the next few days, I'm going to be sending you some of my VERY BEST stuff - like free guides on fat loss workouts, how to eat to lose weight, and some motivation training.
Keep an eye on your inbox for all of that.
IN THE MEANTIME, IF YOU'RE READY TO START SEEING SOME REAL RESULTS WITH YOUR WEIGHT LOSS, I WANT TO INVITE YOU TO CHECK OUT SOMETHING ELSE TOO...
After years of intensive testing, I developed an incredibly effective 30-Day Weight Loss Program exclusively for busy men over 40. It's called Fit Father 30X (FF30X).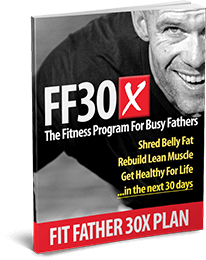 If you're the type of guy who is looking for a PROVEN, SIMPLE, & COMPREHENSIVE HEALTH PROGRAM that hands you EVERYTHING you need - including:
...the exact workout routine, meal plan, shopping lists, and motivation support so that you can see fast and sustainable weight loss and muscle building results...
THAT'S IT FOR YOUR 24-MIN WORKOUT TRAINING TODAY!
Nice work on getting started on this training, my friend! I hope you enjoyed today's "24-Min Fat Burning Workout" video guide. I have a lot more great stuff coming to your inbox over the next few days.
If you haven't liked the Fit Father Project on Facebook yet, you can do that below:
TOTAL BUNDLE VALUE: $600 TODAY JUST $97
Want more FREE tips + workouts like this? Like us on Facebook here
Also, here are a few other important webpages you may want to check out:

Really looking forward to helping you with your health & fitness goals,

Dr. Anthony Balduzzi

Creator, Fit Father 30X
Brotherhood Nickname: "Mr. Results"
Bragging Rights: has helped over 22,000 fathers drop over 90,000lbs of fat and rebuild muscle.
Want to chat about your goals and how the Fit Father Project may be able to help you?Awesome. Send me a message. Here's my personal email: [email protected]
"Fitness For Busy Fathers"
© 2017 & Beyond The Fit Father Project | All Rights Reserved

*GENERALLY EXPECTED RESULTS FROM FIT FATHER 30X & OTHER FIT FATHER PROJECT PRODUCTS:*
Although our products are intended to be fully implemented, and we work hard to ensure it's easy to do so, the typical user of virtually all education products treats them in much the same way they treat a book. The vast majority read or skim through it once, then do not implement the program or take any recommended action based. The results of our exercise methodology are intangible, and not measured in fat loss, muscle gain, abdominal definition, or other positive results of any kind. And even when consumers implement our product in full, more often than not they do not report increases in fat loss, muscle gain, abdominal definition, or other positive results of any kind. Reports of specific fat loss, muscle gain, abdominal definition, or any positive results of any kind should therefore be understood as the exception rather than the rule. Consumers who use our products can generally expect not to see any increase in fat loss, muscle gain, abdominal definition, or positive results of any kind. It is entirely possible you will gain fat, lose muscle, lose abdominal definition, and experience other negative outcomes as a result of the advice contained in our products.
*TESTIMONIALS DISCLAIMER: testimonials found at fitfatherproject.com and/or other websites owned by AMB Wellness Partners LLC are unverified results that have been forwarded to us by users of our programs, and may not reflect the typical purchaser's experience (as are described above,) may not apply to the average person and are not intended to represent or guarantee that anyone will achieve the same or similar results. If we have disclosed typical results based on information provided to us by a manufacturer or other reputable third party source, you should presume that the typical results as stated are more reliable than the testimonials and other examples found at fitfatherproject.com and/or from FFP. However, you should always perform due diligence and not take such results at face value. We are not responsible for any errors or omissions in typical results information supplied to us by manufacturers or other reputable third parties. If a product or service is new, you understand that it may not have been available for purchase long enough to provide an accurate results history. Again, it is possible that even with perfect use of the program, you will not achieve the results described in testimonials. They are meant to be a showcase of the best results the program has produced, and should not be taken as the results a typical user will get.
PROGRAM GUARANTEES: We offer a 100% money back guarantee on all of our programs – including membership sites for 60-days after the initial purchase. To initiate a refund, simply email [email protected] with your order number, and we will give you a full, prompt, and courteous refund within 1-3 business days. These guarantees are also outlined on all of our product and program sales pages.
FOR INFORMATIONAL PURPOSES ONLY: It is the intent of AMB WELLNESS PARTNERS LLC ("Sponsor") to operate products through this Website consistent with the work of Dr. Anthony Balduzzi, NMD. However, Sponsor is not a healthcare practitioner or provider. To the extent that any information is provided through this Website, it is for general informational purposes only and is not intended to constitute or substitute for (i) medical advice or counseling, (ii) the practice of medicine including but not limited to psychiatry, psychology, psychotherapy or the provision of health care diagnosis or treatment, (iii) the creation of a physician-patient or clinical relationship, or (iv) an endorsement, a recommendation or a sponsorship of any third party, product or service by the Sponsor or any of the Sponsor's related companies, agents, employees, consultants or service providers. If you have or suspect that you have a medical problem, contact your health care provider. Information and statements regarding dietary supplements available on this Website have not been evaluated by the Food and Drug Administration and are not intended to diagnose, treat, cure, or prevent any disease.