A
s you probably already know, as you get older, your metabolism drops. What better way to start the morning, than with a quick metabolism-boosting workout?
This great morning workout is timed, so it can only take 7-minutes, as you'll see below. It's not one of those '7-minute workouts' that actually takes you 20-minutes to complete.
All you need to do is stick to the timings we've scheduled for you below and you'll knock through this before you're even properly awake.
Getting your body moving first thing in the morning isn't only beneficial for boosting your metabolism, but also for getting your lymphatic system working properly (which helps flush toxins from your body) and also waking up your digestive tract.
The Basis Of This Workout – The Tabata Protocol:
Although this is not a strict version of the Tabata workout, it's an improvised one to limit the time it takes to complete. This will allow you to fit it in first thing in the morning.
The full Tabata method is made up of 4 exercises, but they are performed for 8 rounds, with 20 seconds on, 10 seconds off.
The workout I have for you below is 4 exercises performed for 4 rounds in a 10 seconds on, 10 seconds off format.
Tabata is a form of high-intensity interval training (HIIT) and was researched by Dr. Izumi Tabata back in 1996.
The scientific backing of its efficiency is extremely sound.
Your 7-Minute Morning Workout:
Tabata style – 10 secs on, 10 secs off. 4 rounds, 4 exercises. 30 secs rest between exercises.
Push-ups – 80 secs + 30 secs rest
Air squats – 80 secs + 30 secs rest
Burpees – 80 secs + 30 secs rest
Mountain climbers – 80 secs
The first few times you do this workout, do not go all out. Get a feel for how the workout feels and for the form of each exercise.
As you progress, you can push yourself to complete more repetitions of each exercise within the 10-second limit.
Once you have the exercises above nailed down and fancy a change, you can choose different exercises to do. You can do literally any exercise you want!
The Benefits Of This Morning Workout:
This workout will definitely get your heart pumping and a bit of a sweat on.
Tabata has been proven to increase both aerobic and anaerobic fitness.
It's perfect to get your blood flowing and to increase your metabolism.
In fact, this type of training will give you what is known as the 'after burn' effect, which increases your metabolic rate for hours after the workout.
Spend 3 minutes stretching after and you've had a great workout in just 10 minutes.
Use this if you're struggling to find the time to train, or suspect you won't get a full workout in today.
I hope you enjoy it! 🙂
Your new friend & health coach,
Here's How Busy Fathers Over 40 Are Finally Burning Stubborn Belly Fat & Getting Healthy Without Restrictive Diets or Time-Consuming Workouts
This proven "Fit Father Program" has helped 25,000 busy men 40+ lose weight, rebuild muscle, and finally keep the weight off.
If you're frustrated with stubborn belly fat, failed diets, and time-consuming workouts, this is the answer you've been looking for…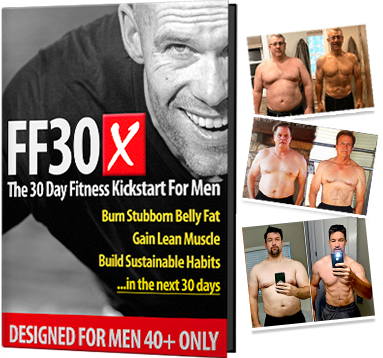 Join 22,000 guys in over 98 countries are using FF30X to lose weight. You get everything you need to succeed – including:
The Fit Father Meal Plan – with simple & delicious recipes
Safe & Effective Workouts Program – only 90 min/week
VIP Accountability Coaching – our Fit Father Team will personally walk you to success, step-by-step.
LEARN MORE ABOUT FF30X >>
See the FF30X Program overview here. You'll discover how this proven Fit Father Program can help you lose weight and actually keep it off – without the complication and restriction of normal diets. »
*Please know that weight loss results & health changes/improvements vary from individual to individual; you may not achieve similar results. Always consult with your doctor before making health decisions. This is not medical advice – simply very well-researched info on your morning workout.