G
reat bodies are not created overnight. It takes a lot of time and effort to develop
the best muscle building workout plan
for your specific needs.
Unfortunately, there are hundreds of different opinions regarding what is best for you and your muscle building dreams.
This guide is going to help you understand what the best muscle building workout plan really entails and how you can apply it to your life.
If you're so eager to get started that you need a workout now, try this free workout and see how well you do.
Why Muscle Building Is Different from Other Workouts
The first thing to understand when muscle building is that you're looking to increase your mass, it's not normally a good idea to try to lose weight while building muscle.
The reason is simple, weight loss requires a reduction in calories, below your maintenance amount.
Building muscle requires excess calories, over your maintenance amount.

It's not easy to do both of these things at the same time.
You also need to decide if you're training for size or strength, which depends on your current capabilities.
To understand the differences check out the key elements of different workout programs:
Boosting Strength
If you're just getting started on a muscle-building routine, it's best to focus on building strength first.
Stick to the foundational lifts.
Squats, deadlifts, pull-ups, overhead press, and the bench press will give you additional strength and help you lift more weight.

Prioritize compound movements over isolation exercises.
Aim to lift between 80-100% of your maximum single lift ability.
Increasing Size
Bulking up will be a much easier process after you have built up your strength.
If you're looking to increase the size of your muscles then you want to be doing as many as 6 sets of 8-12 reps.
You should be lifting as much as 70-80% of your maximum capability in one lift.
At this phase, you can start working on isolation exercises, but you'll also want to keep those compound and foundational lifts in your routine.
The idea is to introduce intramuscular damage, as your body heals the fibers in your muscles will grow larger, increasing the size of your muscle.
If you're strong, you'll be able to lift more weights, which will help gain the desired look much faster.
Weights Alone Are Not Enough
It should be pretty clear that if you're looking to build muscle, you need to have a complete plan.
Of course, this means lifting weights, but you'll also want to condition your body and get plenty of rest.
The American Heart Association recommends 30-40 minutes of medium to intense activity 3-4 times a week.
But, if you want muscle gains, you'll need more than just exercise to maintain your health.
Core strength is essential to your ability to perform any strengthening exercise.
A strong core improves your balance and posture, helping you to adopt the right posture for your muscle-building workout.
It also trains the muscles in your lower back, hips, pelvis, and even your abdomen. The better these work together, the easier you'll find it is to lift heavy weights and build more muscle.
Get Enough Sleep
If you're hitting the weights hard, you'll want to give your body time to repair. This means sleeping 7-9 hours every night.
You'll not only be giving your muscles rest and much needed time to repair, but you'll also be giving your body a chance to create and balance out hormone production.
How Guys 40+ Are Using "Old School" Secrets To Build Age-Defying Muscle
Ever thought you were "over the hill" or "too far past your prime" to build muscle and get strong again? Well, think again…
Basic Components of the Best Muscle Building Workout Plan
As mentioned earlier, you should be using the foundation lifts on a regular basis.
Squats
Deadlift
Pull-ups
Bench press
Overhead press
Leg press
In addition, it's important to maintain proper conditioning and core strength.
Adopt a HIIT approach, where you do any exercise at full force for just 20 seconds, rest for 10 seconds, and then repeat.
This is a good way of completing core building exercises as it forces your core to work hard over and over again, yet the workout is short enough that you'll always be able to find time for it.
Planks – all varieties
Butterfly Sit-ups
Seated knee tuck
Flutter kicks
Russian twist
Standard crunches
Bicycle crunches
The Bridge
Reverse crunch
Jumping rope
Of course, building your core will help you to perform the muscle building exercises that you really want to be doing. That means you should also add in some weight training exercises.
Here are some great weight training exercises to mix in:
Bicep curls
Bent over rows
Upright rows
Lateral raise
Bodyweight Exercises 
As well as building your core and lifting weights, you should be familiarizing yourself with some bodyweight exercises.
For these, you don't need any weights, as your body weight is sufficient enough and will push your muscles to their limits.
The great thing about these exercises is that you can literally do them anywhere.
Push-ups 
Pull-ups
Pull-downs
Dips
Standing calf raise
It is important to note that bodyweight exercises are great for weight loss and weight management.
They will help to boost your core strength and give you the basic structure that allows you to do heavier lifting.
Important Tips to Shape Your Body
Make sure that you target your upper body one day and your lower body the next.
This will give one set of muscles time to rest, while the others have the opportunity to grow.
That's an important part of leg exercises. The legs actually contain some of the largest muscles in your body.
By doing high resistance workouts on your legs you'll be able to boost their size and your production of growth hormone, which will aid all of your body in becoming bigger and stronger.
While doing exercises it is important to remember that your triceps also need to be developed.
Large triceps really enhance your strength and the appearance of your biceps.

Try doing some tricep dips or overhead tricep extensions. These will cause your triceps to grow, creating a bulge at the back of your arm which is essential to good definition of your new body.
The same is true of your calves. A lot of men focus on their quads and forget the importance of calves and how they help to define your legs. Try adding calf raises to your routine to give your legs a more rounded appearance.
Putting the Routine Together
You've seen the exercises, now it's time to put it all together and start building muscles:
Day 1 Upper Body
Focus on your upper body by completing the following muscle building exercises:
Weighted Squats – 3 sets of 6-8 reps
Bench Press – 3 sets of 6-8 reps
Overhead Press – 3 sets of 6-8 reps
Incline Dumbbell Press – 3 sets of 6-8 reps
Lateral Raises – 2 sets of 10-15 reps
Tricep Pushdowns – 3 sets of 10-12 reps
Lat Pull Downs – 3 sets 8-10 reps
Rows – 3 sets 6-8 reps
Bicep Curls – 2 sets 12-15 reps
Day 2  Lower Body
Allow your upper body to rest as you workout your lower body:
Weighted Squats – 3 sets of 6-8 reps
Deadlift – 3 sets of 6-8 reps
Standing Calf Raises – 4 sets of 6-8 reps
Seated Leg Curls – 3 sets of 8-10 reps
Leg Press – 3 sets of 10-12 reps
Day 3 – Rest
Day 4 Upper Body
After a day's rest, you should be ready to hit your upper body hard again. Remember, pushing your limits every time is essential to making the most of any muscle-building plan.
Weighted Squats – 3 sets of 6-8 reps
Pull-ups – 3 sets of 6-8 reps
Barbell Curls -3 sets of 10-12 reps
Bench Press – 3 sets of 8-10 reps
Seated Cable Row – 3 sets of 8-10 reps
Barbell Shoulder Press – 3 sets of 6-8 reps
Dumbbell Flyes – 2 sets of 12-15 reps
Skull Crushers – 2 sets of 14-16 reps
Day 5 – Lower Body
To finish your exercise for the week rest your upper body and focus on building lower body muscle:
Weighted Squats – 3 sets of 6-8 reps
Seated Calf Raises – 4 sets of 14-16 reps
Split Squats – 3 sets of 10-12 reps
Lying Leg Curls – 3 sets 12-14 reps
Day 6 & 7 – Rest
What Are The 5 Best Muscle Building Exercises For Men 40+?
The secret to building age-defying muscle in your in 40s, 50s, & 60s is to modify the best muscle building exercises (bench, squats, rows) to make them safe on your joints…
Final Thoughts to Get You Started
You should be pushing your limits with every workout, but you also need to be consistent with your schedule.
Don't forget that the best muscle building workout plan for men is unique.
Your goals, time availability, and even the equipment you have available will dictate the approach you take.
The reason you want larger or stronger muscles is also likely to affect your ability to get the desired results.
For additional help, download our free muscle-building workout.  It's a prerequisite for our famous muscle-building program, Old School Muscle.
Whatever you need, we're here to help. We have tons of resources to give you the body you deserve, but we can only show you the door. It's up to you to make the moves.
Your new friend & health coach,

Here's How Busy Guys 40+ Are Building Age-Defying Muscle And Strength… Working Out Just 3 Hours Per Week
This proven "Old School Muscle Program For Guys 40+" combines the "old school" bodybuilding secrets with the "new school" science… to produce muscle & strength building results fast.
Only for guys 40+ who want to build muscle.
If you're frustrated with stubborn belly fat, failed diets, and time-consuming workouts, this is the answer you've been looking for…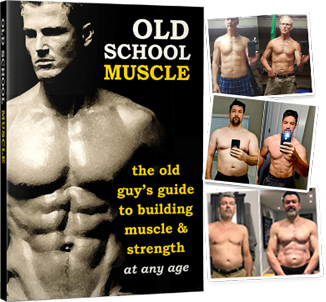 Old School Muscle (OSM) covers every aspect of building muscle for you as a guy 40+:
Old School Muscle (OSM) covers every aspect of building muscle for you as a guy 40+:
The 9-Week Muscle Building Program – safe, joint-friendly exercises
VIP Accountability Coaching – our Fit Father Team will personally walk you to success, step-by-step.
See the Old School Muscle (OSM) Program overview here. You'll discover how this proven program has helped thousands of guys 40+ pack onage-defying muscle and strength – the smart & sustainable way. »