Fat vs muscle is often discussed — and often misunderstood. What weighs more, one pound of fat or a pound of muscle?
The joke is on you if you're asking this question!
It's kind of like asking which one is healthier.
It is important to stress that in the case of fat vs muscle there can be no clear winner; both are necessary for a healthy body.
But, the balance of the two is what really counts.
Here's the TRUTH about fat vs muscle that all men should know.
If you're building muscle, but having trouble losing fat, then this video is for you!
Fat vs Muscle: The Body Image
Take one look at any weight loss picture — the before shows a man, probably in his 40s with a large belly looking overweight.
The after shows a sleeker version of the same man; the belly is gone and his weight is substantially less.
Despite the image of health, there is no guarantee that the slimmer man is any healthier.
This point is perfectly illustrated when you consider the image of two people who both weigh the same, but one has 10% body fat, the other has 25%.
Muscle takes up less space and hugs our body much more comfortably than fat, but a pound of muscle and a pound of fat still weigh the same.
Meet Burn RX. The Safe & Effective Metabolism Booster To Help You See Faster Results& Feel More Energized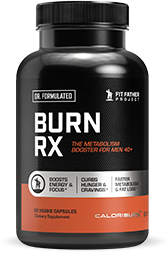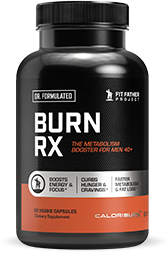 Burn RX is for guys who are working on losing weight and want to see faster and easier results from their eating & exercise efforts. It helps your body burn more fat before, during, and after your workouts, which will improve your body composition while boosting your energy + metabolism.
Fat vs Muscle: The Real Difference
A pound of fat weighs one pound. A pound of muscle weighs one pound. But, muscle is more dense than fat.
Denser materials take up less space. This means a specific amount of muscle will occupy less physical space than the same quantity of fat.
It is this fact that makes the difference in before and after photos.
The less body fat you have the more definition you will have around your muscles, creating a toned physique.
Despite what you may have heard, it is not possible to convert fat to muscle or muscle to fat.
If you do not exercise your muscles will not grow and, because they are not being used, they will actually decrease in size.
This will slow your metabolism and increase your fat stores.
In contrast, exercise burns calories, and if you do not consume enough calories, the excess fat in your body is turned into energy to fuel your muscles, thus depleting your fat stores.
The result is, fat has been burned and muscle built, but you should weigh the same.
When muscle wins the battle of fat vs muscle, you look slimmer and fitter.
The only way that muscle can weigh more than fat is if you have a piece of muscle that takes up the same volume of space as a piece of fat.
While this may be your eventual goal, it does not mean that muscle weighs more than fat.
It just means you have a higher muscle content than you previously did and a lower fat content, which is healthy.
Why The Scales Are Bad
Most people monitor their weight loss progress through weekly, or even more regular, use of the scales. However, this can be misleading.
You can lose weight by reducing your food intake but not completing any exercise.
The reason for this will be due to a loss of muscle in the body, not an increase in fat.
To really monitor your progress with weight loss or muscle building you need to monitor your diet.
You also need to take accurate measurements of your waist, thighs, and even arm muscles.
If you're doing things correctly, you should lose 5-10 lbs of fat per month and gain 2-3 lbs of muscle per month.
Of course, it depends on your specific situation, but that would be a reasonable goal for someone working hard.
Scales simply show the weight of your body, and this can fluctuate based on a variety of different criteria:
Muscle will be between 30-55%
Fat between 10 and 30%
Water in your body 10 to 25%
Bones can be as much as 15%
Your organs will be approximately 15%
The exact distribution will depend upon your fitness level.
The fitter you are the higher your percentage of muscle and the lower your fat level is, but a body fat percentage calculation is really the safest way of knowing if you are really winning the fat vs muscle battle.
Embracing Muscle
It doesn't matter if you are looking to lose weight or build muscle, you should be aware that muscle is extremely beneficial to your body and your overall health.
Muscle boosts your metabolism because it is denser than fat it requires more calories even when resting.
The more muscle you have, the more calories you will burn.
Providing you stick to a sensible diet, it will be difficult for you to gain fat.
Muscle also works to strengthen the bones it surrounds and supports, making them denser and reducing your risk of injury.
This is an obvious benefit of muscle.
If you complete compound exercises, you will improve the strength of several muscles at the same time.
The added benefit of this is an improvement in your core strength and balance.
Winning the war of fat vs muscle means you will have better body definition.
This will inspire confidence in yourself in a wide variety of everyday situations. You may surprise yourself at what you can achieve.
The stronger your muscles and the more calories they require, the harder your body will need to work to maintain its resting level.
This will result in improvements to your circulation, digestive system, and the health of all your organs, reducing the risk of illness.
Fat vs Muscle: Additional Considerations
Higher levels of fat have been shown to increase the likelihood of contracting type 2 diabetes, coronary issues, respiratory disorders, and even some types of cancer.
Regardless of the fact that you look better when your body fat is lower, research shows you are likely to live longer and be healthier, which has to be the best advantage of allowing muscle to win the battle of fat vs muscle!
The right diet and even basic physical exercise can reduce your body fat.
Add in a good workout routine, such as this 24-min workout, and you won't recognize yourself within just one month.
This is just the tip of the iceberg!
The Fit Father Project is here to support you on every step of your journey, beating fat and improving muscle to ensure that you can give your family the time and energy that you all deserve.
Here's How Busy Fathers Over 40 Are Finally Burning Stubborn Belly Fat & Getting Healthy Without Restrictive Diets or Time-Consuming Workouts
This proven "Fit Father Program" has helped 38,000 busy men 40+ lose weight, rebuild muscle, and finally keep the weight off.
If you're frustrated with stubborn belly fat, failed diets, and time-consuming workouts, this is the answer you've been looking for…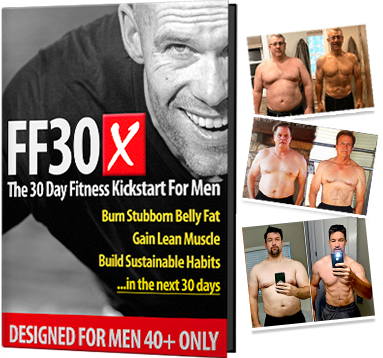 Join 38,000 guys in over 108 countries that are using FF30X to lose weight. You get everything you need to succeed – including:
The Fit Father Meal Plan – with simple & delicious recipes
Safe & Effective Workouts Program – only 90 min/week
VIP Accountability Coaching – our Fit Father Team will personally walk you to success, step-by-step.
LEARN MORE ABOUT FF30X >>
See the FF30X Program overview here. You'll discover how this proven Fit Father Program can help you lose weight and actually keep it off – without the complication and restriction of normal diets. »
*Please know that weight loss results and health changes/improvements vary from individual to individual; you may not achieve similar results. Always consult with your doctor before making health decisions. This is not medical advice – simply very well-researched info on fat vs muscle.