D
on't have a lot of time or equipment for a workout? What if we told you we had a full-body dumbbell workout that could be done in 35 minutes?
As a busy dad, it's not always easy to fit in a workout.
As men get older, it becomes harder to shed those extra pounds. It is important to incorporate exercises to build lean muscle mass and increase metabolism. But you don't need fad diets or fancy machines to lose weight and get into shape.
All you need is a pair of dumbbells and some open floor space.
In the process, you can turn your body into a fat-burning machine and get that ripped body you've always wanted.
Ready to get started? Watch the video below to learn how to do our full-body dumbbell workout!
Here's the Full Layout. Do This 2-3 Times a Week, and You Will See Results!
A1: Dumbbell Jump Squats 3 x 6-8
A2: Dumbbell Deadlifts 3 x 10-12
B1: Dumbbell Flat Bench 3 x 8-12

B2: Dumbbell Row 3 x 8-12
C1: Incline Dumbbell Bench: 3 x 8-12

C2: Rear Delt Flys 3 x 8 – 12
D1: Standing Shoulder Press 3 x 8-12

D2: Shrugs 3 x 15-20
E1: Standing Dumbbell Curl 3 x 8-12

E2: Lying Dumbbell Skulls 3 x 8 -12
Pro Tip 1: If you keep your rest low in between the supersets, this is a fantastic workout routine to lose weight fast.
Pro Tip 2: If you're just getting started, pay close attention to the form points in the video above.
Here's How Busy Fathers Over 40 Are Finally Burning Stubborn Belly Fat & Getting Healthy Without Restrictive Diets or Time-Consuming Workouts
This proven "Fit Father Program" has helped 38,000 busy men 40+ lose weight, rebuild muscle, and finally keep the weight off.
If you're frustrated with stubborn belly fat, failed diets, and time-consuming workouts, this is the answer you've been looking for…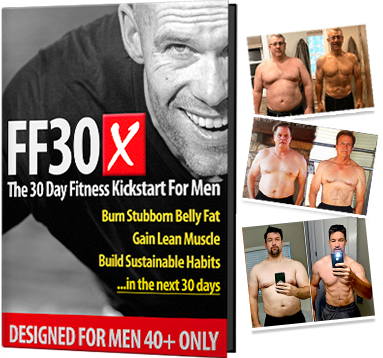 Join 38,000 guys in over 108 countries that are using FF30X to lose weight. You get everything you need to succeed – including:
The Fit Father Meal Plan – with simple & delicious recipes
Safe & Effective Workouts Program – only 90 min/week
VIP Accountability Coaching – our Fit Father Team will personally walk you to success, step-by-step.
LEARN MORE ABOUT FF30X >>
See the FF30X Program overview here. You'll discover how this proven Fit Father Program can help you lose weight and actually keep it off – without the complication and restriction of normal diets. »
*Please know that weight loss results and health changes/improvements vary from individual to individual; you may not achieve similar results. Always consult with your doctor before making health decisions. This is not medical advice – simply very well-researched info on a full-body dumbbell workout.