The Top Health Benefits of Probiotics for Men
p
Probiotics are naturally found in your gut and are the healthy bacteria needed for your body to function at its best. You may be getting probiotics in the foods you eat, such as:
Yogurt
Kefir
Kimchi
Tempeh
Sauerkraut
Kombucha
Miso
If you're not eating probiotic-rich foods, you can reap numerous health and wellness benefits by taking probiotics supplements. You might be surprised to learn about all the ways ingesting probiotics for men can benefit your health.

What is the Gut Microbiome?
The human microbiome is a collection of microbes, such as healthy bacteria, that live within the human body — especially the gut. Baylor College of Medicine reports that microbes outnumber human cells in the body by a ratio of 10 to 1 — and that microbial cells, though extremely small, may account for up to 5 pounds of body weight in healthy adults.
When you think about bacteria, you might associate these microbes with illnesses or infections. However, healthy bacteria inside your body that make up your microbiome are an essential part of staying alive. Good bacteria in your gut help:
Digest food
Produce vitamins
Enhance and regulate the immune system
Protect against disease-causing bacteria
Lower your chance of becoming ill
Studies have barely scratched the surface and are ongoing to find out more about the human microbiome, and the various strains of healthy bacteria that inhabit the gut.
The goal of the Human Microbiome Project, funded by the National Institutes of Health, is to facilitate research to further understand the impact of the human microbiome on health and disease.
Download our free one-day meal plan for a balanced way to eat healthily.

How Probiotics Benefit Your Health
While probiotics are naturally found in your gut, research shows there are numerous health and wellness benefits associated with ingesting probiotics in fortified foods and supplements, such as:
Healthy Weight Management and Appetite Control
Various studies show the benefits of probiotics on appetite control and healthy weight management. While more research is needed to learn the specifics about this topic, one 2017 study published in the journal Nutrients found that in men, a lactobacillus probiotics strain appears to boost satiety, regulate appetite, decrease emotional eating, and help manage obesity.
Reduced Cholesterol and Heart Disease Risks
A 2016 review published in Tropical Life Sciences Research found that probiotics, especially lactobacilli and bifidobacteria strains, help reduce high blood cholesterol. Probiotics-rich foods (such as yogurt) and supplements studied in this review helped:
Reduce total cholesterol
Lower LDL cholesterol (unhealthy cholesterol)
Reduce triglycerides
Increase HDL cholesterol (healthy cholesterol)
Because probiotics have beneficial effects on cholesterol levels within your body, these healthy bacteria appear to also lower your risk for developing heart disease, which is the leading cause of death among U.S. adults.
Diabetes Management

A 2016 study published in the International Journal for Vitamin and Nutrition Research found that diabetes is related to bacteria in your gut, and that healthy bacteria appear to help improve insulin secretion, insulin resistance, and complications related to diabetes.
Researchers found that ingesting probiotics, especially lactobacillus and bifidobacterium strains, may even help prevent diabetes.
Improved Skin Conditions
Believe it or not, ingesting plenty of probiotics regularly may help improve the appearance of your skin, and reduce symptoms associated with certain skin conditions. A 2015 study published in Critical Reviews in Food Science and Nutrition found that probiotics appear to prevent or treat the following skin problems:
Eczema
Acne
Atopic dermatitis
Allergic inflammation
Skin damage from UV rays
Wounds
More research is needed to determine which strains and dosages are most effective for these skin conditions. Researchers say probiotics also benefit the skin when applied topically or used in cosmetic products.
Reduced Gastrointestinal Conditions
Reduced diarrhea and other gastrointestinal problems is another perk of taking probiotics supplements or eating probiotics-rich foods. The National Center for Complementary and Integrative Health says probiotics help prevent diarrhea caused by antibiotics or infections, and these supplements may ease symptoms of irritable bowel syndrome (such as abdominal pain and bloating). Probiotics reduce the severity of all-cause diarrhea as well.
The lactobacillus probiotics strain helps treat children with rotaviral diarrhea. MedlinePlus says children with rotavirus may get over diarrhea three days sooner when ingesting lactobacillus, and recommends taking at least 10 billion colony forming units (CFUs) during the first 48 hours of diarrhea onset.
Improved Oral Health
You might be surprised to learn that probiotics may help improve oral health, especially your teeth and gums. Research is ongoing to determine which strains and dosages are most effective, but the 2016 study published in Tropical Life Science and Research says ingesting probiotics regularly helps prevent:
Dental caries (cavities)
Periodontal disease (gum disease)
Halitosis (bad breath)
The main reason probiotics are beneficial for oral health conditions is because good bacteria help reduce the number of harmful bacteria in your mouth that cause bad breath, cavities, and gum disease.
Better Psychological Health
It might seem surprising that bacteria that make up your microbiome may improve your psychological health, but early research indicates that this is indeed the case! A 2017 review published in Clinics and Practice found that there's a link between your gut, brain, and microbiome, and a healthy microbiome appears to reduce depression and anxiety.
The researchers say numerous studies show ingesting probiotics reduces symptoms of depression and anxiety similar to taking prescription medicines for these mental health conditions.
The 2016 study in Tropical Life Science says while more research is needed, probiotics supplements may also help manage stress.
Improved Immunity
Ingesting plenty of probiotics regularly appears to boost your immune system and prevent illnesses. A 2014 review published in the British Journal of Nutrition says probiotics reduce the duration of illnesses in healthy adults and kids.
Another study published in 2014 in CMAJ found that probiotics may help prevent upper respiratory infections, but more research is needed in this area.
Maximizing the Benefits of Probiotics
To maximize all of the health and wellness benefits probiotics have to offer, it's best to establish healthy living habits in all areas of your life  including the following healthy lifestyle tips and tricks:
Take Additional Supplements
In addition to taking probiotics supplements, look for a men's multivitamin supplement containing all of the essential vitamins and minerals your body requires on a day-to-day basis.
It's best to meet daily nutrient needs by eating healthy foods, but a multivitamin supplement helps prevent deficiencies that may arise. Consider taking an omega-3 supplement as well, as many Americans fail to meet recommended levels of this essential nutrient.
Get Enough Sleep
In addition to consuming probiotics regularly, getting plenty of sleep is the key to staying as healthy as possible. A good night's sleep boosts energy, lowers your risk for gradual weight gain and obesity, and decreases food cravings for sweets, salty foods, high-calorie foods, and other junk foods, says the University of California at Berkeley. Aim to get about 7 to 9 hours of sleep in each night.
Exercise at Least 30 Minutes Daily
You don't have to exercise for hours on end to reap the health and wellness benefits of exercise. Simply aim to work out at least 30 minutes daily, and stay more active throughout the entire day by moving or standing more, and sitting less. To get started, try the Fit Father Project free 24-minute metabolism boosting workout.
Divide Each Healthy Plate Into Fourths

Eating nutritiously is one of the most important things you can do to stay healthy and avoid sickness and disease. Divide each plate into fourths and fill two-fourths of it with vegetables, one fourth with lean proteins, and one fourth with starches. To learn more about healthy meal planning for weight loss, sign up to receive the Fit Father Project free 1-day meal plan.
Avoid Smoking and Excessive Drinking
Smoking and excessive drinking increases your risk for numerous health problems, such as cancer, chronic obstructive pulmonary disease (COPD) in the case of smoking, and liver disease from excessive alcohol.
Drinking too much may also cause unwanted weight gain and boost your risk for overweight and obesity. To maximize your health, nix tobacco and keep alcohol intake as low as possible.
Take Probiotics Supplements in Recommended Dosages
The key to reaping the health and wellness benefits of probiotics for men is to ingest the right dosage. There is no one-size-fits-all recommendation for probiotics supplements, but the American Family Physician says common dosages are 5 to 10 billion colony forming units (CFUs) daily for children and 10 to 20 CFUs per day for adults. Always check with your doctor to know for sure.
Which Probiotics for Men are the Best?
Numerous probiotics for men are available, which is why choosing the right brand might seem like a daunting task. There are several things to look for when choosing the best probiotics for men:
Choose probiotics supplements containing multiple probiotics strains.
Opt for shelf stable probiotics supplements when possible, to increase the likelihood of microbe survival.
Pick probiotics for men that are third-party tested for quality of purity.
Look for probiotics supplements containing at least

1 billion CFUs

per serving.
Choose probiotics that are free from added sugar and extra calories (such as gummy probiotics).
Third party reviewers tested different brands of probiotics for men to check quality and purity, and some of the supplements tested contained very few (if any) living organisms. Based on these tests, a few top-rated probiotics for men include:
Culturelle Probiotics
The U.S. News and World Report rates Culturelle probiotics supplements as #1, because the majority of pharmacists recommend this brand to customers.
Culturelle probiotics supplements also received high scores for improving gastrointestinal disorders (especially diarrhea) as part of a 2012 study published in Clinical Gastroenterology and Hepatology.
Florastor Probiotics
The U.S. News and World Report ranked Florastor as the #2 best probiotics supplement brand based on pharmacist recommendations. In the 2012 study published in Clinical Gastroenterology and Hepatology, researchers found that Florastor probiotics effectively prevented and treated antibiotic-associated diarrhea and infectious diarrhea.
NSF International-Approved Probiotics for Men
NSF International is a third party testing agency for supplements. This agency tested and approved the following probiotics for men:
Thorne Research Probiotics
Wegmans Food Market Probiotics Blend
These products are certified by NSF International because they rank high in quality and purity.
Probiotics for Men Used in Research Studies

In addition to Culturelle and Florastor probiotics brands, the following additional probiotics for men ranked high by researchers who conducted the 2012 study in Clinical Gastroenterology and Hepatology:
BioGaia probiotics for treating infectious diarrhea
VSL#3 probiotics blend to ease symptoms of ulcerative colitis
Mutaflor probiotics for managing ulcerative colitis
DanActive to ease antibiotic-associated and infectious diarrhea
These products were given a letter grade of  A by researchers who conducted the study.
Consumer's Health Report Top 5 Picks

Consumer's Health Report ranked probiotics based on the number of live bacteria found per serving, and other quality and purity guidelines. This agency only endorses products made by manufacturers who abide by CGMP (current good manufacturing practices). The report's top 5 picks include:
BlueBiotics Ultimate Care
Ultimate Flora Critical Care
Garden of Life RAW Probiotics
InnovixLabs Multi-Strain Probiotics
Vitamin Bounty Pro 25
Based on the Consumer's Health Report, these products all contain blends of numerous probiotics strains.
Labdoor Probiotics Recommendations

Labdoor is another third-party independent company that tests supplements. Labdoor's top picks based on quality and purity in the probiotics category include:
Culturelle Digestive Health Probiotics
Schiff Digestive Advantage Daily Probiotics
Trunature Digestive Probiotics
Ortho Molecular Products
Garden of Life Primal Defense Ultra Probiotics Formula
Florastor
In addition to taking probiotics supplements, maintain a healthy weight and make healthy lifestyle choices to maximize all of the benefits probiotics for men offer.
Maintain Good Health for Life
A structured weight loss program helps you meet weight loss and healthy lifestyle goals. If you're on a roll with nutritious eating, taking probiotics supplements, getting regular exercise, and sleeping well, long-term maintenance is what you need after the newness of healthy living wears off.
To receive the accountability support you need to stay on track with a long-term weight management program, consider joining one of our programs. They're all designed specifically designed for busy fathers over 40 who need extra support, daily workouts, healthy meal plans, and extra tips to achieve long-term weight management success!
Start by downloading our free one-day meal plan!
Erin Coleman
Writer, The Fit Father Project
A 15-year freelance writing veteran, Erin is a registered dietitian and health educator who is passionate about health, fitness and disease prevention. Her published work appears on hundreds of health and fitness websites, and she's working on publishing her first book! Erin is a wife and mom of two beautiful children.
If you're interested in a proven and completely laid out "done-for-you" weight loss meal plan & workout routine – designed for you as a busy man…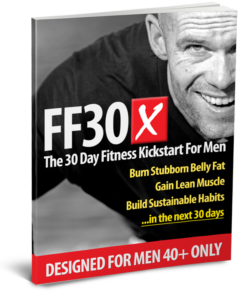 I'd recommend you read the program overview letter for our Fit Father 30-Day Program (FF30X).
Inside FF30X, you'll receive:
The simple & delicious Fit Father Meal Plan
The metabolism boosting Fit Father 30X Workout (under 90 min/week)
VIP email coaching where I'll personally walk you through the program
Read the FF30X Program overview letter here to see how our plan can help you lose weight – without the complication & restriction of normal diets.
*Please know that weight loss results & health changes/improvements vary from individual to individual; you may not achieve similar results. Always consult with your doctor before making health decisions. This is not medical advice – simply very well-researched info on probiotics for men.