M
en over 40, it's time to face the facts. Our bodies are different than they were 20 years ago! It's time to trade in bad habits for healthy habits.
We need more sleep, more time to recover from illnesses, and we have new aches and pains that weren't there before.
The good thing is, you don't have to let your aging body limit you.

There are four key healthy habits that you need to put in place in order to stay healthy in your 40s and beyond.
Read on to learn how to implement them in your own life!
Motivation is great, but building a habit will ensure you continue to do something for the rest of your life. Learn more about the importance of building and maintaining healthy habits as you age!
Here's How Busy Guys 40+ Are Finally Losing Weight…
If you're in your 40s, 50s, & 60s, you need to eat and exercise differently to lose weight & actually keep it off…
Healthy Habits in Your 40s: De-Stress
By the time we're past 40, it's safe to assume that we deal with some pretty significant stressors in our lives.
From having and worrying about children to progressing (or not) in our professional lives, to keeping our marriages alive … there is a lot resting on our shoulders!
Stress unleashes some of the most harmful side effects on our bodies.
Not only does stress make us distracted, upset, and impatient, but we suffer a number of physical ways as well.
During stressful times, you may notice an increase in headaches, chest pain, tiredness, change in sex drive, muscle pain, sleeping issues, and an upset stomach.
In order to stay healthy in your 40s, you need to keep your stress to a minimum.

Consider journaling to channel frustrations or worries into writing, or taking a yoga or mindfulness class, or simply walking around your neighborhood with your partner to let off steam.
Learn how to reduce your stress and anxiety in 5 unique ways!
Healthy Habits in Your 40s: Slim Down
Older men tend to joke about their beer bellies or "spare tires" around their middles, but it's not a laughing matter.
The truth is, belly fat causes life-threatening inflammation that damages your heart, brain, and key organs. This happens silently without us "realizing" until it's often too late.
Carrying extra weight around costs you your health and, many times, your confidence.
Workout plans like the Fit Father Project FF30X 30-Day Program were specifically designed for men over 40 who feel like their metabolism is slowing and want to regain their physique.
While getting washboard abs are probably out of the picture for most of us, what is 100% achievable is a slimmer physique that will give us increased mobility, energy, and confidence.
Learn how to set up a home workout schedule for YOU!
Healthy Habits in Your 40s: Drink Water
Drinking enough water is vital at any stage of life.
However, with the trend of metabolisms slowing down after 40, it's increasingly important for us to stay hydrated to assist our metabolic process.

In general, water is needed in every bodily process: from digestion to circulation.
Keeping your body hydrated will help you feel more like a well-oiled machine.
This video covers the major benefits of water and gives you some quick tips on how to hit your daily hydration goals.
Healthy Habits in Your 40s: Become a Regular
If you haven't become one already, it's incredibly important that you become a regular at your doctor's office after you turn 40.
Cholesterol and high blood pressure checks are the main ones for men, especially if you are overweight.
By visiting your doctor at least once a year and participating in the recommended screening tests, you will become more confident in your health and be able to prevent a healthy episode from happening.

The last thing you or your partner wants is getting blindsided by a health condition.
Do your part in looking out for yourself — you'll be happy you did!
Don't cancel that doctor's appointment, but do these 7 simple health tests at home to evaluate your health!
Invest in Your Health
Investing in your health from your 40s and beyond is the best investment you can make.

Especially as our bodies change at a progressive rate, it's important to keep up with your body's changing needs.
Overall, a healthy lifestyle that has consistent exercise and a balanced diet will never fail you.
But it's always helpful to lean on experts, like the trainers at the Fit Father Project, to make sure that the regimens you have planned for yourself are the best for you.
Shop our programs and products to see if there's anything that will help you on your journey.
Your friend in health,
Here's How Busy Fathers Over 40 Are Finally Burning Stubborn Belly Fat & Getting Healthy Without Restrictive Diets or Time-Consuming Workouts
This proven "Fit Father Program" has helped 25,000 busy men 40+ lose weight, rebuild muscle, and finally keep the weight off.
If you're frustrated with stubborn belly fat, failed diets, and time-consuming workouts, this is the answer you've been looking for…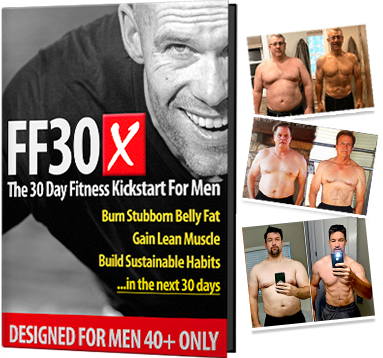 Join 22,000 guys in over 98 countries are using FF30X to lose weight. You get everything you need to succeed – including:
The Fit Father Meal Plan – with simple & delicious recipes
Safe & Effective Workouts Program – only 90 min/week
VIP Accountability Coaching – our Fit Father Team will personally walk you to success, step-by-step.
LEARN MORE ABOUT FF30X >>
See the FF30X Program overview here. You'll discover how this proven Fit Father Program can help you lose weight and actually keep it off – without the complication and restriction of normal diets. »
*Please know that weight loss results & health changes/improvements vary from individual to individual; you may not achieve similar results. Always consult with your doctor before making health decisions. This is not medical advice – simply very well-researched info on healthy habits.