Looking for some guilt-free holiday cheer? Put down that fattening eggnog and try our four favorite healthy holiday cocktails!
The holidays are one of the best times to get a little boozy.
But for those who are health-conscious, it can seem impossible to fit in drinking calories along with eating calories.
That's why we put together these healthy holiday cocktail recipes for you.
Now you can enjoy a drink and a meal this holiday season — guilt-free!
The Immune Booster Guys 40+ Are Using To Kill Viruses & Feel Younger…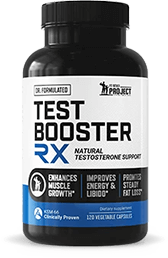 As men age, our immune systems get weaker.
It's a fact. After 40, you become more vulnerable to viruses, cancers, and even Alzheimer's disease. Average guys just let this all happen. But now, with Immune Booster RX, you can take the power back.
Our 4 Favorite Healthy Holiday Cocktails
1. Slim Eggnog
People who love eggnog, LOVE eggnog.
But between the eggs, sweetener, and dairy, eggnog can be a pretty heavy drink!
That's why we dug up a recipe for slimmer eggnog.
By using skim milk, bringing the egg count down, and reducing sugar, you can have a jolly good time at 144 calories a glass!
We'll drink to that!
You will need:
2 cups skim milk
1/2 vanilla bean, split and scraped
2 large eggs plus 1 egg yolk
1/4 cup fat-free sweetened condensed milk
1/2 teaspoon cornstarch
1/4 teaspoon freshly grated whole nutmeg (plus more for garnish)
1/8 teaspoon salt
1/4 cup white rum or bourbon (optional)
Convert some non-believers of eggnog this year with this delicious recipe!
2. Tropical Seasons Greetings
With the way the weather has been fluctuating in recent years, those white Christmases just like the ones you used to know are no guarantee, even in the coldest climates.
So, f you're seeing more green than white, are in a warmer climate, or just dreaming of warmer weather, this is the cocktail for you.
Rum, coconut milk, and lime together make a jammin' good time for your taste buds!
With a mint garnish and a pucker of pomegranate, this cocktail may become an unexpected favorite.
You will need:
1/2 cup fresh mint leaves
1 (1-in.) lime wedge
2 tablespoons granulated sugar
1/4 teaspoon kosher salt
3 ounces white rum
1/2 cup coconut water
5 ice cubes
3 ounces coconut rum
1 tablespoon fresh lime juice
2 cups refrigerated unsweetened coconut milk (such as Silk)
Fresh mint leaves
Pomegranate arils for garnish
This sipper comes in at 141 calories per glass. A small price to pay for a one-way sensory ticket to the tropics!
3. Rosemary and Gin Fizz
When the night starts to wind down, you might want a drink like this.
The rosemary and gin fizz is a light drink with mild, well-blended flavors.
The subtle fizz of the club soda can soothe a stomach that's bursting with appetizers, while the rosemary and lemon can brighten up your palate.
You will need:
3 one-inch sprigs of fresh rosemary
1 small lemon, juiced
½ teaspoon honey
1 ½ ounces gin
3 ounces club soda
This light, delicious cocktail nets out at 130 calories a glass!
4. Boozy Hot Chocolate
Calling all holiday purists!
This spiked hot chocolate is exactly the drink you want warming you up as you're walking in a winter wonderland!
With amaretto and almond milk instead of whole milk, this spiked hot chocolate is one to savor.
You will need:
3 cups unsweetened almond milk
1/4 cup high-quality cocoa powder
2 tablespoons maple syrup (or to taste)
2 oz. amaretto
This recipe is for two servings — perfect for cozying up by the fire with the one you love. But at only 116 calories per serving, it's OK to enjoy it alone too!
Find out how to eat healthy on the weekend — or over the holidays — and stick to your nutrition goals!
From the Glass to the Table
With all this talk of healthy holiday cocktails, you might be wondering if there's another way you can step up your seasonal diet.
The Fit Father Project Holiday Recipe Guide is filled with delicious and healthy dishes your whole family will love, and the Fit Father YouTube Channel is packed with great diet, exercise, and health tips!
And these free meal plans and workouts will get you started on the road to health and fitness today!
Why wait for New Year's Day?
Cheers!
*Please know that weight loss results & health changes/improvements vary from individual to individual; you may not achieve similar results. Always consult with your doctor before making health decisions. This is not medical advice – simply very well-researched info on healthy holiday cocktails.