No matter what holidays you celebrate, eating, drinking, and being merry are probably a part of them.
But you can have healthy holidays and still be festive!
Holidays don't have to involve weight gain, feeling guilty, tight-fitting clothes, and skipped workouts.
Follow the simple tips, tricks, and recipes below for healthy alternatives to your favorite traditions to ensure healthy holidays for you and your loved ones!
If you don't follow this advice, here's how to get back on track after the holidays!
Moderation is the Key to Healthy Holidays
Don't feel bad for not eating entirely clean this holiday season, though try your hardest not to overindulge.
If you have dessert, choose small portion sizes or prepare healthy holiday desserts over traditional sweet treats.
For example, choose crustless pie, apple quinoa bowls, protein bars, or pears sweetened with cinnamon instead of traditional pies, cakes, cookies, and candies.
If you can avoid alcohol entirely, do so! If you enjoy social drinking during the holidays, stick with just one drink per occasion if you can.
Make healthy holiday swaps (cauliflower rice, cauliflower stuffing, or mashed cauliflower, etc.) instead of traditional mashed potatoes with butter and regular stuffing to reduce total calories and carbs.
Pick skinless turkey or chicken over ham, other processed meats, and fatty cuts of red meat.
Don't feel guilty if you splurge every now and then on not-so-healthy foods, but try your best not to overindulge.
Use Smaller Plates
Rather than measuring your food to make portion sizes smaller, simply use smaller plates!
Fill each plate in a nutritious way by utilizing the perfect plate method:
Fill half of each plate of food with non-starchy vegetables
Fill one-fourth of your plate with protein foods
fill one-fourth of each plate of food with fiber-rich starches and/or nutritious fats
Offer fresh fruits before, during, or after holiday meals
Non-Starchy Vegetables: spinach, kale, other leafy greens, green beans, asparagus, tomatoes, cucumbers, bell peppers, broccoli, cauliflower, mushrooms, onions, zucchini, carrots, etc.
Nutritious Protein Foods: turkey, chicken, very lean red meat, fish, seafood, eggs, tofu, seitan, etc.
Fiber-Rich Starches: sweet potatoes, corn, peas, lentils, black beans, pinto beans, other legumes, wild rice, brown rice, quinoa, and other whole grains.
Heart-Healthy Fats: avocados, olive oil, other plant oils, olives, nuts, seeds, nut butter, and fatty fish.
You can always go back for seconds if you're still hungry, but using smaller plates makes it easier to control calories and avoid overindulging.
The Perfect Plate is an easy nutrition strategy that can help you lose weight and eat healthier!
Go Walking Right after Meals
Going for a walk right after a holiday meal enhances weight loss or helps you maintain your ideal body weight.
Studies have found that walking at a fast pace for 30 minutes right after a meal is more effective for weight loss than walking for the same amount of time an hour after mealtime.
Before you relax and unwind after meals, gather friends or family members together to go for a walk right after eating to avoid holiday weight gain and stay healthy this holiday season.
To make sure you feel comfortable while walking, avoid eating very large holiday meals.
Make Time for Morning Exercise
Exercising any time of the day is beneficial for your health, but morning workouts can jump-start your metabolism and keep you on a schedule this holiday season and all throughout the year!
Even if you have just 30 extra minutes to spare, set your alarm and get in a quick workout before you start each day.
Go for a jog, lift weights, do calisthenics, or use your own body weight as resistance.
Keep your body moving all throughout the day by going for walks after meals, playing outside with your kids, and doing yard work or indoor chores.
Help with holiday grocery shopping, meal prep, and dishes to burn extra calories and spend less time sitting down.
Keep Stress Levels Low
Stress is a major reason for unplanned holiday weight gain.
And let's face it, the holidays can be a stressful time of year for many people.
If you're stressed out, find stress-reduction strategies that work best for you.
Get a massage, spend time outdoors, go for a walk, exercise, or take much-needed time to yourself to unwind.
You might read a book, meditate, or listen to music to de-stress and recharge.
Don't feel guilty for saying no to holiday activities or parties if it's too much for your stress levels and well-being.
Make your mental health a top priority this season!
These stress and mental health tips will help you live a longer and healthier life!
Try Herb Roasted Turkey
If you're looking for a nutritious way to prepare turkey this holiday season, consider a delicious, herb-roasted turkey recipe for your friends and family!
Ingredients
1/4 cup of f
2 tablespoons of
1 teaspoon of salt
1 teaspoon of
3 cups of water, plus more if needed
Instructions
Position a rack in the lower part of your oven and preheat it to 475 degrees Fahrenheit.
Remove the giblets and neck from the turkey cavity.
Place the turkey, breast-side up, on a rack in a large roasting pan. Pat it dry with paper towels.
Mix the herbs, oil, salt, and pepper in a small bowl.
Rub the herb mixture all over the turkey, underneath the skin, and into the breast meat.
Place the 10 of the herb sprigs inside the turkey cavity.
Tuck the wing tips under the turkey.
Tie the turkey legs together with a string.
Add 3 cups water and the remaining 10 herb sprigs to the pan.
Roast the turkey until the skin is golden brown (about 45 minutes). Remove it from the oven.
Cover the breast with a double layer of foil.
Reduce the oven temperature to 350 degrees and continue roasting the turkey until a meat thermometer inserted into the thickest part of a thigh reaches 165 degrees (about 1-2 hours more).
If the pan dries out, tilt the turkey to let its juices run out of the cavity into the pan and add 1 cup water.
Transfer the turkey to a serving platter and cover it with foil.
Let the turkey rest for about 20 minutes.
Remove the string, carve the turkey, serve, and enjoy!
Servings: 12
Consider Roasted Sweet Potatoes
Replace buttery mashed potatoes with a nutrient-dense, flavorful rosemary roasted sweet potato recipe!
Ingredients
3 sweet potatoes
2 tablespoons of olive oil
1 tablespoon of dried rosemary
1 teaspoon of salt
1 teaspoon of pepper
Chopped fresh parsley for serving
Instructions
Preheat your oven to 400 degrees Fahrenheit.
Slice the top and bottom off of the sweet potatoes and slice them in half crosswise.
Slice them 3 times vertically and horizontally.
Turn the potatoes on their sides and create 4-5 more slices, forming cubes.
Transfer the sweet potatoes onto a baking sheet. Add oil, rosemary, salt, and pepper. Toss to coat evenly.
Bake the potatoes for 35-40 minutes, until the sweet potatoes are tender and begin to brown around the edges.
Let them cool for about 5 minutes.
Garnish with chopped parsley before serving.
Enjoy!
Servings: 4
Try Avocado Deviled Eggs
Replace traditional deviled eggs with a nutritious alternative recipe that contains nutritious avocados in the topping!
This appetizer is loaded with protein, vitamins, minerals, healthy fats, and flavor.
Ingredients
12 hard-boiled eggs
2 small avocados, diced
1/4 cup of fresh chopped cilantro
1 gram of jalapeños, diced with the seeds removed
1/2 of red onion, finely chopped
1 gram of tomato, finely chopped
2 cloves of garlic, minced
1 teaspoon of cumin
1 tablespoon of fresh lime juice
1 teaspoon of salt
Instructions
Place the eggs in a pot and fill it with cold water until the eggs are just covered.
Bring the water in your pot to a boil. Cover, remove from the heat, and let the eggs sit for about 12 minutes.
Transfer the eggs to a bowl of ice water for about 3 minutes. Peel them and cut them in half.
Transfer the egg yolks to a bowl and set the cooked egg whites aside.
Mix the avocado, cilantro, jalapeño, red onion, tomato, garlic, cumin, lime juice, and salt together with the yolks.
Transfer the mixture to a zip-top bag with one corner cut off.
Squeeze the mixture onto the centers of the eggs, garnish with cilantro, serve chilled, and enjoy!
Servings: 24
Consider a Mexican Holiday Salad
This Mexican-themed, Noche Buena holiday salad recipe is packed with nutritious ingredients, and it tastes as good as it looks!
Ingredients
2 h

eads

of

Romaine

lettuce,

chopped

3

medium

beets, roasted or steamed and sliced

1

cup

of Jicama,

cut into match sticks

3

oranges, sliced

1

apple,

sliced

3/4

cup

of p

omegranate

seeds

1/3

cup

of peanuts,

roasted and chopped
Dressing Ingredients
1/3

cup

of fresh orange juice

1/4

cup

of white v

inegar

1

clove

of minced garlic

2

tablespoons of o

live oil

(

optional)
Instructions
Toss the chopped Romaine lettuce with the rest of the ingredients.
To make the dressing, whisk together the orange juice, vinegar, and garlic.
Slowly add in the oil and continue whisking.
Season the salad dressing with salt and pepper.
Pour the dressing over the salad, serve, and enjoy!
Servings: 4
Consider At-Home Workouts
Regardless of where you travel to this holiday season, consider at-home workouts to ensure you don't skip out on exercise just because you can't make it to a gym.
Run or jog outside, climb stairs, or use your own bodyweight (or dumbbell weights) as resistance.
Consider push-ups, sit-ups, squats, lunges, triceps dips, and plank exercises at home.
Try plank jacks, plank shoulder touches, push-up plank jacks, or side planks.
You can even jog in place or do jumping jacks, mountain climbers, high knees, burpees, or rope jumping from the comfort of any room in the house!
Start Active Holiday Traditions
If your current holiday tradition is to sit around the house and eat all day, start a new one!
Go hiking, snowboarding, sledding, skiing, caroling, or plan active video games or scavenger hunts for friends and family.
You will create lasting memories and set a good example of how to live a healthy lifestyle.
Here's A Free 24-Min Fat Burn Workout For Busy Men 40+
This powerful workout will reignite your metabolism to burn fat 24/7 like you did in your 20s…
Drink Smart
Choose beverages wisely this holiday season, as many favorite holiday drinks can pack on calories and pounds quickly.
Some of the best choices are water, black coffee, and unsweetened tea.
You might also choose club soda, milk, plant milk, or 100% fruit juice.
If you drink alcohol, do so in moderation (1 drink per occasion) and choose lower-calorie alcoholic drinks if you can!
Fill Up on Veggies and Protein
Low-carb veggies and nutritious protein foods should make up the largest portion of your plate (3/4 of each plate of food), so fill up on these foods as much as possible to have healthy holidays.
Load up holiday plates with non-starchy veggies and add turkey, chicken, duck, or very lean red meat (skip the gravy and sweetened cranberry sauce).
Prepare meals with olive oil or other plant-based oils and top them with avocados, nuts, or seeds to boost satiety with heart-healthy fats!
Meet SuperFuel. The Delicious Protein Shake Packed With 40+ Energy-Boosting Vitamins & Superfoods (Designed For Busy Men)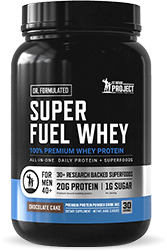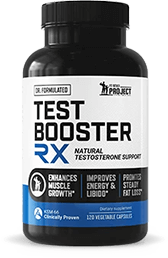 As a busy guy, it's challenging to stay consistent with healthy eating. That's why we created SuperFuel… the delicious "all-in-one" nutrition shake for busy guys 40+ to give your body the protein + key nutrients you need for more energy, fat burning, and muscle building.
Focus on Lower-Carb Foods
Many holiday sides and desserts are loaded with carbohydrates.
Examples include mashed potatoes, traditional stuffing, rice, dinner rolls, cakes, cookies, and pies.
There are several ways you can replace traditional high-carb dishes with lower-carb alternatives.
One way is by choosing non-starchy vegetables and protein foods over high-carb options.
You might pick asparagus, green beans, zucchini, leafy green salads, broccoli, beets, Brussel sprouts, or cauliflower.
Consider mashed cauliflower, stuffing made with cauliflower instead of bread, or cauliflower rice.
Skip out on sodas, other sugary drinks, and high-carb desserts.
Eat protein foods, vegetables, and heart-healthy fats guilt-free!
Join the Fit Father Project
Joining the Fit Father Project, a healthy living plan designed for busy dads over 40, is the best way to stay on track with healthy holidays this season and all throughout the year.
This highly effective plan for fathers has helped hundreds of thousands of members get fit, stay fit, eat better, lose weight, and maintain healthy habits for a lifetime.
The program offers custom meal plans, muscle-building workouts, online health coaching from medical experts, nutritious recipes, weekly newsletters, social support from other fit dads, and much more!
In addition to having healthy holidays this season and all year long, try this free meal plan and workout!
Here's How Busy Fathers Over 40 Are Finally Burning Stubborn Belly Fat & Getting Healthy Without Restrictive Diets or Time-Consuming Workouts
This proven "Fit Father Program" has helped 38,000 busy men 40+ lose weight, rebuild muscle, and finally keep the weight off.
If you're frustrated with stubborn belly fat, failed diets, and time-consuming workouts, this is the answer you've been looking for…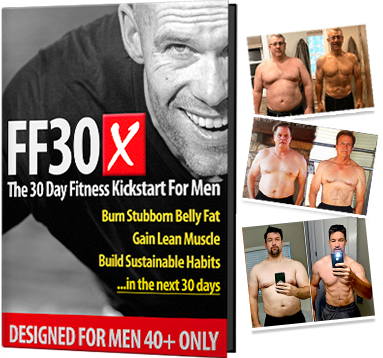 Join 38,000 guys in over 108 countries that are using FF30X to lose weight. You get everything you need to succeed – including:
The Fit Father Meal Plan – with simple & delicious recipes
Safe & Effective Workouts Program – only 90 min/week
VIP Accountability Coaching – our Fit Father Team will personally walk you to success, step-by-step.
LEARN MORE ABOUT FF30X >>
See the FF30X Program overview here. You'll discover how this proven Fit Father Program can help you lose weight and actually keep it off – without the complication and restriction of normal diets. »
*Please know that weight loss results and health changes/improvements vary from individual to individual; you may not achieve similar results. Always consult with your doctor before making health decisions. This is not medical advice – simply very well-researched info on healthy holidays.