Looking for some healthy snack ideas? Whether you're gathering for the big game, awards season, or your favorite television series, food and drink are usually the center of attention.
But that doesn't mean you have to binge on salty, fatty junk food!
Snacking, believe it or not, can be a part of a healthy meal plan — you just have to know how to do it right.
That means not mindlessly munching away as you stare at the TV.
You've got to plan your snacking and fit it into your daily meal plan.
A good rule of thumb when it comes to healthy snack ideas is to focus on foods rich in protein, healthy fats, and/or fiber.
You'll also want to keep your portion sizes small – about 250 calories or so – and how many of those portions you have will depend on your meal plan.
If you usually consume three 400-calorie meals each day, you can consume two 250-calorie snacks.
Three 350-calorie meals — two to three 250-calorie snacks.
Four 300-calorie meals — two 250-calorie snacks
Three 400-calorie meals — two 200-calorie snacks
So no matter what event you're attending or what you're watching, plan ahead for your snacking, and you won't overindulge.
Keeping reading for 20 great healthy snack ideas that will keep you satiated and satisfied!
Check out this video for even more healthy snack ideas!
20 Healthy Snack Ideas
Choose the following delicious and nutritious snacks whenever you want to avoid the typical snacks packed with salt, sugar, and/or fat!
Low-Fat Cottage Cheese with Berries and Nuts
Low-fat cottage cheese is loaded with satiating protein.
Nuts provide protein too, plus heart-healthy fats.
Here is the calorie breakdown of low-fat cottage cheese topped with blueberries and walnuts:
1 cup of low-fat cottage cheese = 163 calories
1/3 cup of blueberries = 28 calories
1/3 ounce of walnuts = 60 calories
Replace walnuts with sliced almonds, pistachios, or sunflower seeds if you'd like.
Total: 251 calories
Homemade Weight Loss Shakes
Homemade weight loss shakes make excellent satiating meal replacements or snacks when you're on the go, require post-workout nourishment, or want to maintain lean muscle during weight loss. The calorie breakdown of a banana cashew protein shake is as follows:
1 1/4 cup of skim milk or plant milk = 100 calories
3/4 scoop of protein powder = 83 calories
1/2 of a small banana = 45 calories
1 teaspoon of cashew butter = 30 calories
Use any of your favorite fruits and nut butter in place of the banana and cashew butter if you desire.
Total: 258 calories
Quality Protein Bars
Not all protein bars are created equal — many of them are essentially just candy bars with a little added protein!
Look at the nutrition facts labels on your favorite bars to determine the number of calories and grams of fiber, protein, fat, carbohydrates, total sugar, and added sugar.
To pick the healthiest options, make sure to choose high-quality bars with minimal or no added sugar, artificial sweeteners, or fillers.
Opt for bars that contain mainly whole food ingredients, such as whey, casein, egg, pea, brown rice, or other protein powders, milk, yogurt, meats, eggs, fruit, nuts, or nut butter.
Pick bars that contain natural sweeteners, such as fruit, stevia, monk fruit, or erythritol.
Limit artificial sugars, such as sucralose, as well as artificial colors and dyes.
Look for bars WITHOUT hidden added sugars, such as brown sugar, agave syrup, brown rice syrup, corn syrup, and other syrups.
Total: 70-250 calories, depending on what bar you choose. Check out this article for our top picks on store-bought protein bars, as well as some great recipes for homemade ones!
Whole Grain Cereal with Milk and Nuts
Whole-grain cereal helps fill you up, and topping it with milk and nuts adds protein and healthy fats.
The calorie breakdown of whole-grain cereal with milk and nuts is as follows:
1 cup of whole-grain cereal = 110 calories
2 tablespoons of sliced almonds = 67 calories
1 cup of skim milk or plant milk = 80 calories
Instead of almonds, you can also top whole-grain cereal with walnuts, pistachios, flax seeds, or fruit!
Total: 257 calories
Veggies with Hummus
Fiber-rich vegetables mixed with hummus, which is rich in nutritious fats and satiating protein, are other great options for healthy snack ideas.
Try the following veggie and hummus combinations:
1/3 cup of hummus = 200 calories
1 cup of sliced carrots = 50 calories
Or, instead of carrots, try
2 cups of cucumber slices = 30 calories
2 cups of celery sticks = 30 calories
2 cups of sliced red bell peppers = 50 calories
1 cup of peas in their pods = 40 calories
1 1/2 cups of raw cauliflower = 40 calories
Just about any raw vegetables taste delicious dipped in hummus!
Total: 250 calories
Greek Yogurt with Nuts and Berries
Greek yogurt is loaded with protein, probiotics, and calcium, and topping it with berries and nuts adds fiber and healthy fats.
The calorie breakdown of this nutrient-dense snack is as follows:
1 container of nonfat Greek yogurt = 100 calories
1/2 cup of strawberries = 25 calories
3/4 ounce of pistachios = 122 calories
To change things up, top Greek yogurt with bananas, blueberries, raspberries, or kiwi fruit instead of strawberries.
Total: 247 calories
Apples with Almond Butter
Apples alone work well as a snack, but adding nut butter boosts satiety by adding protein and healthy fat.
Here is the calorie breakdown of apples dipped in almond butter:
1 cup of apple slices = 65 calories
2 tablespoons of almond butter = 195 calories
You can also dip apples (or pears) in peanut butter, cashew butter, or any other favorite nut butter.
Total: 260 calories
Tuna Salad with Tomatoes
Mixing tuna salad with tomatoes makes an excellent snack that keeps you full longer between meals.
The calorie breakdown of this nutritious snack is as follows:
4 ounces of canned light tuna = 132 calories
2 tablespoons of avocado oil mayonnaise = 90 calories
1/8 cup of celery = 2 calories
1 cup of sliced tomatoes = 30 calories
Replaced canned tuna with canned, grilled, or baked chicken if you'd like!
Total: 254 calories
Hard Boiled Eggs and Fruit
Eggs are one of the best protein sources you'll find, and eating fruit with this healthy snack adds fiber and keeps energy levels high.
The calorie breakdown of two eggs with one orange is as follows:
2 large hard-boiled eggs = 156 calories
1 large orange = 70 calories
You can pair hard-boiled eggs with any fruit or vegetable of your choice.
Total: 226 calories
Reduce-Fat Cheese with Fruit or Veggies
Reduced-fat cheeses are lower in calories (but higher in protein) than regular cheese, making them great healthy snack ideas.
The calorie breakdown of reduced-fat cheese plus a banana is as follows:
2 reduced-fat cheese sticks = 90 calories
1 large banana = 130 calories
Pair reduced-fat cheese with any other fruit (or vegetable).
Total: 220 calories
Greens Salad with Grilled Chicken Strips
Combining grilled chicken strips with salad greens makes for an amazing snack!
The calorie breakdown is as follows:
2 cups of salad greens = 16 calories
3 ounces of grilled chicken strips = 126 calories
2 tablespoons of oil-based dressing = 70 calories
1/4 ounce of almonds = 40 calories
FYI … to make this snack a meal, add extra chicken, veggies, or additional nuts and seeds as toppings.
Total: 252 calories
Matcha Protein Smoothie
Get in a daily dose of antioxidants, protein, and fiber-rich fruits and veggies with this matcha protein smoothie recipe:
1/2 cup of kale: 4 calories
1/2 of a frozen banana: 45 calories
2 tablespoons of coconut yogurt: 40 calories
1 teaspoon of matcha powder: 0 calories
1 1/4 cups of skim milk or plant milk: 100 calories
1/2 scoop of protein powder: 55 calories
Ice (optional)
Simply blend all of the above ingredients together in a blender and enjoy!
Total: 244 calories
Mixed Nuts
Nuts or seeds are parts of many of these healthy snack ideas, but you can also enjoy them on their own!
Nuts are loaded with protein, fiber, and healthy fats.
The nutrition breakdown of 1-1/2 ounces of mixed nuts is as follows:
258 calories
8 grams of protein
23 grams of fat
10 grams of carbohydrates
3 grams of fiber
Total: 258 calories
Edamame
Edamame is the perfect snack food for weight loss because it's loaded with protein, heart-healthy omega-3 fats, and lots of fiber.
Try steamed edamame (soybeans), or eat this delicious snack chilled.
The nutrition breakdown for 1 1/4 cups of edamame is as follows:
234 calories
23 grams of protein
10 grams of fat
17 grams of carbohydrates
10 grams of fiber
Total: 234 calories
Split Pea Soup
Peas are legumes rich in protein and fiber, and split pea soup makes a quick, easy snack.
The nutrition breakdown of 1 can (about 2 cups) of Amy's lower-sodium split pea soup is as follows:
240 calories
14 grams of protein
2 grams of fat
42 grams of carbohydrates
10 grams of fiber
Top split pea soup with avocado slices if you'd like!
Total: 240 calories
Premade Protein Shakes
If you don't have the time or resources to make your own protein shakes, try a ready-to-drink protein drink instead!
But, like with protein bars, you have to be careful with what you're buying.
Some ingredients found in premade protein shakes, such as added sugar, artificial sweeteners, artificial colors, and other artificial ingredients, aren't great for your health.
Look for brands with less than 5 grams of added sugar per serving.
Also, only consider those containing mainly whole foods as ingredients.
Total: 140-210 calories, depending on the premade shake. Check out our top picks for premade protein shakes here!
Frozen Peanut Butter Banana Sandwiches
Instead of a traditional peanut butter and banana snack, prepare frozen banana nut butter sandwiches instead!
Simply slice a medium banana and top half of the slices with peanut, almond, or cashew butter.
Place the remaining slices on top to form mini "sandwiches," and store them in the freezer.
The calorie breakdown is as follows:
1 medium banana: 105 calories
1 1/2 tablespoons of chunky peanut butter: 140 calories
You can also top bananas with almond or cashew butter to change things up!
Total: 245 calories
Oatmeal Protein Balls
Homemade no-bake protein balls make an excellent snack; the entire family will want some!
Combine your own ingredients or try this no-bake chocolate peanut butter protein ball recipe containing oatmeal, flax seeds, chia seeds, cinnamon, dates, peanut butter, vanilla extract, protein powder, and dark chocolate.
The nutrition breakdown for 1-1/2 balls is as follows:
204 calories
8 grams of protein
12 grams of fat
21 grams of carbohydrates
5 grams of fiber
Total: 204 calories
Taco Stuffed Avocados
Loaded with high-quality protein and healthy fat, you won't be sorry if you chose avocado-stuffed tacos using lean ground turkey.
The calorie breakdown of this savory snack is as follows:
1/2 of an avocado: 160 calories
2 ounces of taco-seasoned, very lean ground turkey: 60 calories
1/2 of a reduced-fat cheese stick, shredded: 23 calories
1/4 cup of sliced cherry tomatoes: 8 calories
Making tacos this way significantly reduces your carbohydrate intake to enhance weight loss.
Total: 251 calories
Roasted Chickpeas
Like edamame, chickpeas are legumes rich in satiating protein and fiber.
Roasting them in olive oil using this roasted chickpea recipe adds healthy fats to the mix.
The calorie breakdown of a 3/4-cup serving is as follows:
3/4 cup of chickpeas = 202 calories
1 teaspoon of olive oil = 40 calories
Simply add your favorite seasonings, roast the chickpeas at 450 degrees Fahrenheit for about 30 to 40 minutes, and enjoy!
Total: 242 calories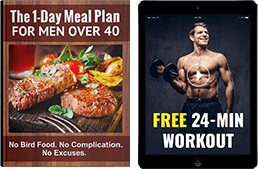 Here's a FREE Meal Plan & Workout For Busy Men 40+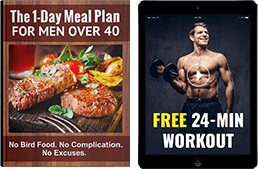 We'll show you exactly what to eat & how to exercise to reignite your metabolism in your 40's, 50's & 60's.
Here's How Busy Fathers Over 40 Are Finally Burning Stubborn Belly Fat & Getting Healthy Without Restrictive Diets or Time-Consuming Workouts
This proven "Fit Father Program" has helped 38,000 busy men 40+ lose weight, rebuild muscle, and finally keep the weight off.
If you're frustrated with stubborn belly fat, failed diets, and time-consuming workouts, this is the answer you've been looking for…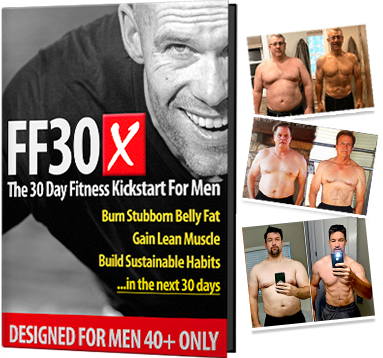 Join 38,000 guys in over 108 countries that are using FF30X to lose weight. You get everything you need to succeed – including:
The Fit Father Meal Plan – with simple & delicious recipes
Safe & Effective Workouts Program – only 90 min/week
VIP Accountability Coaching – our Fit Father Team will personally walk you to success, step-by-step.
LEARN MORE ABOUT FF30X >>
See the FF30X Program overview here. You'll discover how this proven Fit Father Program can help you lose weight and actually keep it off – without the complication and restriction of normal diets. »
*Please know that weight loss results and health changes/improvements vary from individual to individual; you may not achieve similar results. Always consult with your doctor before making health decisions. This is not medical advice – simply very well-researched info on healthy snack ideas.