Adding heart-healthy foods to your meal plan can do wonders for your overall health and wellness.
Not to mention reducing your risk of a heart attack, stroke, heart disease, high cholesterol, high blood pressure, and high triglyceride levels.
Heart-healthy foods are often high in protein, fiber, or heart-healthy fats (fish oil or plant-based fats) that reduce inflammation and your risk of heart problems.
Protein-rich foods that help you manage a healthy body weight are beneficial for your heart because obesity is a major risk factor for heart disease.
Choose the right balance of heart-healthy foods in combination with adopting additional healthy habits, such as utilizing the Perfect Plate method, getting regular exercise, not smoking, and keeping stress levels low.
Keep reading to learn what heart-healthy foods you need to add to your diet today!
Learn about 10 healthy fats that are good for you and why you need to add them to your diet!
Top 10 Heart-Healthy Foods
The top 10 heart-healthy foods to add to a nutritious meal plan for men are:
Fatty Fish
Fatty fish, particularly tuna and salmon, are heart-healthy foods for several reasons.
These foods are packed with protein, which aids in healthy weight management.
Fatty fish is also loaded with omega-3 fatty acids, including eicosatetraenoic (EPA) and docosahexaenoic (DHA) acids.
Studies show that these fats reduce your risk of heart attack, other heart problems, and death from heart disease.
The American Heart Association (AHA) recommends eating fish (especially fatty fish) at least twice weekly to maintain superior heart health.
Avocados
Avocados are packed with heart-healthy fats too and help reduce inflammation.
Studies show that higher intakes of avocados are linked to less heart disease, particularly when replacing animal fats with avocados.
Add avocados to salads, sandwiches, omelets, or soups, and eat them with fresh fruits or vegetables between meals!
Add avocado to a smoothie, eat smashed avocados on toast, or dip fresh veggies in homemade guacamole.
Nuts and Seeds
Nuts and seeds are packed with heart-healthy alpha-linolenic acid (ALA), protein, and fiber, which is a known heart disease-reducing nutrient.
Research shows that adding nuts to your meal plan reduces inflammation, heart disease risk factors, and deaths from heart disease.
Eat nuts between meals, add them to nutritious homemade smoothies, or put nuts in soups, salads, rice, stir fry with vegetables, oatmeal, cereals, or Greek yogurt.
You might also dip fresh fruits in nut butter or add nut butter to protein shakes!
Legumes
Legumes, such as lentils, black beans, pinto beans, and chickpeas, are healthy for your heart for many reasons.
These superfoods are rich in protein and fiber, particularly soluble fiber.
Studies show that soluble fiber reduces high cholesterol, which in turn lowers your risk of heart disease.
Choose legumes as heart-healthy foods you eat regularly by adding them to rice, salads, chili, soups, or veggie dips.
Consider salsas, three-bean salads, or veggie burgers containing legumes as ingredients!
Whole Grains
Whole grains are loaded with fiber, particularly soluble fiber, and their cholesterol-lowering effects.
Research supports eating whole-grain foods to lessen heart disease risks.
Choose whole-grain couscous, quinoa, barley, brown rice, wild rice, oatmeal, or whole-grain breakfast cereals.
Fill 1/4 of each plate of food with whole grains or starchy vegetables to maximize your fiber intake and minimize heart disease risk factors.
Fruits
Fruits are an excellent source of dietary fiber, including soluble fiber, as well as antioxidants that minimize inflammation and other heart-disease risk factors.
Choose peaches, pears, blueberries, strawberries, kiwi fruit, bananas, oranges, or other fiber-rich fresh fruits.
The Dietary Guidelines for Americans suggest eating 2 servings of fruit daily when consuming 2,000-2,600 calories per day.
Vegetables
Vegetables are some of the best heart-healthy foods you'll find.
They contain antioxidants and cholesterol-lowering fiber, reduce inflammation, and aid in healthy weight management.
Aim to include vegetables in each of your meals by filling half of each plate of food with non-starchy vegetables.
Fill the other half of your plate with protein foods and whole grains or starchy vegetables like sweet potatoes, lentils, peas, corn, and dried beans.
Olive Oil
Rich in plant-based omega-3 fats, olive oil makes the perfect addition to heart-healthy meal plans.
In fact, it's a staple part of the Mediterranean diet.
Studies show this type of diet reduces your risk of heart disease and other chronic conditions.
There are many ways to add olive oil to a heart-healthy meal plan.
Consume olive oil-based salad dressings or oil and vinegar with salads, cook meals with olive oil, and sauté or roast veggies in oil.
Baste lean meats, poultry, fish, seafood, or vegetables in olive oil before grilling these foods, or use olive oil-based tub butter in place of regular butter.
Green and black olives are also rich in heart-healthy fats and disease-fighting antioxidants.
Add olives to soups, salads, rice dishes, or veggie trays!
Coffee
Coffee is an energy booster.
It also increases your metabolism, aids in healthy weight management, and burns fat.
Researchers found that drinking coffee is associated with a lower risk of heart disease.
One study showed that drinking coffee reduces your risk of coronary artery disease, stroke, heart disease, congestive heart failure, obesity, diabetes, and even depression.
Researchers who completed the study found that drinking 3-4 cups of coffee daily offers such benefits.
Dark Chocolate
If you have a sweet tooth, eat dark chocolate to reap the benefits of this heart-healthy food.
Research shows that dark chocolate helps reduce blood pressure, inflammation, and high cholesterol levels.
Dark chocolate also contains powerful antioxidants, which is one reason it's often called a superfood.
Add dark chocolate to protein shakes or eat it in place of other desserts to maximize your heart's health and feel your best at every age!
Green Tea
Green tea is loaded with inflammation-reducing antioxidants and aids in healthy weight management.
The caffeine in green tea gives your metabolism a boost and enhances the body's ability to burn fat.
Research shows the beneficial effects of drinking green tea on heart health.
One review found that drinking at least 1-3 cups of green tea daily reduces the chance of heart disease, heart attacks, and strokes compared with drinking less than 1 cup of green tea per day.
You can drink green tea piping hot, over ice, mixed with milk, or in smoothies to get a daily dose of disease-fighting antioxidants and fat-burning caffeine.
But avoid consuming too much caffeine, as doing so can lead to heart palpitations.
Foods to Limit
Eating anything in moderation is generally okay, but there are certain foods and drinks that increase heart disease risks more than others.
Examples of foods to limit or avoid include:
Processed meats like ham, hot dogs, regular bacon, and deli meats
High-fat cuts of red meat
Foods high in sodium
Foods high in added sugar (sweets, sugar-sweetened condiments, sugary drinks, etc.)
Alcohol
Added sugar increases your chance of obesity, which is a common heart-disease risk factor.
Consuming too much sodium puts you at risk of high blood pressure, another contributor to heart disease.
The AHA suggests limiting sodium to no more than 2,300 milligrams daily for most adults.
Other Ways to Reduce Heart Disease Risks
In addition to consuming heart-healthy foods regularly, adopt the healthy habits below to reduce your chance of heart problems:
Exercise Regularly
Getting regular exercise, particularly cardiovascular exercise (jogging, cycling, swimming, rowing, etc.), is one of the best ways to keep your blood pressure in a healthy range and lessen heart disease risk factors.
Aim to get at least 3o minutes of aerobic activity most days of the week.
Get Enough Sleep
Sleep deprivation is a risk factor for weight gain, as it can elevate hunger hormones and reduce the energy you need to stay active.
Aim to get at least seven hours of uninterrupted sleep each night to maximize your heart's health.
Studies show that sleeping fewer than 7 hours nightly increases your chance of heart disease, high blood pressure, and stroke.
Make sleep a priority to maintain a healthy heart!
Minimize Stress
Ongoing stress is another heart disease risk factor, as stress can damage your arteries.
Get stress under control as much as possible by lightening up a busy schedule; trying meditation, yoga, massage, or other relaxation techniques; and taking time to yourself.
Don't Smoke
If you smoke, it's important to quit to keep your heart as healthy as possible.
Tobacco smoke can damage the arteries, increasing your chance of a heart attack.
If you need help quitting, talk with your doctor about effective smoking-cessation strategies.
Maintain Exceptional Oral Health
Believe it or not, research shows that poor oral health is linked to heart disease.
To lessen your chance of gum disease, tooth decay, and other oral health issues, brush your teeth after meals, floss daily, and use mouthwash if your dentist recommends it.
Eat plenty of fruits and vegetables, minimize your added sugar intake, and see a dentist at least every six months for professional dental cleanings.
Consider Dietary Supplements
Ask your doctor if taking certain dietary supplements, such as fish oil and fiber supplements, to fight heart disease risk factors is right for you.
Doing so could reduce high cholesterol and other risk factors to lessen the need to take medications.
Here's How Busy Fathers Over 40 Are Finally Burning Stubborn Belly Fat & Getting Healthy Without Restrictive Diets or Time-Consuming Workouts
This proven "Fit Father Program" has helped 38,000 busy men 40+ lose weight, rebuild muscle, and finally keep the weight off.
If you're frustrated with stubborn belly fat, failed diets, and time-consuming workouts, this is the answer you've been looking for…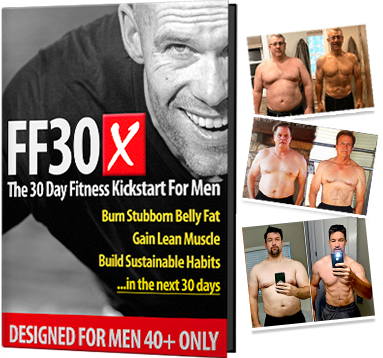 Join 38,000 guys in over 108 countries that are using FF30X to lose weight. You get everything you need to succeed – including:
The Fit Father Meal Plan – with simple & delicious recipes
Safe & Effective Workouts Program – only 90 min/week
VIP Accountability Coaching – our Fit Father Team will personally walk you to success, step-by-step.
LEARN MORE ABOUT FF30X >>
See the FF30X Program overview here. You'll discover how this proven Fit Father Program can help you lose weight and actually keep it off – without the complication and restriction of normal diets. »
*Please know that weight loss results and health changes/improvements vary from individual to individual; you may not achieve similar results. Always consult with your doctor before making health decisions. This is not medical advice – simply very well-researched info on heart-healthy foods.