W
eight loss is challenging. If it wasn't, everyone would be doing it, and the billion-dollar weight loss industry wouldn't be happy! It doesn't mean that you can't lose weight, but a bit of challenge does make it feel more satisfying when you discover the answer to just
how much weight you can in 4 weeks.

The first step is to recognize that you can't do this alone. Weight loss is easier and faster when you have a strong support team. That's what the
Fit Father Project
is here for you.  Take a look at
FF30X today
, and you'll quickly see how much you can save by getting our advice, guidance, and support today.
How Much Weight Can I Lose in 4 Weeks – 20 lbs?
There are two sides to this question; how much weight can I lose in 4 weeks and how much should I lose.

The 2 answers are not the same.
The simplest answer to how much weight can I lose in 4 weeks is around 20lbs. Yes, this is actually possible! But it's not advisable.
To achieve this, you'll need to stick to a special water solution. This will allow your body to remain healthy without the need to eat food!
For example, if you're on this diet (which must be supervised by an approved clinic), then you'll be consuming no calories. But, as an average man, you'll be burning 2,500 per day.
One pound of fat is roughly 3,500 calories. If you do the math, you'll burn 20 pounds of fat in 4 weeks by not eating.
But, while the answer to how much weight can I lose in 4 weeks is over 20 pounds, it is not a sustainable or healthy way to lose weight.

Perhaps you should consider your weight loss in terms of how much weight you want to lose and how much will you be able to keep off.
With the help of our FF30X, you can create a healthy eating plan that will still see you losing between 2 and 4 pounds a week. The difference is this weight will stay off.

There are thousands of Fit Father members who have lost 10 or more pounds per month. But thanks to the healthy eating plans they follow, this weight is staying off.
Develop the Right Focus to Lose Weight
Follow the 5 step Fit Father pyramid to achieve the maximum weight loss in 4 weeks:
Sleep – you need between 6 and 8 hours every night.
Mindset –Believe that you can achieve your goal, no matter how big or small.
Eat Right – The perfect plate is a great example of balancing your nutrients to ensure a healthy diet.
Daily Activity – Any activity is great to start building a long term habit, which will ensure your weight stays off.
Formal Exercise – Once the habit of exercise is formed, you can up the ante and really see the difference through formal exercise.
Doing it right will ensure you burn fat and build muscle. You don't want to burn muscle in order to lose weight!
Counting Calories The Easy Way
The average man should consume 2,500 calories per day. However, the actual amount you need will vary between people. Ideally, you should find out your maintenance amount via the Fit father calculator.
In order to lose weight, you need to consume fewer calories than your maintenance amount.
The easiest way to do this is to aim for 500 calories under your maintenance level.
Then write down everything you eat, as you eat it.
The first thing you'll discover is just how much you actually eat.
But, you'll also be able to identify with the help of the internet, how many calories are in each of the things you've eaten.
You'll then be able to see where you should be cutting down and what you should be avoiding.
Our healthy meal plan can help, but creating a journal is excellent at helping you to see where you're going wrong.
You can monitor food and count calories with a pen and paper or an app; the choice is yours.
How to Keep Going When the Going Gets Tough
Losing 1 pound a week can make a target of 20 pounds seem impossibly far away.
It is even worse if you reach a plateau, and your weight stays the same.
At this point, it is easy to feel frustrated and consider giving up on your plan. But, you can get through it no matter how tough it gets:
Create Small Goals – A small achievement will help you stay on track. It could be to lose a pound, or it could simply be to stay under a specific calorie limit.
Get Support – having the support of FF30X will help. Positive comments and testimonials can inspire you to keep going.
Remember Your Goal – Remind yourself of why you are doing this; it will help you to stay motivated.
Build Habits – If you're in the habit of running every day, it won't matter if you don't feel motivated to exercise. The habit will take over, and you'll do it anyway.
Pause – It is always possible to downgrade your level of exercise and even allow yourself a few extra treats. This will remind you of what your real goals are in life and help you to refocus and recommit.
Challenge Yourself – You don't need to do something the same way every time. Challenge yourself to do it differently. It will re-introduce the fun and help you to achieve the right result.
Maximizing Weight Loss
The simple answer to how much weight can I lose in 4 weeks is a lot, but the sensible and better answer is to look at your lifestyle.

Changing your eating habits and the amount of exercise you do will ensure you lose weight. But, this method will ensure the weight stays off for the long term. It may take longer to lose the weight, but your health will benefit for life.
If you haven't already joined FF30X, then now is the time. Not only will we help you to lose weight, we'll also help you to become fitter, stronger, and healthier.


The fact that you'll gain support and make new friends on the way is a bonus!

Here's How Busy Fathers Over 40 Are Finally Burning Stubborn Belly Fat & Getting Healthy Without Restrictive Diets or Time-Consuming Workouts
This proven "Fit Father Program" has helped 25,000 busy men 40+ lose weight, rebuild muscle, and finally keep the weight off.
If you're frustrated with stubborn belly fat, failed diets, and time-consuming workouts, this is the answer you've been looking for…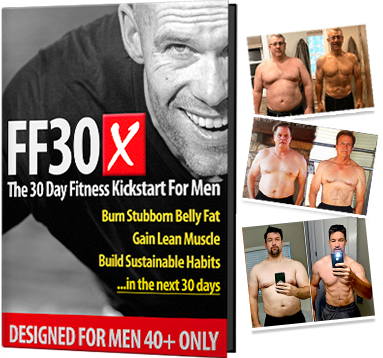 Join 22,000 guys in over 98 countries are using FF30X to lose weight. You get everything you need to succeed – including:
The Fit Father Meal Plan – with simple & delicious recipes
Safe & Effective Workouts Program – only 90 min/week
VIP Accountability Coaching – our Fit Father Team will personally walk you to success, step-by-step.
LEARN MORE ABOUT FF30X >>
See the FF30X Program overview here. You'll discover how this proven Fit Father Program can help you lose weight and actually keep it off – without the complication and restriction of normal diets. »
*Please know that weight loss results & health changes/improvements vary from individual to individual; you may not achieve similar results. Always consult with your doctor before making health decisions. This is not medical advice – simply very well-researched info on how much weight can I lose in 4 weeks.