L
earning how to get back in shape is possible at any age. All you need to do is follow the 5 principles laid out in this article, and you'll be back to your old self in no time.
When most people want to get back in shape, their initial step is to totally change their diet and start a grueling exercise routine.
In most cases, this will come to an abrupt end after 2 or 3 weeks, when you get tired of eating salad, and you're so sore you can hardly move.
Maybe you've been in this situation in the past?
There are 5 VERY important steps to take before you move onto diet and exercise and these are the steps that are most often overlooked.
These 5 steps are explored in-depth below.

Mindset shows you how to get back in shape by getting you to answer the questions about why you are starting this journey and what will keep you going during tough times.
Getting enough sleep is the step that helps your body recover, rebuild and re-stabilize important hormone levels.
A healthy eating plan makes sure you get the nutrients you need to stay healthy, feel good, be energized and re-build muscles.
A formal exercise schedule helps you to get and remain fit, build a strong and healthy body and improve your natural movement.
Adding supplements to your meal plan will optimize your health and recovery.
Let's dive more into these 5 important steps, so you can see how they will impact your progress for getting back in shape.
Step #1 – Get into the right Mindset.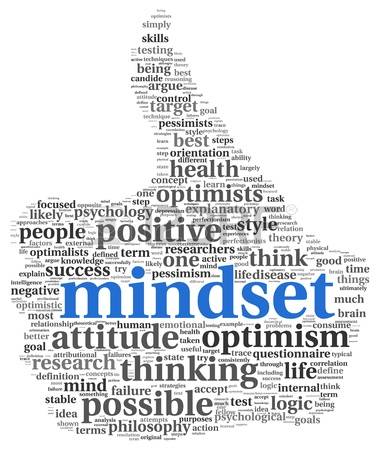 Mindset is the first step on your journey to get back in shape and will help you strengthen your motivation and keep you disciplined during the times when you want to give up and stuff yourself with cakes and biscuits.
Essentially, you need to ask yourself an important question, which is "Why?".
It's usually the first question you ask yourself when you think of giving something up, so knowing the answer and having it be strong enough to keep you going will be paramount.
I'm sure you've been there before: "God, why am I doing this?"
If your answer is a flimsy one, like "Because I want to look good", it will only keep you going for so long.
There is no emotion there and once you get to looking 'pretty good', you'll probably be happy and will have no drive to fulfill your potential.
If your answer has substance behind it though, like "Because I want to show all the people that poked fun at me for being overweight, that I can be in great shape and look amazing", you have an emotional connection to your goal and nothing will stop you.
Knowing why you are starting a weight loss program, or a muscle gain program will empower you and every time you ask yourself why you are doing it, you will have a solid answer to remind yourself.
Prepare a 30-day mission statement.
To get yourself in the right mindset and to give yourself your true 'Why' answer, we recommend preparing a 30 day mission statement, detailing exactly what you want to achieve and why.
Firstly, think about what your current habits towards healthy eating and exercise are costing you. Think about the emotional cost, the physical cost and the time cost.
Then, visualize and imagine what the benefits will be if you change your habits and achieve your goals. Add these to your 30 day mission.
An example could be:


"In the next 30 days, I will focus on improving my eating plan and exercising 2-3 times per week, so I can create the habits necessary to lose weight, improve my health, have more confidence in myself and be in a better state of mind.
I'm sure this will make me a happier and more positive person, which will have positive effects on my relationships at home and at work. I accept the costs of spending the time to prepare nutritious meals and to exercise, as it will give me the benefits of better health and longevity."
Having your mission statement written or printed out and put in a prominent place, where you will see it daily, will be really helpful to keep your focus on why you are undertaking this journey.
Step #2 – Get enough sleep to rest and recover
There is a lot of speculation around how much sleep you should get, to make sure your body rests and recovers to its optimal level.
As it is such an important part of your daily process, you should sleep an absolute minimum of 7 hours, preferably 8.
Being sleep deprived will be counter-productive to any steps you are taking to lose weight, and although it will not completely negate them, it will have a negative effect.
Sleep is what helps your body to recover and recharge at the end of every day. Any stresses you have put on your body are fixed, and your hormone levels are re-balanced.
Hormones like HGH (Human Growth Hormone), which is responsible for helping to burn fat, and Ghrelin and Leptin, which manage fullness and hunger, all need sleep time to balance and regenerate.
What if I don't get enough sleep?
If you're sleep deprived, these hormones do not balance properly, and your body will end up holding on to fat, you will get cravings and you will not feel satiated when you eat, leading to you eating larger portions.
If you have trouble sleeping, take a look at our article titled '3 Tips to Sleep Better – Wake Up With More Energy, Pep & Motivation'.
It may feel counter-intuitive to sleep more when you want to lose weight, but it really is one of the best things you can do to help your body naturally reset and aid fat loss.
Step #3 – A healthy eating plan is more effective than exercise for fat loss.
When it comes to starting a healthy eating plan, you should make sure that what you undertake is not restrictive, is easy and is sustainable for the long-term.
Going on a crash diet to lose 10lb, just to put it all back on again when you return to your old habits, is a big waste of time. Don't be pulled in to this type of dieting.
Here at the Fit Father Project, we have a very simple and straightforward healthy eating strategy that we call 'Perfect Plates'.
It simply requires you to prepare your plate with the following foods:
½ your plate is vegetables
¼ of your plate is a healthy protein
¼ of your plate is a healthy carbohydrate
A small portion of a healthy fat (fish oil, 1 tbsp. olive oil, ¼ of an avocado)
Some of our favourite sources of these food groups are:
Vegetables: Asparagus, Brussels Sprouts, Broccoli, Spinach, Kale, Rocket
Protein: Chicken, Eggs, Turkey, Sardines, Wild Salmon, Lean Beef
Carbohydrates: Quinoa, Sweet Potato, Brown Rice, Ezekiel Bread, Whole-wheat pasta
If you want to take advantage of our free resource that shows you what to eat for breakfast, lunch, snack, and dinner, you can download our 1-Day Meal Plan with our compliments.
Here's A Free Weight Loss Meal Plan For Busy Men 40+
Discover exactly what to eat for breakfast, lunch, and dinner to lose belly fat & feel energized 24/7 without hard dieting...
The idea behind our perfect plates approach is that you can select one type of each food for each meal and combine them to make delicious, easy meals.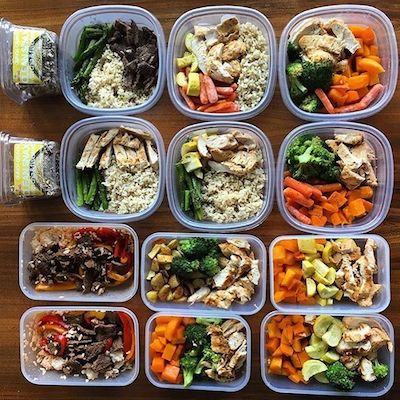 To make it even easier, we recommend you do a meal prep exercise twice weekly, to prepare all the food you will need for the coming 3 days.
If you store the food, it will always be handy when you need it, and you will not find yourself rooting around in the refrigerator or cupboards for your next meal.
If you have the decision already handled, you are much less likely to choose something on the go and are much more likely to build the habit of taking the healthy option.
Creating this habit will make it a more sustainable and long-term plan and one less thing to think about each day. Your food decisions only need to be made twice per week.
Step #4 – Start an exercise plan that you can build up gradually.
One of the most important things to do when you start an exercise plan is to start slowly and build up gradually. If you start too intensely, you will get sore or injured, and it will put you off of exercising.
It's possible that this happened to you before and that is why you're now learning how to get back in shape again. If that's the case, listen to our advice and you'll be back on track in no time.
Starting too quickly and feeling sore can be extremely depressing as it makes you wonder whether it's all worth the effort.
Starting gradually will help you to avoid this feeling and is more likely to keep you moving in a positive direction.
My recommendation is to start with 2-3 structured workouts each week, combining cardio-vascular exercise and resistance work.
The cardio will help get your blood flowing, will help you burn fat and will increase your cardiovascular capacity.
The resistance work will increase lean muscle mass, which in turn will improve your metabolic rate and help you burn fat even at rest.
We have a great free workout that you can follow to get started that combines resistance training and cardio in a format called Metabolic Resistance Training.
To get your free copy of this amazing 24-minute fat burning workout video, click on the link and simply tell us the best email address to send it to.
Once you have developed the habit of working out 3 times per week, for 25-30 minutes, you can start scaling up the intensity and the number of sessions you perform.
Step #5 – Add supplements to your plan to boost the benefits.
Once you have got the 4 key principles above, under your belt, you can introduce supplements into your plan, to help boost the benefits further.
At the Fit Father Project, we recommend 5 core supplements that will help your efforts.
These are:
A quality Multivitamin or Greens powder
Fish Oil
Vitamin D3
Probiotic
Protein powder
Multivitamin:

Although you should be getting everything through your natural diet, a quality multivitamin or Greens powder is a backup solution to make sure you are getting all the vitamins and minerals you need to keep your body in good health.
Fish-oil:

Fish oil supplementation has an abundance of health benefits, including decreasing inflammation, lowering LDL cholesterol, raising HDL cholesterol, and enhancing brain function to name a few.
For more information on the benefits and see our product recommendations, check out our article titled The 4 Best Fish Oil Products for Men.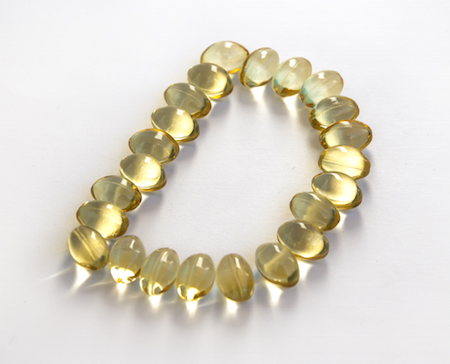 Vitamin D3:

Vitamin D3 is often referred to as the 'sunshine vitamin' as your body produces it naturally when subjected to sunlight.
However, supplementing with it can be beneficial, especially for stronger bones, improved muscle function and less muscle atrophy, decreased risk of certain cancers and decreased risk of type 2 diabetes.
Probiotic:

Your body will thank you for supplementing with probiotics, especially your gut.
Probiotics help with improving digestive function, healing inflammatory bowel conditions and boosting your immune system.
If you suffer from any symptoms of an uncomfortable stomach, then you need to supplement with probiotics today.
Protein powder:

Protein powder can be used to prepare shakes that will replace a particular meal, possibly breakfast, as a convenient way to make sure you are getting enough protein each day to support muscle growth or maintenance.
Summary:
So there you have it, 4 simple steps (plus 1 bonus step!) that show you exactly how to get back in shape at any age.
Step #1 – Proper mindset

Step #2 – Right amount of sleep

Step #3 – Good healthy eating plan

Step #4 – Progressive exercise plan

Step #5 – Supplementation plan

We don't provide you with anything gimmicky here at the Fit Father Project, just simple, straightforward advice that can be implemented and to get you back in shape in the most efficient and effective way.
We want to be your one-stop resource for everything health and fitness related. Come back and visit us regularly to learn more.
We put new information on the website each day and also provide exercise tutorial videos and other bonus videos on our YouTube channel throughout the week.
If you have found this article useful, please help us by sharing it with your friends on social media, using the social buttons on the left or below. We really appreciate it.
Until next time my friend, good luck with getting back in shape.
Here's How Busy Guys 40+ Are Finally Losing Weight…
If you're in your 40s, 50s, & 60s, you need to eat and exercise differently to lose weight & actually keep it off…
Your new friend & health coach,
Here's How Busy Fathers Over 40 Are Finally Burning Stubborn Belly Fat & Getting Healthy Without Restrictive Diets or Time-Consuming Workouts
This proven "Fit Father Program" has helped 38,000 busy men 40+ lose weight, rebuild muscle, and finally keep the weight off.
If you're frustrated with stubborn belly fat, failed diets, and time-consuming workouts, this is the answer you've been looking for…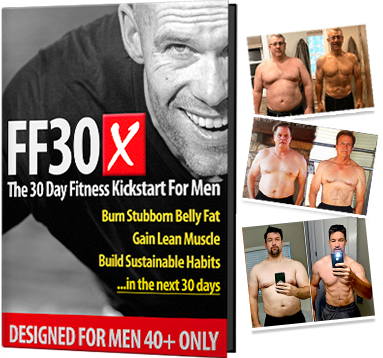 Join
38,000
guys in over
108
countries that are using FF30X to lose weight. You get everything you need to succeed – including:
The Fit Father Meal Plan – with simple & delicious recipes
Safe & Effective Workouts Program – only 90 min/week
VIP Accountability Coaching – our Fit Father Team will personally walk you to success, step-by-step.
LEARN MORE ABOUT FF30X >>
See the FF30X Program overview here. You'll discover how this proven Fit Father Program can help you lose weight and actually keep it off – without the complication and restriction of normal diets. »
*Please know that weight loss results & health changes/improvements vary from individual to individual; you may not achieve similar results. Always consult with your doctor before making health decisions. This is not medical advice – simply very well-researched info on how to get back in shape.