W
e all have good intentions. Some days we'll be early risers, healthy eaters, and workout fanatics. We'll enjoy working out, feeling the benefits of eating healthy and being more active.
But soon enough the holidays roll around, the good food comes out, and between all the family and friend obligations, we're back to being a couch potato who has more fat than muscle.
The thing is, it can be hard to stay fit. We know setbacks will happen.

But, it's important to know how to start working out again if you have a layoff.
Read on for a few key tips on how to do just that!

How To Start Working Out Again, Tip #1: Ditch Excuses
The first thing you need to do to get back on the horse is… stop making excuses for yourself!


From "not having time" to "not having money" to "being too tired," there are so many excuses we make.
While life will get in the way of your meal prepping and workouts at times, you need to take responsibility for the life you are leading.
You can make different choices that will lead you to a healthier lifestyle.

All you need to do is stop excusing yourself from the wholesome life you live in your imagination, and form the habits that will take you there.
How To Start Working Out Again, Tip #2: Form Good Habits
Sustainable change is all about good habits.

We're all probably thinking about the bad habits we have.
But the beauty of fitness is, there is always time to create better habits that will trump your old ones.
It takes time to form a new habit— anywhere from 21 to 66 days, in fact.
It's important to write down the habit you want to form. Be that eating healthy meals 6 out of 7 days a week, or lifting weights in your garage every morning.
Give yourself benchmarks for when to achieve your goal.
You can start small– like using 25-pound weights for a bicep curl. Then once you don't feel the weight anymore, move your target.
There are many ways to ensure that your habits truly stick.
Once you form them, it will make it much more difficult for you to revert and have to start all over.
How To Start Working Out Again, Tip #3: Proper Preparation
Another key to keeping yourself on the healthy track is to give your body the proper preparation that it needs.


It can be discouraging to wake up the day after an intense workout and not be able to walk without pain.
To combat injury and soreness, make sure that you are warming up and cooling down properly.

You don't have to dedicate a ton of time to this!
A quick 5-minute warm-up will make sure that your muscles are ready to work.
And a quick 5-minute cool down with stretching the muscles you worked out will help remove lactic acid from your muscles.
How To Start Working Out Again, Tip #4: Eat Right
A key element of how to start working out again after a lapse is to do a gut check on what you're eating.


Especially when the holidays roll around, a lot of our well-laid meal plans turn to dust.
Tools like our free 1-day meal plan make sure that you know what to eat and when to eat it.
This free 1-day meal plan outlines an entire day– with several options– of perfectly proportioned nutrition.
Committing to a healthy diet is one of the most transformative habits to create.

It is one of the pillars of good health that will help you keep your wellness going for years.
How To Start Working Out Again, Tip #5: Start Winning
Getting your health and fitness on track feels like winning a million bucks.
I'm serious.
There is no comparison to living a sustainable, healthy lifestyle.


If you're able to commit to your good health habits, you will be running circles around your children and grandchildren for years to come.
And that's what it's all about, isn't it?
If you are interested in a comprehensive health program that will guide you on exercise and diet, look into FF30X.
FF30X is a program that can be personalized to your lifestyle and has changed the game for thousands of fathers like you.
Your friend in sustained health,
Here's How Busy Fathers Over 40 Are Finally Burning Stubborn Belly Fat & Getting Healthy Without Restrictive Diets or Time-Consuming Workouts
This proven "Fit Father Program" has helped 38,000 busy men 40+ lose weight, rebuild muscle, and finally keep the weight off.
If you're frustrated with stubborn belly fat, failed diets, and time-consuming workouts, this is the answer you've been looking for…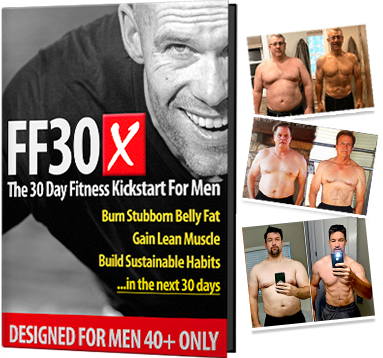 Join
38,000
guys in over
108
countries that are using FF30X to lose weight. You get everything you need to succeed – including:
The Fit Father Meal Plan – with simple & delicious recipes
Safe & Effective Workouts Program – only 90 min/week
VIP Accountability Coaching – our Fit Father Team will personally walk you to success, step-by-step.
LEARN MORE ABOUT FF30X >>
See the FF30X Program overview here. You'll discover how this proven Fit Father Program can help you lose weight and actually keep it off – without the complication and restriction of normal diets. »
Small note about research cited in this article:
*Always remember: weight loss results & health changes/improvements vary from individual to individual. Just because these studies cite certain data does not mean you will experience these results/outcomes. Always consult with your doctor before making decisions about your health. This is not medical advice – simply well-researched information on how to start working out again. Thanks for reading!