If you're tired of the same old dumbbell workouts, kettlebell workouts for men are excellent for strength training and high-intensity workouts.
And even if you are someone that wants to focus on heavy lifting, studies have shown that kettlebells can be an effective alternative tool to improve performance in weightlifting and even powerlifting.
This means that kettlebell workouts for men can still transfer over to your other strength training routines on days when you don't have access to a gym or heavy weights.
Not only are kettlebells great for building strength, but research has found that kettlebell training can also improve your overall health.
For example, a study from The International Journal of Exercise Science found that kettlebell workouts are as effective as high-intensity interval running at improving glucose tolerance in men.
This is important for lowering your risk for chronic diseases like diabetes.
Ready to get started with kettlebell workouts for men? Keep reading!
The kettlebell swing is one of the 6 best exercises for men. Check them all out in this video!
Kettlebell Basics
Many guys think kettlebells are just an alternative to swap out for dumbbells.
But there are specific exercises where kettlebells are actually superior to other free weights due to their shape and configuration.
With their handle on top, kettlebells are much easier to swing around than other weights.
This allows you to change and even increase your range of motion during these exercises.
You also have the option of holding the rounded bottom end to change up your workouts.
By changing the weight distribution, kettlebells allow you to work different muscles even when doing the same movements.
Before you start kettlebell workouts for men, it helps to know the basics.
First of all, the ball refers to the heavy sphere at the bottom, and the handle is the part attached to it.
You may also hear the handle referred to as the "horns."
You can hold the handles at the top, on the sides, or near the base where it meets the ball, depending on the type of exercise and muscles you are looking to target.
Kettlebell Workouts for Men
If you are looking for a great full-body workout, you can do the one below using kettlebells as your only piece of equipment.
Start with a lighter weight, such as a 10- to 15-pound kettlebell.
Once you start to feel comfortable with the moves, you can progress to something heavier.
Try to perform 8-1o reps of each move.
Rest for 1 minute, then repeat twice more for a total of 3 sets.
Or, you could move through each exercise in order as a circuit and repeat three times for more of a high-intensity workout.
Squats
Squats are the ultimate leg and glute exercise.
Plus, squats force you to stabilize your core, making this a tremendous full-body move.
However, barbell squats can increase the risk of low back and knee injuries, especially if done with incorrect form.
Using a kettlebell helps decrease this risk while still adding resistance to the exercise.
By holding the kettlebell close to your chest, you can be sure to do these with proper form.
Plus, you can squat more deeply without worrying about putting too much strain on your knees and lower back.
Stand with your feet shoulder-width apart, toes turned out slightly, gripping the sides of the kettlebell handle with both hands at chest height.
Bend at your knees and hips to move into a deep squat, bringing your butt down past your knees.
Drive through your heels to return to standing.
Deadlifts
Deadlifts are amazing for your butt and the backs of your legs.
They also work your core since you have to keep your abs tight to avoid arching your back.
Stand with your feet hip-width apart, knees slightly bent.
Hold a kettlebell with both hands by the dandle in front of your thighs.
Hinge at your hips and push your butt back as you lower your torso and the weight toward the ground.
Push through your heels to stand up straight.
Keep your arms straight as you lift the weight back to start.
Pause at the top to complete one rep.
Sumo Deadlifts With High Pull
Stand with your legs wider than shoulder-width with your feet turned slightly out and your knees slightly bent.
Hold a kettlebell by the handles with both hands, palms facing in.
Hinge at your hips and bend your knees to lower your body and the weight.
Push your butt far back and keep your back flat.
Your torso should be almost parallel to the floor.
Keeping your core tight, push through your heels to stand up straight.
As you stand, bend at the elbows to pull the weight up toward your face to complete the move.
Hand to Hand Swings
This exercise is similar to the traditional kettlebell swings, except that you will only have one hand on the kettlebell, and you will switch hands at the top of the swing.
This will isolate one side at a time, which helps improve core strength and stability.
Plus, kettlebell swings are an excellent way to build maximum and explosive strength.
A study from The Journal of Strength and Conditioning Research found that by incorporating kettlebell swings, men were able to improve their maximum half-squat lifts and vertical jump heights.
Stand with your feet shoulder-width apart, gripping the top of the kettlebell handle with one hand.
Bend your knees slightly, then hinge forward at the hips to swing the kettlebell between your legs.
Stand back up as you swing the weight to chest height.
At the top of the swing, switch the kettlebell to the other hand.
Continue swings, alternating sides.
Figure-8s
Figure 8s are a fun exercise that will work the core while also strengthening the upper body.
Stand with your feet shoulder-width apart, and hold the kettlebell handle with one hand.
Bend your knees slightly, then hinge forward at the hips to thread the kettlebell between your legs.
Bring your other hand behind your body and under your butt to meet the weight, and hand it off.
Stand back up as you pull the weight from the side of your body to your chest.
Bring your now-empty hand to meet the weight at the top of the movement.
Squat to Shoulder Presses
This move will work your shoulders and arms while also adding in some lower body work.
Stand with your feet shoulder-width apart while holding a kettlebell in each hand, palms facing out, arms bent, so the weights are resting at each shoulder.
Bend your knees just a few inches, and as you stand back up, press the weights straight up overhead.
Bring the weights back to your shoulders, bend your knees, and repeat.
Bent-Over Rows
Bent over rows are an excellent lat and upper body workout that can be done holding the handle of the kettlebell.
This can be a bit more comfortable than holding dumbbells.
Start with your left leg out a few feet in front of your right foot.
Hinge at the hips to bend forward, keeping your back flat as you hold the kettlebell handle in your right hand with your arm hanging straight at your side.
Rest your left arm on your left knee.
Pull the kettlebell to your rib cage, engaging your lats as you pull.
Pause and lower it back down.
Box Step-Ups
Single-leg step-ups are great for your quads and glutes.
The other great thing about this move is that since you are isolating one side at a time, you really have to stabilize and challenge your core muscles.
For this move, you'll want to use a step, chair, or bench that enables your knee to bend 90 degrees when you step on it.
Stand in front of a box or step, holding a kettlebell by the handle with both hands at your chest.
Step up with your left foot and drive your right knee up toward your chest.
Step your right foot back to the starting position, and then your left.
Repeat the movement starting with the right leg.
Keep alternating to complete 8-10 reps on each side.
Here's How Busy Fathers Over 40 Are Finally Burning Stubborn Belly Fat & Getting Healthy Without Restrictive Diets or Time-Consuming Workouts
This proven "Fit Father Program" has helped 38,000 busy men 40+ lose weight, rebuild muscle, and finally keep the weight off.
If you're frustrated with stubborn belly fat, failed diets, and time-consuming workouts, this is the answer you've been looking for…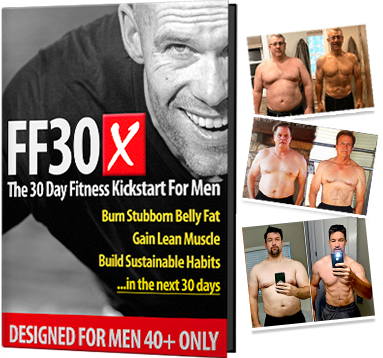 Join 38,000 guys in over 108 countries that are using FF30X to lose weight. You get everything you need to succeed – including:
The Fit Father Meal Plan – with simple & delicious recipes
Safe & Effective Workouts Program – only 90 min/week
VIP Accountability Coaching – our Fit Father Team will personally walk you to success, step-by-step.
LEARN MORE ABOUT FF30X >>
See the FF30X Program overview here. You'll discover how this proven Fit Father Program can help you lose weight and actually keep it off – without the complication and restriction of normal diets. »
*Please know that weight loss results & health changes/improvements vary from individual to individual; you may not achieve similar results. Always consult with your doctor before making health decisions. This is not medical advice – simply very well-researched info on kettlebell exercises for men.