It is absolutely critical to start your day with a proper morning ritual for weight loss and energy.
I love rituals because they make all the healthy behaviors we're trying to install into our life AUTOMATIC. Especially a MORNING ritual for weight loss and energy that completely kickstarts my day.
When it comes to a morning ritual for weight loss and energy, there are three key foundations that we absolutely must include:
Foundation 1 — Proper Rehydration
Foundation 2 — Get the Lymph Flowing
Foundation 3 — A 'Perfect' Breakfast
Three simple steps that will pay big dividends. Keep reading to learn our morning ritual for weight loss and energy — and start it tomorrow morning!
Welcome To The Fit Father Project – Your New Nutrition and Workout Resource!
At the Fit Father Project, we specifically help busy men over 40 get back in shape by offering free information and resources on our website, backed up with our Fit Father 30X (FF30X) Program.
This article will teach you everything you need to know about our morning ritual for weight loss and energy, but we help men of all ages make healthy and sustainable lifestyle changes that will last.
Everything we do here at the Fit Father Project aims to simplify eating and exercise for you, so you can get in great shape and stay strong and healthy for your family — without any unnecessary complications.
Sound good? Good. Let's dive in!

Morning Ritual For Weight Loss And Energy
Foundation 1 — Proper Rehydration
It's amazing how easy it is to mess this first step up. Overnight, your body has been sleeping for 6-9 hours in a VERY dehydrated state. That's why our FIRST priority in the morning is ALWAYS to rehydrate with 32 ounces of pure water.
Hydration is NECESSARY for:
Clear thinking and brain function.
We need to make sure we nail this first step!
Fill a 32-ounce water bottle or mason jar, and place it by your bedside at night. It will be waiting for you first thing in the morning, so you don't even need to "think" about it. Drink the entire 32 ounces when you wake up.
You can add freshly squeezed lemon for a bit more zest and flavor, and according to the Cleveland Clinic, drinking lemon water in the morning has other benefits, as it:
Aids in digestion.
Helps you stay hydrated.
Is weight-loss friendly.
Prevents oxidation.
Supplies a healthy dose of vitamin C.
Provides a potassium boost.
Helps prevent kidney stones.
Does your tap water suck? Find out the TRUTH!
Foundation 2 — Get the Lymph Flowing
So you probably know that your body has blood vessels called arteries and veins. Arteries carry the fresh, oxygenated blood from your heart to your muscles, organs, and tissues. Veins carry the "used-up" blood from your tissues back to your heart and lungs to get re-oxygenated.
But, did you know you have a third kind of vessel that completely dictates why you feel stiff and sluggish in the morning?
These vessels are called lymphatic vessels.
Your body's lymphatic vessels have two key functions.
Function 1: Lymphatic vessels regulate the fluid between your veins and tissues.
Ever had a swollen ankle? Or a bruised muscle? During swelling, your lymph vessels were not properly regulating the amount of fluid that was leaking into your tissues.
See, lymph vessels normally "vacuum" up excess fluid. But sometimes, things go a bit haywire (like when we get injured), and we get swelling as a result.
And since we're not moving at night, the fluid in our lymphatic system gets stagnant. The lymph is not properly flowing, and, as a result, we end up feeling stiff in the morning!
Function 2: Lymphatic vessels carry many of your immune cells throughout your body to fight infections, cancer, and viruses.
When lymph flow is stagnant (after sleeping and not moving for a long time), your body feels stiff and stagnant, and your immune system is depressed. Needless to say, this is not good!
So, for your morning ritual for weight loss and energy, you need to get your lymph flowing immediately when you get up because your body has been stagnant throughout sleep.
The beautiful part? You only need five minutes to do it!
Just a bit of motion (and bouncing around in particular) is all we need to get those lymph vessels pumping like they should in the morning. It turns out that lymph vessels respond very well to bouncing up and down (this is one of the reasons why trampolines and "rebounders" are great exercise tools for health).
Yes, when you try this routine for the first time, you will probably feel like a total goofball bouncing around. I know I did! But seriously, give it a shot.
This type of morning movement (in conjunction with hydration and deep breathing) will give you a ton more energy in the morning. And doing five minutes of morning movement is especially important if you are doing any form of morning exercise.
We want your lymph flowing first BEFORE exercise!
This 7-minute morning workout routine will kick-start your metabolism!
Foundation 3 — A "Perfect" Breakfast
Breakfast is fuel to kickstart your metabolism and day. It's "breaking" the "fast" your body has been in overnight.
Now, we don't want you thinking about what to eat.
We want you to have a fast, convenient, and ritualized breakfast that will boost your metabolism and energy.
Here are the three steps to a great breakfast for energy and weight loss:
Start with free-range eggs, healthy meat, or a high-quality plant-based protein powder. Prioritize protein in the morning for the key amino acids.
Add in some nuts for healthy fats to further increase stamina and energy. If you're allergic to nuts, opt for low-glycemic/low-fructose fruits instead.
Drink organic green tea, quality black coffee, and/or water.
Remember: GOOD nutrition is all about CONSISTENCY. The more simple you make things, the more successful you will be.
Here's How Busy Fathers Over 40 Are Finally Burning Stubborn Belly Fat & Getting Healthy Without Restrictive Diets or Time-Consuming Workouts
This proven "Fit Father Program" has helped 38,000 busy men 40+ lose weight, rebuild muscle, and finally keep the weight off.
If you're frustrated with stubborn belly fat, failed diets, and time-consuming workouts, this is the answer you've been looking for…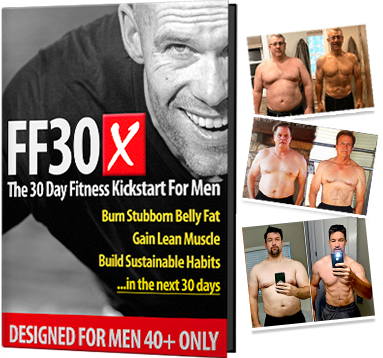 Join 38,000 guys in over 108 countries that are using FF30X to lose weight. You get everything you need to succeed – including:
The Fit Father Meal Plan – with simple & delicious recipes
Safe & Effective Workouts Program – only 90 min/week
VIP Accountability Coaching – our Fit Father Team will personally walk you to success, step-by-step.
LEARN MORE ABOUT FF30X >>
See the FF30X Program overview here. You'll discover how this proven Fit Father Program can help you lose weight and actually keep it off – without the complication and restriction of normal diets. »
*Please know that weight loss results & health changes/improvements vary from individual to individual; you may not achieve similar results. Always consult with your doctor before making health decisions. This is not medical advice – simply very well-researched info on creating a morning ritual for weight loss and energy.