Between shorter days, cold weather, and an abundance of seasonal treats, staying active over the holidays is not easy. But it can be done!
Obesity and weight gain are major health issues, and weight gain over the holidays contributes a great deal to this.
Studies have found that weight gain over the holidays typically isn't reversed in the spring and summer months.
Luckily, you can still stay on track with your workouts and keep up with a healthy diet while still celebrating the holidays.
It just takes a little planning and modifications to your schedule.
Plus, the holidays make it a great time to get your family involved in an active lifestyle and healthy eating too!
While taking a few days off is fine, the holidays shouldn't be an excuse to get off track with your fitness.
Once you start taking weeks off, you'll begin to lose your fitness gains. And you definitely don't want to erase all of the hard work you have already put in!
So enjoy the season with your family, but make sure you follow these tips for staying active over the holidays.
Stuck at home? Check out these holiday staycation ideas to keep the whole family healthy, active, happy, and sane!
5 Tips for Staying Active Over the Holidays
Move Your Outdoor Workouts Inside
Even if you love running or biking outdoors, the winter weather can put a damper on these activities.
But that doesn't mean you can't enjoy the aerobic benefits inside.
While the scenery may not be as great, you can still create some challenging treadmill or indoor bike workouts.
If you have your own exercise equipment at home, that's a bonus.
If not, the winter months could be a great time to join a gym. Then you can get your cardio and weight training done all in one place.
If COVID still has your gym locked down, don't worry! You can still get great workouts done from home.
The Fit Father Project YouTube Channel has some great workout videos available that include high-intensity intervals and strength training.
This means you have no excuse to not get a great workout in from anywhere!
Learn how to set up a home workout schedule that will work for you all year long!
Try a New Class
It's easy to lose motivation in the winter months.
So if your gym is still open this is the perfect time to try out a new class.
Boot camp, high-intensity intervals, or spin classes are great ways to challenge yourself.
And the group atmosphere will motivate you to get through the class.
Even if your gym isn't open, there are fitness and workout apps that offer at-home workouts with a group atmosphere.
So clear out some space in your living room and start a new at-home routine to stay active all winter long!
Workout With Your Kids
With the kids home for the holidays, this is the perfect time to get the whole family involved in a healthy lifestyle.
It can get pretty hectic with the kids cooped up in the house over the holidays. This makes it a great opportunity to introduce exercise and fitness to your kids.
Think of it as physical education and health class all in one!
Plus, you can burn calories and build strength right along with them. And you will be teaching them about the value of health and fitness that they can use for years to come.
This is even more important now as many children are becoming more sedentary due to COVID lockdowns and restrictions.
The Physical Activity Guidelines for Americans recommend that children and adolescents ages 6 to 17 years do 60 minutes or more of moderate-to-vigorous physical activity daily.
However, the National Survey of Children's Health found that only 24% of kids this age actually achieve this level of activity.
You can create fun circuit workouts indoors to teach your kids awesome strength or calisthenic moves.
Or grab some warm running gear and challenge your kids to some jogs around the block.
Whatever you choose, the more enjoyable you make the activities, the more likely your kids will want to stay engaged in fitness.
Try these 7 exercises to get your kids stronger and start improving their health today!
Pick Up a New Winter Sport
Sometimes the monotony of doing the same workouts day in and day out can lead to exercise burnout.
So spice up your routine with some fun winter sports.
Exercises like cross country skiing or snowshoeing are great aerobic workouts that will build some serious cardiovascular fitness along with awesome lower body muscular strength.
You can also take the kids out to enjoy some fun in the snow.
Skiing and snowboarding are great winter sports that the whole family can enjoy.
Even something like sledding will get you great exercise from walking up and down the hills.
Make Healthy Versions of Holiday Foods
Holidays mean a lot of rich comfort foods and high-calorie desserts.
But with some healthy substitutions, you can still enjoy your favorite food traditions.
For example, if you're having turkey, skip the high sodium brine and flavor your meal with herbs and spices to keep the salt content down.
Also, eat white meat and leave off the skin. This will cut down the calorie and fat content.
Instead of eating candied yams or buttery mashed potatoes, make oven-roasted sweet potatoes instead.
This will also give you a boost in nutrients like Vitamin A and will decrease the fat content by leaving out the butter.
It's hard to resist holiday desserts, but you can save on calories by choosing something with more nutrients, like pumpkin pie instead of high-calorie desserts like pecan pie.
While pie in general isn't the healthiest, with the pumpkin you're at least getting the benefit of vitamin A, calcium, and iron.
And choosing smaller portions in general for any course will help you lower your calorie and fat intake.
Find out how to eat healthy on weekends (or over the holidays) and stick to your nutrition goals!
Stay on Track, but Don't Deprive Yourself!
Just because you have lofty fitness goals doesn't mean you shouldn't enjoy the holidays.
Eating some comfort foods or enjoying a dessert isn't a crime that you should feel guilty about.
A lot of people also try to "earn" their food by adding in extra workouts.
However, this tends to lead to a bad relationship with eating and can actually lead to unhealthy eating patterns down the road.
As long as you stick to your goals, one day of holiday eating isn't going to sabotage your long-term fitness.
Just be sure to get back on track over the next few days so that unhealthy eating doesn't become a habit.
The longer you stay away from your fitness routine, the harder it is to get back on course.
Spending time with family and friends is a hallmark of the holidays. However, this doesn't mean that your health and fitness has to take a backseat.
By adapting your workouts and making some small changes with your food choices, you can still have a happy and healthy holiday season!
Here's How Busy Fathers Over 40 Are Finally Burning Stubborn Belly Fat & Getting Healthy Without Restrictive Diets or Time-Consuming Workouts
This proven "Fit Father Program" has helped 38,000 busy men 40+ lose weight, rebuild muscle, and finally keep the weight off.
If you're frustrated with stubborn belly fat, failed diets, and time-consuming workouts, this is the answer you've been looking for…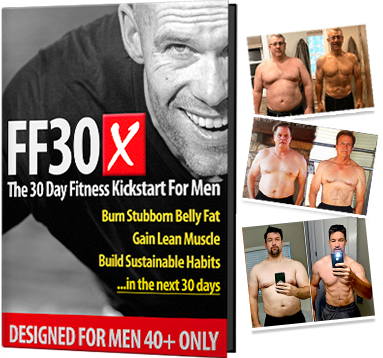 Join 38,000 guys in over 108 countries that are using FF30X to lose weight. You get everything you need to succeed – including:
The Fit Father Meal Plan – with simple & delicious recipes
Safe & Effective Workouts Program – only 90 min/week
VIP Accountability Coaching – our Fit Father Team will personally walk you to success, step-by-step.
LEARN MORE ABOUT FF30X >>
See the FF30X Program overview here. You'll discover how this proven Fit Father Program can help you lose weight and actually keep it off – without the complication and restriction of normal diets. »
*Please know that weight loss results & health changes/improvements vary from individual to individual; you may not achieve similar results. Always consult with your doctor before making health decisions. This is not medical advice – simply very well-researched info on staying active over the holidays.