Episode 131 of the Fit Father Project Podcast is all about testosterone replacement therapy (TRT) and other ways to optimize your hormones.
In this episode, you'll meet Josh Whalen, the founder and CEO of Blokes. Blokes is a telehealth platform that provides game-changing treatments for guys. It's TRT, prescription peptide therapy, and rocket fuel for life.
And for the ladies, there's Joi, which offers innovative peptide and hormone-balancing therapies that help women take control of their well-being and feel and look their best from the inside out. 
I wanted to do this episode to expose our Fit Father community to all the different options out there when it comes to optimizing hormones. This is not medical advice, and we're not saying you should go out and do these things.  We just want you to know what's out there so you and your doctors can make informed decisions about your health and well-being.
If you do like what you hear from Josh, check out the links below for some special deals on his services, and get labs run and actually explore some of these peptide therapies. There are so many exciting things happening in medicine that can be adjuncts to all the good core lifestyle stuff we highlight at the Fit Father Project.
The Natural Testosterone Booster Guys 40+ Are Using For More Energy, Drive, & Results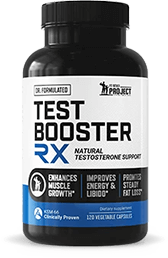 After age 30, your Testosterone levels start declining. Add in some stress and a "less than perfect" diet… everything gets worse fast. You feel tired all the time. It's hard to lose fat. It feels like you lost your edge. That's the sad story that happens to most guys 40+. But now, it doesn't have to be that way for you….
In this episode, you'll learn:
Everything you need to know about testosterone replacement therapy (TRT).

How to optimize your health so you can have more energy, mental clarity, and motivation.

New options for virtual health for both men and women.

The keys to optimizing hormones. 

How to determine if prescription peptide therapy or TRT is right for you.

Ways to enhance your libido, gut and immune health, and overall strength.

And so much more!
Learn more about testosterone replacement therapy (TRT):
More From Josh:
If you loved what you heard on the Fit Father Project Podcast, please follow, rate, and review it on Apple Podcasts.
You can also listen to the show on:
And don't forget to subscribe to our YouTube Channel and follow us on Instagram, Facebook, Twitter, and LinkedIn!
*Please know that weight loss results and health changes/improvements vary from individual to individual; you may not achieve similar results. Always consult with your doctor before making health decisions. This is not medical advice – simply very well-researched info on testosterone replacement therapy.