The first Thanksgiving feast was held hundreds of years ago, and sadly, Thanksgiving leftovers haven't changed much since then!
What they ate back then is similar to what we still eat today, and the problem of what to do with the remaining turkey is, therefore, not a new one!
In this article, we offer you a solution … well, six of them actually!
There are ways to enjoy Thanksgiving leftovers besides just slapping some turkey between two pieces of bread!
You may find it hard to stick to your healthy eating plan during the holidays, and turkey sandwiches slathered in mayo certainly won't help that!
Fortunately, this is not the only way to eat your Thanksgiving leftovers.
The following healthy Thanksgiving leftovers ideas can actually make it enjoyable to finish off your turkey at all sorts of times of the day!
Here's A Free Weight Loss Meal Plan For Busy Men 40+
Discover exactly what to eat for breakfast, lunch, and dinner to lose belly fat & feel energized 24/7 without hard dieting...
6 Healthy Thanksgiving Leftovers Ideas
Try any one of these, and you'll be wishing it was Thanksgiving every week, just so you can enjoy these tasty, healthy Thanksgiving leftovers recipes!
1. Cucumber Topped Bites
This is really simple to make and full of protein, giving you and your muscles a much-needed boost in the middle of the day.
Ingredients:
1 or 2 cucumbers
1 pot hummus
Leftover turkey pieces
Instructions:
Cut the cucumbers into chunky slices.
Add a spoonful of hummus; this can be flavored if you desire.
Place a piece or pieces of leftover turkey on top.
This is the perfect accompaniment for an evening of entertainment, light yet delicious and easy to grab with your fingers.
You can even pack them into a box and take them to work with you to snack on during the day.
2. Turkey and Vegetable Soup
This may seem like a fairly standard option after Thanksgiving, but it is an excellent way of getting back into a healthy eating plan if you are giving yourself the day off.
It also uses up the turkey and keeps it as moist as the moment it was cooked.
Ingredients:
Baby spinach
Olive oil
Onion, chopped
Carrot, chopped
Celery, chopped
Brown lentils, canned is fine, but they will need to be drained
Leftover turkey without the skin
Chicken stock, low sodium alternative preferably
Bay leaves
Cayenne pepper
Japanese sweet rice
Instructions:
Take a handful of baby spinach and slice it up into small pieces.
Next, add your chopped onion to the carrot and celery to a large pot.
This should have a tablespoon of olive oil in it and be ready to simmer your vegetables for approximately 4 minutes.
You can then add your can of lentils, approximately 6 ounces of turkey, chopped, and roughly 6 cups of the stock, and one tablespoon of Japanese sweet rice.
You can also add two bay leaves.
This mixture should be cooked for approximately 20 minutes.
Then add a pinch of cayenne pepper and stir one more time before dishing up.
Don't forget to remove the bay leaves.
3. Turkey Omelet
This is a great option to enjoy as a snack during the day or for your breakfast.
Not only does it use a little of all the Thanksgiving leftovers, but it also provides a protein-rich snack or meal.
Ingredients:
2 large eggs plus 4 egg whites
Pinch of salt and pepper
2 ounces of your leftover turkey, skinless
Cut asparagus spears, probably leftover as well
2 tablespoons of leftover cranberry sauce
2 ounces Brie cheese
Splash of cooking oil
Instructions:
Start by whisking your eggs and egg whites together.
Once blended, you can add a pinch of salt and black pepper.
You then need to put a little cooking oil into a pan and bring it up to heat; this will allow you to pour your egg mixture into the pan without it sticking everywhere.
Gradually push the cooked edges into the center, allowing the uncooked egg mixture to reach the edges.
Once you've managed to cook the eggs, you can add your asparagus and turkey and continue cooking for approximately one minute.
Then add the brie cheese and continue to cook until it has all melted.
Serve and add cranberry sauce if you like!
4. Turkey Casserole
You will find this is actually one of the easiest meals to make as it can be prepared and left to cook.
It is important to note that a casserole dish or slow cooker is essential for this recipe to be successful.
Ingredients:
4 ounces leftover turkey without skin
4 ounces leftover carrots, chopped
4 ounces green beans, again leftovers
4 ounces sweet potatoes, preferably mashed
A little leftover stuffing
Gravy or low sodium chicken stock
2 tablespoons cranberry sauce
Instructions:
Simply mix all the ingredients together and then tip them into a casserole dish.
You can oil this if you'd like, but it shouldn't be necessary.
You can then leave this to simmer on a low heat for several hours or cook on a higher heat for approximately one hour, then enjoy!
5. Toasted Pumpkin Pie
This is pretty much as the name suggests!
Ingredients:
2 slices Ezekiel bread or whole wheat bread
Leftover pumpkin pie filling
Chopped fruit or nuts, to your liking
Instructions:
Put the Ezekiel or whole wheat bread into your toaster and wait for it to come up with the right color.
Then take some of the pumpkin pie filling and spread it on your toast.
To finish, add some chopped apple, banana, or even some nuts.
This healthy Thanksgiving leftovers snack can be ready in a few minutes and will make your mouth water without nudging in all the calories of a slice of pie!
6. Alternative Turkey Wrap
Instead of slipping some skinless turkey in between two slices of bread, you can create a delicious snack or sandwich by using lettuce as bread.
Ingredients:
Large lettuce leaves
Leftover turkey
Leftover veggies, chopped
Leftover gravy or cranberry sauce
Instructions:
Simply lay the lettuce out, add some turkey, and drizzle with chopped green beans, gravy, or even a little leftover cranberry sauce!
Enjoy These Great Thanksgiving Leftovers Ideas!
These recipes are just a touch of inspiration. The array of options is virtually unlimited.
You can get an excellent idea of what should and shouldn't be included by comparing your own recipe ideas to our free 1-day meal plan.
Alternatively, you might be tempted to join our FF30X plan and share your tips and experiences with other like-minded people.
You'll get more information back. In fact, you might even need to buy a second turkey to sample all the ideas!
Here's How Busy Fathers Over 40 Are Finally Burning Stubborn Belly Fat & Getting Healthy Without Restrictive Diets or Time-Consuming Workouts
This proven "Fit Father Program" has helped 38,000 busy men 40+ lose weight, rebuild muscle, and finally keep the weight off.
If you're frustrated with stubborn belly fat, failed diets, and time-consuming workouts, this is the answer you've been looking for…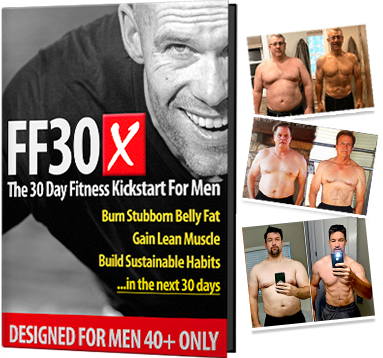 Join 38,000 guys in over 108 countries that are using FF30X to lose weight. You get everything you need to succeed – including:
The Fit Father Meal Plan – with simple & delicious recipes
Safe & Effective Workouts Program – only 90 min/week
VIP Accountability Coaching – our Fit Father Team will personally walk you to success, step-by-step.
LEARN MORE ABOUT FF30X >>
See the FF30X Program overview here. You'll discover how this proven Fit Father Program can help you lose weight and actually keep it off – without the complication and restriction of normal diets. »
*Please know that weight loss results & health changes/improvements vary from individual to individual; you may not achieve similar results. Always consult with your doctor before making health decisions. This is not medical advice – simply very well-researched info on Thanksgiving leftovers ideas.