C
hristopher is a 51-year old husband and father. He served in the United States Army Infantry and currently serves the Atlanta community as a police officer.
Two decades ago, Christopher was involved in a vehicular accident that required both of his hips to be replaced.
"After the surgeries, I lost my ability to do a lot," explains Christopher.


"I had to give up competitive softball and I stopped exercising regularly. And then the weight began to appear."
Time for a Change
Christopher knew he needed to change his path. As a man over 50, it was becoming harder and harder to lose weight. He was feeling defeated and tired. Unsure of his next step, he jumped on the internet.
"I started to research workouts for guys my age," explains Christopher.
"I found the Fit Father Project and started reading. It was like an epiphany. I felt like Dr. Balduzzi was speaking directly to me."
Dr. Balduzzi created the Fit Father Project in 2012 after watching his own father pass away at the young age of 42. His dad worked long hours to provide for their family. He skipped exercise, ate junk food, and eventually got so sick that he died.
After the death of his father, Dr. Balduzzi made a promise to himself and God that he would find a way to help other men get healthy for themselves and their families.
Fit Father Christopher joins the Brotherhood
In January of 2019, Christopher made a commitment to his health and joined the Fit Father Brotherhood.
"The Fit Father Mission clicked with me," reflects Christopher.
"I have a desire to feel better, look better, and maintain a healthy lifestyle, so I signed up for the Fit Father 30X program. I was all in the day I signed up and I have been all in ever since."
Christopher's weight loss journey began with FF30X.


Fit Father 30X is the world's first weight loss program designed exclusively for men over 40. FF30X includes delicious meal plans, time-efficient workouts, daily accountability, and a community of like-minded men with a desire to become healthy.
This proven program walks Members step-by-step down the path of weight loss success.
Christopher lost 39lbs using the Fit Father Programs
After completing Fit Father 30X, Members can continue their weight loss journey with Phases two, three, and four. Each Phase offers new workouts and new challenges to push Members to their goals.
"I have rediscovered my six-pack abs," laughs Christopher.
"I never thought I would see them again! On top of losing almost 40lbs I have so much energy now. My self-confidence is back. All I did was follow the program and I got great results."
The Fit Father programs teach Men how to lose weight in a healthy, sustainable way. Thousands of men over the age of 40, living around the world have lost belly fat, gained strength, and gotten their health back.
At the Fit Father Project, we know that age is only a number and with the right program, you can lose weight too!
Here's How Busy Guys 40+ Are Finally Losing Weight…
If you're in your 40s, 50s, & 60s, you need to eat and exercise differently to lose weight & actually keep it off…
Non-Scale Victories
With Fit Father 30X you will get amazing weight loss results and Non-Scale Victories. Inside the Brotherhood, Non-Scale Victories (or NSVs) are shared and celebrated. An NSV is a 'win' that you can't see on a scale.
It's the moment you put on a suit jacket that you used to squeeze into, but now it hangs loosely. It's waking up with energy and vitality ready to start the new day.
It's not feeling winded after walking up the office stairs. It's hearing your doctor say, 'you no longer need to take this medication.'
Non-Scale Victories are arguably the most rewarding milestones in the weight loss journey.
"I have daily NSVs", admits Christopher.
"I dropped from a 38-inch waist to a 32. I got to go out and buy new clothes. I'm no longer embarrassed to take off my shirt in public. I actually look forward to my Fit Father workouts and preparing my meals for the week. And everyone has noticed my weight loss transformation, which is very motivating."
Fit Father 30X holds you Accountable
Other weight loss plans hand you a workout and expect you to figure it out, without their help. The Fit Father programs are different.
"As a Fit Father Member, I receive daily accountability emails that keep me on track", states Christopher.
"We consistently get different workout plans with tutorial videos and articles. I upgraded to the all-access Fit Father Membership because I'm hooked.

I never thought I could see weight loss results so quickly. I'm dedicated to this program and my results are amazing!"
Fit Father SuperFuel
As a man over 40, you need a weight loss program that is created for you. And your body needs specific, high-quality ingredients to help you lose weight, gain muscle and recover quicker.
SuperFuel is the all-in-one protein powder and super greens created exclusively for Men over 40.
"I love the Fit Father SuperFuel", says Christopher.
"I have the recurring subscription, so I get a new bottle every month. The flavor is phenomenal. Drinking my SuperFuel breakfast shake is the best part of my day.

It tastes great! The high-quality ingredients give me the energy I need for my workout and it prevents me from eating an unhealthy breakfast. If you were to ask me to rate the Fit Father SuperFuel on a scale of 1 to 10, it is definitely a 10!"
Christopher's Next Steps
Fit Father Christopher has completed Fit Father 30X Phases one, two, and three. With those fat loss programs, he hit his healthy, goal weight.
Now he is following Old School Muscle Phase one. The Old School Muscle programs are for men who accomplish their weight loss goals and are now focused on gaining muscle mass.
"I continue to use the Fit Father programs because I believe in them", says Christopher.
"I am a living breathing testament to the success they produce. I wear my Fit Father t-shirts and hoodies very proudly. I love telling people about the Fit Father Project."
Summary: 4 Lessons from Christopher's Success Story
You can lose weight after acute surgeries. Christopher had both hips replaced after a vehicular accident. Yet he followed the Fit Father programs and still met his weight loss goals.
You can have a 6-pack after 40! Age is only a number and it should never be your excuse for being unhealthy. At the age of 51 Christopher lost 39lbs and rediscovered his 6-pack abs.
Accountability is Key. Being held accountable can make the difference between hitting your goals or falling off track. With Fit Father 30X you will receive daily accountability emails and have access to Fit Father trainers who can help answer your questions. With this program, you never have to guess. The path is laid out for you. You have resources and support to keep you moving toward your goals.
As a man over 40 you need a program and protein powder created for you. As you age your body needs joint-friendly workouts and high-quality ingredients to help you lose weight, gain muscle and recover quickly. The Fit Father programs and the Fit Father SuperFuel were designed for you as a man over 40 to help you finally see the health results you want!
I look forward to seeing you on YOUR journey!
Here's How Busy Fathers Over 40 Are Finally Burning Stubborn Belly Fat & Getting Healthy Without Restrictive Diets or Time-Consuming Workouts
This proven "Fit Father Program" has helped 38,000 busy men 40+ lose weight, rebuild muscle, and finally keep the weight off.
If you're frustrated with stubborn belly fat, failed diets, and time-consuming workouts, this is the answer you've been looking for…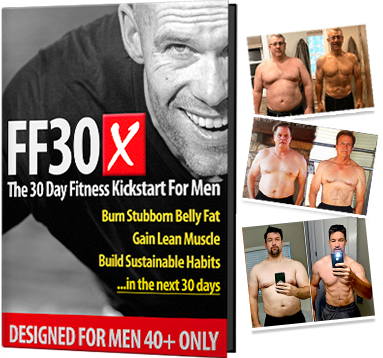 Join
38,000
guys in over
108
countries that are using FF30X to lose weight. You get everything you need to succeed – including:
The Fit Father Meal Plan – with simple & delicious recipes
Safe & Effective Workouts Program – only 90 min/week
VIP Accountability Coaching – our Fit Father Team will personally walk you to success, step-by-step.
LEARN MORE ABOUT FF30X >>
See the FF30X Program overview here. You'll discover how this proven Fit Father Program can help you lose weight and actually keep it off – without the complication and restriction of normal diets. »
*Please know that weight loss results & health changes/improvements vary from individual to individual; you may not achieve similar results. Always consult with your doctor before making health decisions. This is not medical advice – simply very well-researched info on Christopher's weight loss journey.