H
ave you ever noticed how you spend more time sitting than standing or exercising? Weight gain is generally seen as an accepted fact of life and aging, sedentary lifestyles are just a factor in this.
You don't need to start running marathons to lose weight and get in great shape. What you need are the right approach and specific exercises. The moment you try the dead bug exercise for core strength you'll understand what I mean.
I have to admit the name makes me chuckle, but the exercise really works, and there are no bugs in sight!
Even better, I found it easy to squeeze into a 10 minute routine in the morning. I coupled it with this free workout in the evening and a change in my eating habits. It made a huge difference to my core strength, weight, and energy levels.
I challenge you to try it today!
Here's How Busy Guys 40+ Are Finally Losing Weight…
If you're in your 40s, 50s, & 60s, you need to eat and exercise differently to lose weight & actually keep it off…
Discover The Dead Bug Exercise
Doing dead bugs for core strength has become a very popular add-in for many athletes. The reason is simple, it really does strengthen your core.
In fact, this is not a new exercise, it has been a fundamental part of Pilates for many years and allows you to strengthen your core without damaging or straining your back.
Research, specifically by Dr. Stuart McGill, shows that doing dead bugs for core strength is better than traditional crunches and other core training exercises.
His research shows that the core muscles are designed to stiffen while muscles create movement.
This combination allows for the best possible range of movement, flexibility, and strength.
In short, traditional crunches build core muscle but don't boost the stability of your body and do increase the risk of a back injury.
Once you try the dead bug exercise you'll realize how it can make a difference.
For example, try sitting in a chair with your back pressed against the back of it. Now lift your arms over your head without sticking your ribs out and arching your back.
If your lower back comes away from the back of the chair you're transferring the strain on your body to your lower back.
That's the signal that core strength needs to be improved. Fortunately, that's why we're here!
A weak core means the potential to injure your back preventing you from developing the strength you need to boost stability and performance with other exercises.

For reference, the name is simply because you look like a dead bug when you complete the exercise, but you definitely don't feel like one with your increased core strength!
In fact, you'll be much better than a dead bug at getting back on your feet.
Instructions: One Step At A Time
Let's get started, follow these simple instructions and you'll be doing the dead bug exercise in no time! Once confident you can take a look at the variations and challenge yourself to complete all of them within a month.
Lie on your back with your lower back against the floor, your legs bent at the knee with your feet flat on the floor, shoulder-width apart.
Don't forget that your lower back has a natural curve, you should be able to fit 3 fingers under it when laid on your back.
Your arms should be by your sides palms down.

Now lift both your arms up to the sky. Keep them straight with your hands directly above your shoulders.
Contract your abs and focus on keeping them contracted as you complete the exercise.

Now bring both knees up, keeping the leg bent at 90°. Your knees should be directly above your hips and your calves parallel to the floor.
Now lower your left leg to the floor, straightening as you do so.
At the same time, you'll need to lower your right arm as close to the floor as possible, the arm should be above your head, still straight, and palm facing upwards.
Your arm and leg need to move together and they mustn't touch the floor, but they should come as close as possible!
Your other arm and leg shouldn't move from the starting position and the movement must be slow and coordinated. Doing the dead bug fast will not improve core strength

Bring your left leg and right arm back to the starting position and then lower your right leg and left arm.
Keep the movement slow to avoid maintaining motion through momentum instead of core muscles. If you use momentum your lower back will lift off the floor.

Now you just need to return your right leg/left arm to the starting position, that's one rep.
Ideally, you're aiming for 3 sets of 8-10 reps but you can work up to this.
You'll know when to stop as you'll either feel exhausted or your abs will be shaking.
Variations Of Dead Bug
You may be surprised to find there are actually several variations of dead bugs for core strength:
Change your limb order, such as 2 arms and 1 leg or even doing all of them at the same time.
Try different directions such as one knee bent, the other leg straight out but up at 45° and the same with your hands. You'll really feel your core burning.
Legs only. In this one rest your hands on your stomach and slowly straighten one leg, returning it before doing the other. As always, focus on your core to ensure the exercise is effective.
Add a Foam roller, keeping your feet on this and stopping it from moving really focuses your mind and helps to ensure you're doing the exercise correctly.
Add a resistance band between your legs or fixed to a static object. It makes every move harder and more effective.
Use a yoga block between your foot and the wall. This will ensure one leg stays in position while you work the other side. Don't forget to swap after 8-10 reps. This version is fantastic if you're trying to build sprinting strength.
Boosting Effectiveness
Once you've been doing dead bugs for core strength for a while you'll realize that this extremely effective exercise can be improved upon.
The first thing to consider is adding weights to your ankles and wrists. Use the strap on weights as they are safer.
These will dramatically increase the effort it takes to complete each maneuver and boost the effectiveness of the exercise.
Alternatively, you can add in a kettlebell or weighted ball, try holding it above your head as you move your legs up and down or even start cycling in mid-air.
You can also adapt the basic exercise by touching the knee that hasn't moved with the other hand. This uses all your limbs and helps to ensure your core is being worked while your back remains in the right position.
The Power Of A Strong Core
You've seen the six-pack abs on magazines and perhaps thought it's too hard to get them.
However, doing dead bugs for core strength will give you these muscles, they're already there, you just need to strengthen them.
Of course, to get your 6-pack muscles showing you're going to need to consider your diet; the right nutrition is essential.
But, building a strong core doesn't have to be about getting the 6-pack look. It is actually really important for everyday life.
A strong core allows you to perform any exercise more effectively. It will boost your stability and improve your balance, effectively reducing the likelihood of falls.
To really understand the power of a strong core you need to realize that this collection of muscles main job is to stabilize your spine and allow rotation.
They also ensure forces are transmitted from the lower body to the upper and vice versa, ensuring your move effectively, efficiently, and explosively when you need to.
A weak core dramatically increases your chances of back injuries. The 6-pack abs are simply the outer core muscles, you need to be working the inner and the outer.
A good core doesn't just protect your back, it will increase your mobility and flexibility.
Check Out These Alternatives
The first thing to understand is that the dead bug exercise is a type of anti-extension and anti-rotation exercise, that's why they are so effective at building a strong core.
But, no matter how good an exercise is you need variety in order to keep your interest and continue to build strong core muscles.
The simple fact is that your body is incredibly good at adapting, changing your workout routine is essential to ensure it continues to be effective.
So, here are some great alternatives to boost core strength effectively.
The Plank
The great thing about the plank is there is virtually no limit to the possibilities.
You can try the standard starting pose, elbows on the ground and toes with your body straight, you can upgrade to arms straight with just your hands on the ground, or you can try one of many other variations.
Try one hand and one leg, or raising your legs when planking. They all work your core.
Back Extensions
You'll need the right bench for this as your body needs to be face down over the bench with your legs and waist supported. You then bend from the waist up and down.
Ab Wheel Rollout
The classic ab wheel rollout requires a strong core to allow you to pull the ab wheel back to yourself; it's not as easy as it looks.
Stability Ball
There are loads of options when using a stability ball that will help build core strength. Try simply sitting on it and having to maintain your balance, lying on it to lift your legs, or trying to plank of it. The burn in your core will be evident.
Farmers Walk
This classic exercise builds strength throughout your body while strengthening your core.
Holding a Dumbell
Try holding a dumbbell in your hand for as long as possible without bending; it's effective at strengthening your core.
Walk Outs
Stand up, place your hands on the floor as close to your feet as you can and then walk them as far away from your body as possible. Return and repeat!
Sounds easy until you try it but you'll feel the burn in your core.
Resurrection
The exercise may be dead bugs for core strength but it's going to leave you feeling more alive than ever before.
Building your core strength is essential to your overall fitness and ability to move around without pain. Although there are several exercises that you can adapt to help you achieve this, the dead bug is one of the most effective.
The fact that you can do it for 5 minutes every morning when you get out of bed makes it possible for anyone to add it into their daily routine. You will feel the benefit and you will be raving about it to all your friends.
Just don't forget to add in a free workout to your dead bug exercise and some of the exercise variations on this list it will boost its effectiveness and your results.
You can also check out the Fit Father Project for other inspirational exercises and to share your results; we're here to help!
Here's How Busy Fathers Over 40 Are Finally Burning Stubborn Belly Fat & Getting Healthy Without Restrictive Diets or Time-Consuming Workouts
This proven "Fit Father Program" has helped 25,000 busy men 40+ lose weight, rebuild muscle, and finally keep the weight off.
If you're frustrated with stubborn belly fat, failed diets, and time-consuming workouts, this is the answer you've been looking for…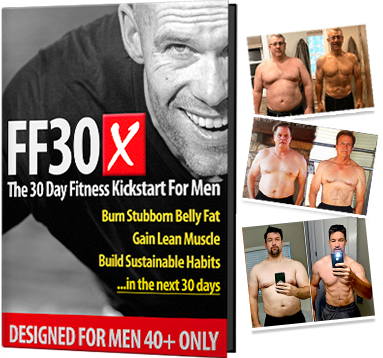 Join 22,000 guys in over 98 countries are using FF30X to lose weight. You get everything you need to succeed – including:
The Fit Father Meal Plan – with simple & delicious recipes
Safe & Effective Workouts Program – only 90 min/week
VIP Accountability Coaching – our Fit Father Team will personally walk you to success, step-by-step.
LEARN MORE ABOUT FF30X >>
See the FF30X Program overview here. You'll discover how this proven Fit Father Program can help you lose weight and actually keep it off – without the complication and restriction of normal diets. »
*Please know that weight loss results & health changes/improvements vary from individual to individual; you may not achieve similar results. Always consult with your doctor before making health decisions. This is not medical advice – simply very well-researched info on the dead bug exercise.