D
umbbell bicep curls are one of the best biceps exercises you can do … if you do them correctly!
With dumbbell bicep curls, minor adjustments will make a big difference.


When you train your biceps to get bigger arms, dumbbell bicep curls are often a go-to exercise, and for good reason. The exercise itself is very straightforward, but it can be incredibly effective.
You need to make sure you get a peak contraction at the top of the movement and a pre-stretch at the bottom.
This makes the exercise much more effective, no matter what weight you are using. In fact, sometimes less is more.
In this tutorial and related video, we'll show you the proper technique of dumbbell bicep curls, so you can complete them with confidence and safety. Completing this exercise properly will mean the best results for you, while avoiding the potential of injury.
Dumbbell Bicep Curls: A Step-By-Step Guide
Step 1: Start by standing up in a good posture with a dumbbell in each hand, squeezing the handle of the dumbbell as hard as possible.
Step 2: Hinge forward very slightly at your hips and take a breath in.
Step 3: Breathing out, start to curl the dumbbell up, then about halfway up, twist (or supinate) your hand so your pinky finger twists towards your face.
Step 4: At the top of the movement, contract your bicep as much as possible, getting a good peak squeeze.
Step 5: Breathing in, lower your hand back to the start point, then repeat steps 3 and 4 for the other arm.
Pro Tip 1: We recommend you start with 3 sets of 12-15 reps.
Pro Tip 2: As you complete the exercise, keep squeezing the handles of the dumbbell to keep tension through your entire arm.
Check out this video tutorial to learn the fine-form points of dumbbell bicep curls.
Here's How Busy Guys 40+ Are Building Age-Defying Muscle And Strength… Working Out Just 3 Hours Per Week...
This proven "Old School Muscle Program For Guys 40+" combines the "old school" bodybuilding secrets with the "new school" science… to produce muscle & strength building results fast.
Only for guys 40+ who want to build muscle.
If you're frustrated with stubborn belly fat, failed diets, and time-consuming workouts, this is the answer you've been looking for…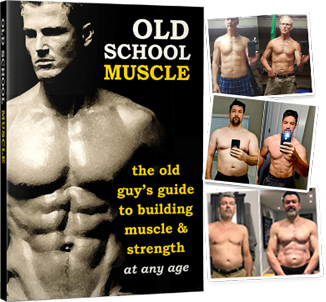 Old School Muscle (OSM) covers every aspect of building muscle for you as a guy 40+:
Old School Muscle (OSM) covers every aspect of building muscle for you as a guy 40+:
The 9-Week Muscle Building Program – safe, joint-friendly exercises
VIP Accountability Coaching – our Fit Father Team will personally walk you to success, step-by-step.
See the Old School Muscle (OSM) Program overview here. You'll discover how this proven program has helped thousands of guys 40+ pack onage-defying muscle and strength – the smart & sustainable way. »
*Please know that weight loss results and health changes/improvements vary from individual to individual; you may not achieve similar results. Always consult with your doctor before making health decisions. This is not medical advice – simply very well-researched info on the dumbbell bicep curls.