T
he dumbbell French press is an amazing exercise for increasing the size and strength in your triceps and is one of the only exercises to work all 3 heads of the triceps muscle.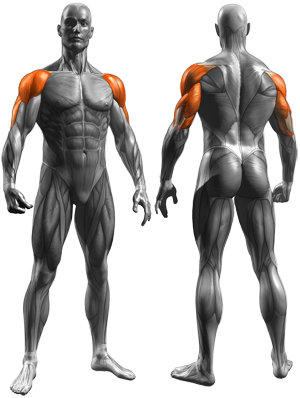 Adding the dumbbell French press to your workout routine will help you to increase muscle mass and therefore the size of your arms.
The main things to focus on when you do this exercise both relate to the position of your upper arm. The first is to keep your elbows tight in to your side, so they do not flare out.
The second is to make sure your upper arm stays at 90 degrees to your body and doesn't drop back over your head. This will take tension away from your triceps, so the squeeze will not be so good.
Take a look at our video tutorial below to see the fine form points of this exercise, and if you need something to print off and take to the gym, you can find our step-by-step exercise technique further down this page.
Dumbbell French press – Step-by-step technique
Step 1: Start by lying on a bench, holding a dumbbell in each hand, with them resting on your chest.
Step 2: Press the dumbbells straight up in front of you and squeeze the crap out of the handles.
Step 3: Breathing in, slowly lower the dumbbells down, flexing at your elbow and keeping your elbows in tight. The dumbbells will stop just outside your ears.
Step 4: Breathing out, press the dumbbells back up to the start position, flexing your triceps at the top and continuing to squeeze the dumbbells.


** Pro Tip #1: We recommend you start with 3 sets of 12-15 reps.
** Pro Tip #2: Using dumbbells instead of a barbell is healthier for your elbows, so for safety, we recommend this exercise as a start.
Check out the Dumbbell Deadlift next! To learn more exercises that you can use in your training, visit our complete exercise library on the Fit Father Project YouTube channel.
Enjoy!
The Men's Health Experts @ The Fit Father Project

Here's How Busy Guys 40+ Are Building Age-Defying Muscle And Strength… Working Out Just 3 Hours Per Week
This proven "Old School Muscle Program For Guys 40+" combines the "old school" bodybuilding secrets with the "new school" science… to produce muscle & strength building results fast.
Only for guys 40+ who want to build muscle.
If you're frustrated with stubborn belly fat, failed diets, and time-consuming workouts, this is the answer you've been looking for…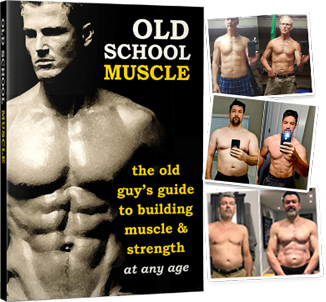 Old School Muscle (OSM) covers every aspect of building muscle for you as a guy 40+:
Old School Muscle (OSM) covers every aspect of building muscle for you as a guy 40+:
The 9-Week Muscle Building Program – safe, joint-friendly exercises
VIP Accountability Coaching – our Fit Father Team will personally walk you to success, step-by-step.
See the Old School Muscle (OSM) Program overview here. You'll discover how this proven program has helped thousands of guys 40+ pack onage-defying muscle and strength – the smart & sustainable way. »
* We hoped you enjoyed this article. Remember to always consult your doctor before starting any new exercise program and that this is not medical advice – just well-researched info. Please see our disclaimer at the bottom of this website. Exercise intelligently and safely at your own risk.