Firing up the grill? From healthy meats to non-meat alternatives, vegetables, and other sides, you can have a healthy cookout!
The best way to plan healthy cookouts is to grill an array of fiber-rich vegetables and nutritious protein foods.
Prepare additional healthy sides too!
Plan out menus and recipes ahead of time to ensure you avoid not-so-healthy ingredients.
If you're cooking out at a friend or family member's house, bring your own chicken, turkey burgers, lean organic beef burgers, veggie burgers, or veggies to grill so you don't have to eat hot dogs, brats, other highly-processed meats, or fatty cuts of red meat.
Bring nutritious sides, such as fruit salads, veggies with hummus, charro beans, or other favorite healthy dishes, and always have water on hand to drink!
Keep reading for other ways to have a healthy cookout — all summer long!
Got to have a beer while you grill? Learn the answers to some of the most asked questions about drinking alcohol! 
10 Tips for a Healthy Cookout
Tips to consider when striving for healthy cookouts include:
Choose Fresh or Grilled Vegetables
Always choose fresh or grilled vegetables when preparing for healthy cookouts.
You might serve a fresh veggie tray with hummus, or, cut up fresh zucchini, mushrooms, onions, carrots, eggplant, tomatoes, corn on the cob, sweet potatoes, Brussels sprouts, or any other favorite vegetables.
Brush them with olive oil, add your favorite seasonings, and place the veggies on the grill over medium or medium-high heat.
Grill them until they reach the desired doneness and enjoy!
Pick Healthy Protein Foods
Not all commonly grilled meats are nutritious options for cookouts.
Steer clear of fatty cuts of red meat, hot dogs, brats, or other highly processed meats.
If you grill steak or chicken, trim off any visible fat before you cook it.
Nutritious protein foods to consider during your next healthy cookout include very lean (organic) beef, chicken breast, turkey, salmon, shrimp, or other types of seafood.
You might also choose lean turkey burgers, tofu, seitan, or veggie burgers instead of less-healthier options.
Use Healthy Marinades
When marinating meats before a cookout, choose healthy marinade recipes free from added sugar.
You might use combinations of olive oil, sesame oil, avocado oil, Dijon mustard, lemon or lime juice, coconut aminos (soy sauce alternatives), or red wine vinegar, along with your favorite seasonings.
Use Healthy Cooking Oils
Avocado oil, sesame oil, olive oil, and other nutritious oils add moisture and flavor to healthy grilled foods.
Oils, when used in place of animal fats, reduce your risk of high cholesterol, heart disease, and other chronic conditions.
Brush vegetables with oil or marinate protein foods with oils and seasonings of your choice before placing them on the grill!
Steer Clear of Sugary Condiments
Many condiments commonly used during cookouts, such as ketchup, barbeque sauce, honey mustard, teriyaki sauce, sweet pickles, sweet relish, and many salad dressings, contain added sugar.
Limit or avoid sugar-sweetened condiments during healthy cookouts in favor of mustard, avocado-oil mayonnaise, smashed avocados, dill pickles, sliced veggies, or oil-based dressings without added sugar.
Check the ingredient label on your favorite condiments to see if they contain added sugar.
Season with Spices
Enhance the flavor of healthy cookout recipes by using your favorite spices!
You might choose garlic powder, oregano, basil, ginger, smoked paprika, crushed red pepper, black pepper, onion powder, cumin, rosemary, turmeric, thyme, or combinations of these.
Favorite grilling rubs often contain multiple spices combined specifically for steak, chicken, fish, seafood, or veggies.
Avoid High Heat and Charring
While some charring is often expected when grilling your favorite foods, shy away from excessive heat and too much charring.
The American Institute for Cancer Research (AICR) reports that charring and grilling meat, fish, or poultry over high heat creates compounds that may increase your risk of cancer.
Marinating the meats for at least 30 minutes before grilling them appears to help reduce such compounds.
Or simply grill foods over medium heat instead of high heat.
Pick Nutritious Sides
Many common sides at cookouts aren't the healthiest.
Examples include many potato salads and coleslaws, pasta salads, brownies, and other sweet treats.
Instead, prepare healthier sides rich in protein, fiber, or nutritious fats and load up on fruits and veggies.
Avoid choosing recipes containing added sugar as an ingredient.
Steer Clear of White Buns
If you grill very lean beef burgers, turkey burgers, or veggie burgers during a healthy cookout, skip the highly processed white hamburger buns.
Choose whole-grain buns or lettuce wraps instead to increase the fiber content of your meal.
Avoid Sugary Drinks
Choose water, water flavored with fruit chunks or cucumbers, or unsweetened iced tea during your next cookout instead of sugar-sweetened beverages like soda, sweet tea, and lemonade.
Limit or avoid alcoholic drinks and sugary mixers too.
Sugar-sweetened drinks are loaded with empty calories and can pack on pounds quickly, so avoid them whenever possible.
Diet drinks aren't the best option either, as studies show they're associated with larger waist circumferences.
Drink water when you can!
5 Healthy Cookout Recipes
Here are a few nutritious recipes to try when prepping for your next healthy c0okout!
Sugar-Free Coleslaw
Instead of a traditional coleslaw, consider this no-sugar-added coleslaw recipe!
Ingredients
1/3 cup of olive-oil mayonnaise
1/4 cup of white wine vinegar
1/2 teaspoon of garlic powder
1/8 teaspoon of celery seed
1/2 teaspoon of salt
4 cups of shredded white cabbage
1 cup of shredded carrots
Sunflower seeds and slivered almonds (optional)
Directions
In a large bowl, whisk together the mayonnaise, vinegar, garlic powder, celery seeds, and salt.
Add in the cabbage and carrots and toss to coat.
Add the seeds and almonds (optional) and mix well.
Cover and refrigerate the mixture for at least one hour.
Mix, serve, and enjoy!
Servings: 4
Spinach and Feta Turkey Burgers
Replace traditional burgers and hot dogs with this nutritious, savory, spinach and feta turkey burger recipe!
Ingredients
1 pound of very lean ground turkey
1 cup of chopped baby spinach
1/4 cup of crumbled feta cheese
3 tablespoons of egg whites
2 tablespoons of fresh chopped parsley or 1 teaspoon of dried parsley
2 cloves of minced garlic
1/2 teaspoon of salt
1/2 teaspoon of pepper
Whole-grain buns or lettuce wraps for serving
Instructions
Prep your grill by preheating it to medium-high heat. Lightly oil the grill grates.
Mix all of the ingredients together in a large bowl until well combined.
With your hands, form the turkey burger into 5 patties.
Cook the patties on the preheated grill until they are no longer pink in the center (about 6-8 minutes per side).
Serve the burgers over whole-grain buns or lettuce wraps and enjoy!
Servings: 5 burgers
Simple Quinoa Salad
Everyone at your healthy cookout will adore this colorful, flavorful, simple quinoa salad recipe!
Ingredients
1/2 cup of uncooked quinoa
1 cup of water
1/2 cup of chopped baby spinach
1/2 cup of chopped cherry tomatoes
1/3 cup of diced red onion
2 tablespoons of lemon juice
2 tablespoons of olive oil
1/2 teaspoon of salt
1/4 teaspoon of pepper
2 ripe avocados, sliced or chopped
1/3 cup of crumbled feta cheese
Instructions
Rinse and drain the quinoa and add it, along with the water, to a saucepan.
Bring the water to a boil.
Reduce the heat to simmer, cover it, and cook the quinoa for about 15 minutes.
Fluff the quinoa with a fork and allow it to cool for 5-10 minutes.
In a medium bowl, toss together the quinoa, spinach, tomatoes, onion, and feta cheese.
Whisk together lemon juice, olive, oil, salt, and pepper in a small bowl to make dressing and add it to the other mixture.
Serve your salad right away with the avocado or let it chill in the refrigerator for a few hours. Add the avocado to the salad right before serving it to prevent browning.
Serve and enjoy the salad during your next healthy cookout!
You can store quinoa salad in an airtight container in the refrigerator for 3-4 days.
Servings: 4
Savory Grilled Salmon
Grilled salmon makes an excellent main dish for any healthy cookout, as it's loaded with protein and heart-healthy omega-3 fats!
Ingredients
1– 1.5 pounds of salmon, cut into 4 fillets
Olive oil
1/4 cup of garlic powder
1/4 cup of salt
1/4 cup of dried parsley
1/4 cup of dried minced onion
1/4 cup of dried basil
Instructions
Mix the seasonings together in a bowl.
Rub each fillet of salmon in olive oil and sprinkle it with the seasoning mixture to taste.
Heat your grill to medium heat and place salmon on the grill.
Cover and grill the salmon over medium heat for about 5 minutes per side.
When it's done, the salmon should flake with a fork.
Serve and enjoy grilled salmon with your favorite healthy sides!
Servings: 4
Easy Fruit Salad
A fruit salad recipe makes the perfect addition to any meal, especially a healthy cookout!
Ingredients
1 pound of sliced strawberries
1 pint of fresh blueberries
2 cups of fresh cubed pineapple
3 kiwi fruit, peeled and sliced into halves
2 cups of halved red or green grapes
3 clementines or mandarin oranges, peeled and sectioned
2 tablespoons of lime juice
1/4 teaspoon of grated lime zest
Instructions
In a large bowl, toss together the strawberries, blueberries, pineapple, kiwi fruit, grapes, and oranges.
In a smaller bowl, whisk together lime juice and lime zest to make the dressing.
Drizzle the lime dressing over your fruit mixture.
Toss the mixture to coat well, serve immediately, and enjoy!
Store the leftovers in an airtight container (in the refrigerator) for 3-5 days.
Servings: 4
Here's How Busy Fathers Over 40 Are Finally Burning Stubborn Belly Fat & Getting Healthy Without Restrictive Diets or Time-Consuming Workouts
This proven "Fit Father Program" has helped 38,000 busy men 40+ lose weight, rebuild muscle, and finally keep the weight off.
If you're frustrated with stubborn belly fat, failed diets, and time-consuming workouts, this is the answer you've been looking for…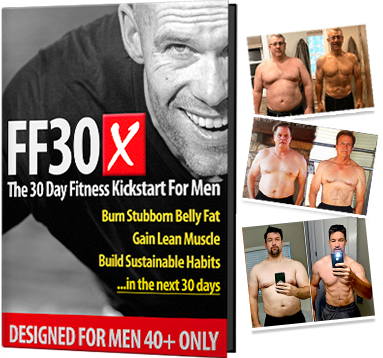 Join 38,000 guys in over 108 countries that are using FF30X to lose weight. You get everything you need to succeed – including:
The Fit Father Meal Plan – with simple & delicious recipes
Safe & Effective Workouts Program – only 90 min/week
VIP Accountability Coaching – our Fit Father Team will personally walk you to success, step-by-step.
LEARN MORE ABOUT FF30X >>
See the FF30X Program overview here. You'll discover how this proven Fit Father Program can help you lose weight and actually keep it off – without the complication and restriction of normal diets. »
*Please know that weight loss results and health changes/improvements vary from individual to individual; you may not achieve similar results. Always consult with your doctor before making health decisions. This is not medical advice – simply very well-researched info on a healthy cookout.