G
etting into shape
requires motivation
, focus, a great eating plan and the right workout. The problem is that every workout can become tedious if repeated day after day.
Fortunately, this is where HIIT workouts can help. Mix these in with your free 24-minute workout and the old school muscle program and you'll soon be achieving your goals!
What Are HIIT Workouts?
HIIT stands for High Intensity Interval Training. These are explosive workouts where each exercise are performed at full intensity for a short intervals. You then take a break and repeat.
After a set period of time you switch activities and complete the same process.
The idea is that you can have an effective fat burning workout in just 20 minutes; or 24-minutes if you want to try our workout!
The theory behind this approach to exercise is that you will be stimulating more muscles, improving muscle response, balance and pushing your body to recover faster.
All of these factors combine to increase your metabolic rate during and after the workout; helping you to burn more fat.
Effectively you'll get fitter and stronger quicker.
Here are 5 great HIIT workouts to get you started:
HIIT Workout 1 – The Burpee
There are just three exercises in this HIIT workout; pull-ups, jumping jacks and burpees.
Do as many pull-ups as you can in 30 seconds.
Then do 60 jumping jacks.
Finish with 20 burpees.
Take a one minute rest.
Repeat the cycle; ideally you should aim to do all the exercise four times.

HIIT Workout 2 – Resistance
This HIIT workout adds in a resistance band to make it a little tougher. If you're struggling to complete it with the resistance band you can always remove it and build up to using it.
Jump rope (skipping) for 1 minute.
Do 15 dips; you obviously need bars to complete this exercise or something similar to hold onto.
Do 30 high knees with one leg then the other.
Complete 20 bicep curls on each arm; using the resistance band.
Take a rest for one minute.
Repeat, again you're aiming for four complete circuits.
HIIT Workout 3 – Lower Body
This version of HIIT workouts is aimed at improving the strength and stamina of your lower body. It's a great workout to complete on alternating days and mix in with some upper body HIIT workouts.
Sprint as fast as you can for 30 seconds. If this doesn't leave you breathless then sprint faster and try going uphill!
Do as many squat jumps as you can in 45 seconds.
Complete 20 lunges, per leg. Concentrate on form not speed.
Aim to do 25 calf raises per leg.
Pause for 1 minute; allowing your breathing to slow.
Now repeat, again you're aiming to do all the exercises 4 times.
HIIT Workout 4 – Tabata Core
This is a slightly different form of the HIIT workouts. It focuses on really short bursts of energy but with repetition of the exercise.
Research has shown this to be an effective way at boosting cardiovascular health as well as muscle.
Do as many pushups as you can in 20 seconds.
Rest for 10 seconds.
Repeat the pushups for 20 seconds and rest for 10 seconds. You're aiming to do 8 sets of pushups.
Now do as many squats as you can in 20 seconds.
Again, rest for 10 seconds and repeat another 7 times.
Next complete 8 sets of jumping jacks; 20 seconds exercise / 10 seconds rest.
You can then do 8 sets of lunges.
To finish do 8 sets of burpees and collapse on the floor.
This routine takes 25 minutes and, if done properly, will leave you exhausted!
HIIT Workout 5 – One For The Gym
You may need to visit the gym during its quiet period to ensure you can access the different equipment you need.
The key to successful HIIT workouts is putting everything you have into the exercise and only pausing for the set period; no longer.
Try this:
2 minutes sprinting on the treadmill.
30 seconds rest.
2 minutes on the stairmaster.
30 seconds rest.
2 minutes on the exercise bike.
30 seconds rest.
2 minutes on the cross trainer.
30 seconds rest.
This process will take you 10 minutes; see if you can repeat it twice; or even 3 times!
Including HIIT Workouts In Your Week
HIIT workouts are an excellent way to boost your metabolism, improve your balance, muscle growth and your general fitness.
But, as already mentioned, they should be part of a variable exercise routine. This will help to keep it interesting, you motivated and; perhaps most importantly keep challenging your body.
Here is any example of including HIIT into your regular exercise for the week to promote fat loss:
Monday – Your standard full body weight training. A good choice is the 24-minute workout.
Tuesday – One of the above HIIT workouts.
Wednesday – Your body weight training again; try old school muscle.
Thursday – Choose a different HIIT workout from above.
Friday – Bodyweight training again.
Sat & Sun – Rest
This will keep your metabolism burning at a high rate and stop you've from getting bored. You can adjust your HIIT workout every time you workout; if you wish.
It is important to note that warming up and warming down are essential to prevent straining your muscles and causing an injury or soreness after exercise.
Summing It Up
HIIT workouts are a great way to boost your fitness regime. They should be complemented with other exercises such as our old school muscle program and the 24-minute workout.
This will not just boost your results, it will keep you motivated. In fact, it will help you to achieve results which are one of the best forms of motivation you can get!
Don't forget, the Fit Father's are here to support you on every step of your journey!
Your new friend & health coach,
Stuart Carter
Head Training Staff, The Fit Father Project
Brotherhood Nickname: "The Fit Brit"
Bragging Rights: 16 Years in the fitness industry, Author of 'The Easy Fitness Guide', Father of 4 boys and Husband to a Venezuelan beauty.
If you're interested in a proven and completely laid out "done-for-you" weight loss meal plan & workout routine – designed for you as a busy man…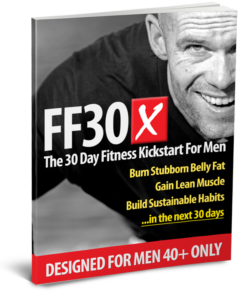 I'd recommend you read the program overview letter for our Fit Father 30-Day Program (FF30X).
Inside FF30X, you'll receive:
The simple & delicious Fit Father Meal Plan
The metabolism boosting Fit Father 30X Workout (under 90 min/week)
VIP email coaching where I'll personally walk you through the program
Read the FF30X Program overview letter here to see how our plan can help you lose weight – without the complication & restriction of normal diets.
*Please know that weight loss results & health changes/improvements vary from individual to individual; you may not achieve similar results. Always consult with your doctor before making health decisions. This is not medical advice – simply very well-researched info on HIIT Workouts.