T
he incline dumbbell press is a great exercise for building strength and muscle mass in your chest, particularly your upper pecs. While the standard bench press works your pec muscles as a whole, the incline dumbbell press offers a variation to target the higher area of your chest.
The
incline dumbbell press
works more of your upper body, hitting your shoulders and triceps as secondary support muscles too; as seen in the anatomical image on the right.
It can be a great variation for strength; especially if you think you've hit a plateau with the standard bench press.
To really ensure you're working your muscles as hard as possible choose a heavy weight that you are comfortable with and make sure you grip them tight; this improves the response in the upper chest.
The incline dumbbell press needs to be completed on a bench which has an adjustable back. The initial position of this is at a 45° angle. Do not be tempted to set this higher; as you will be encroaching on shoulder press territory!
In this tutorial and related video, I'll show you the proper technique of the exercise, so you can complete it with confidence and safety.

Completing the exercise properly will mean the best results for you, while avoiding the potential of injury.
We have a full video tutorial below to show you the fine form points of the Incline Dumbbell Press.
Also, if you need something to print off and take to the gym, you can find our step-by-step exercise walkthrough further down this page.
Incline Dumbbell Press – Step-by-step technique
Step 1: Sit comfortably on your bench with the back angle set at no higher than 45°. Take one dumbbell in each hand and rest them at the top of your thighs. This encourages correct form before you start.
Step 2: Lower yourself down until your back is against the bench. Bring the dumbbells back until they are in line with the bottom of your ribs. Your arms should be bent at 90° with the dumbbells facing your stomach.
Step 3: Squeeze your shoulder blades down and back to ensure your upper back stays tight; at this stage it is the only contact with the bench. You are now ready to start.
Step 4: Take a deep breath and push both arms up at the same time. Your arms should become straight without locking into position. The dumbbells should touch at the top.
Step 5: Slowly lower your arms back to the starting position. While doing so focus on squeezing your chest. Your elbows should finish in line with your stomach; this is the lower position.
Step 6: Make sure you push through the heels of your feet when moving the dumbbells upwards; this will keep your core strong.
Step 7: Repeat steps 3-5 for the prescribed number of reps .
Step 8: Once you have finished the exercise you should not be afraid to half lower the weight to the floor and drop them gently. Attempting to coil back into a seating position with heavy dumbbells can seriously damage your back or arm muscles.
** Pro Tip #1:
This can be used as a prime motion; the first exercise of an upper body workout, you should aim to complete 2-3 sets with 6-8 reps in each one.
Alternatively, use this as an effective supportive exercise with 2-3 sets of 12-15 reps. Higher bench positioning makes this a better supportive exercise.
** Pro Tip #2: If you find that the 45° starting angle for this exercise is straining your shoulders you can decrease the angle.
This will be easier to complete without causing yourself an injury and still build healthy shoulder and upper body muscles.
** Pro Tip #3: The dumbbells must touch at the top of the exercise to ensure you are working the chest muscles properly.


To learn more exercises that you can use in your training, visit our complete exercise library on the Fit Father Project YouTube channel.
Enjoy!
The Men's Health Experts @ The Fit Father Project

Here's How Busy Fathers Over 40 Are Finally Burning Stubborn Belly Fat & Getting Healthy Without Restrictive Diets or Time-Consuming Workouts
This proven "Fit Father Program" has helped 25,000 busy men 40+ lose weight, rebuild muscle, and finally keep the weight off.
If you're frustrated with stubborn belly fat, failed diets, and time-consuming workouts, this is the answer you've been looking for…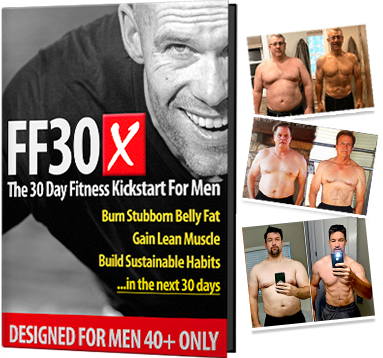 Join 22,000 guys in over 98 countries are using FF30X to lose weight. You get everything you need to succeed – including:
The Fit Father Meal Plan – with simple & delicious recipes
Safe & Effective Workouts Program – only 90 min/week
VIP Accountability Coaching – our Fit Father Team will personally walk you to success, step-by-step.
LEARN MORE ABOUT FF30X >>
See the FF30X Program overview here. You'll discover how this proven Fit Father Program can help you lose weight and actually keep it off – without the complication and restriction of normal diets. »
* We hoped you enjoyed this article. Remember to always consult your doctor before starting any new exercise program and that this is not medical advice – just well-researched info. Please see our disclaimer at the bottom of this website. Exercise intelligently and safely at your own risk.