W
hen it comes to what it really takes to lose weight fast for men, there are a few important things that will lead to success. I'm going to share these with you in the information below.
Losing weight fast is fine for the short term, especially if you have 30 or 40+ lbs to lose. However, it's essential to understand the principles of weight loss, how your body works and how you can develop sustainable habits to keep your weight down in the long-term.
Before we move on, let me show you why I'm confident we can help you…
We are the Fit Father Project.
We're the men's health experts who help busy men lose weight & build muscle so that they can stay fit & healthy for their families.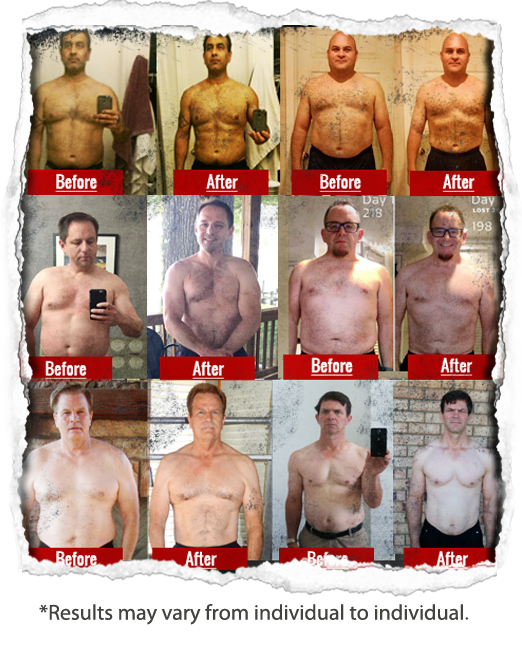 We're incredibly proud of the fact that we've helped over 10,000 men lose over 75,000lbs.
Our program Fit Father 30X helps new members every day to learn the habits that makes weight loss and good health long-term and sustainable.
Click Here to Read Our Fit Father 30X Overview Letter.
Once you understand what I'm sharing below, you can check out some more proven
weight loss tips for men
that can help you further on your weight loss journey!
First off, let me show you what causes a lot of weight gain in men…



More Body-Fat = A Slower Metabolism.
The more body-fat you have covering your body, the less calories you will naturally burn each day.
For example, if you're an 80kg man with 30% body-fat, you'll naturally burn 1,784 calories per day. On the other hand, if you're 80kg and have only 10% body-fat, you'll naturally burn 2,088 calories per day.
That's an increase of 304 calories burned per day, which is the equivalent of burning an additional 1 lb of body-fat every 11 days.
Once you reach thirty, scientists estimate you will lose roughly 0.5 percent of your body mass every year meaning your body starts to naturally burn fewer calories.
This is why, if you continue to eat as you have always done, you will likely notice weight gradually starting to creep on.
As it's usually gradual gain like this, it goes unnoticed until you find yourself 30 lbs overweight and you realize you need to do something about it.
Now you know what often causes weight gain, let's see how to reverse it…
Getting the right Diet Plan is key to lose weight fast for men.
Here at the Fit Father project, we have a mantra:
"You can't out exercise a bad diet."
That's why a big focus of the
Fit Father 30X program
is to set you up with everything you need, to learn which foods you should be eating at what time of the day and how to prepare your meals.
Learning the basics in a very simple way will enable you to create sustainable habits without over complicating anything.
Our intention is for the changes you make to fit in with your busy schedule.
The importance of diet cannot be overstated. You really are what you eat.
To see an example of the type of diet you should be looking at you can study our 1-Day meal plan.
You may be surprised at how easy it is to adhere to the plan.
Be More Physically Active to Burn More Calories.
You'll almost certainly be aware that exercise burns calories. At the Fit Father Project, we recommend starting off by including general physical activity into your daily routine to lose weight fast.
Adding 20-30 minutes of walking, gardening, cleaning or other physical activity into your day is a great way to compliment your change in diet plan and start you on the track to fantastic weight loss results.
One look at the facts provided in our weight loss tips for men article and you'll see that any physical activity is useful to stay healthy and build muscle.
While this is good for your overall health, it will only provide you with around 20- 25 percent of your weight loss goal.
To lose weight fast physical activity and formal exercise will come secondary to changing your diet.
Avoid these Exercise Pitfalls.
It is important to note that once you are used to doing some form of physical activity on a daily basis, formal exercise will become a part of your plan to lose weight fast.
It has been shown to improve overall health and reduce the chances of serious disease in later life.
But, although it is effective for those of you looking to lose weight, you need to work up gradually and be aware of the below:
Doing too much too soon will burn you out and potentially lead to injury.
Exercising by yourself or doing something you don't enjoy will lead to a lack of motivation.
Boredom of the same routine will make you do the routine less regularly and possibly stop.
The time it takes to complete a lengthy workout may be difficult to find in your busy schedule.
You should be mindful of all these factors, so they don't get in the way of you completing your exercise and losing weight.
Moving on to Formal Exercise.
As already mentioned, formal exercise will become essential to lose weight fast and to improve your health, once you're used to undertaking physical activity on a daily basis.
Our free 24-min workout will provide you with a sneak preview of what exercise really works, why you need to build muscle, and how you can achieve this even on your current, busy schedule.
How can we help you Lose Weight Fast?
As well as giving you a full healthy eating plan, getting you used to daily physical activity and moving you forward with formal exercise plans, we also give full accountability to every one of you that joins us.
This is why the Fit father Project is the best solution for you to lose weight fast.
We help you through every step, with accountability emails and a program that provides the below:
One of the best things about the Fit Father Project is that you will be connecting with like-minded individuals.
You will be able to motivate each other and feel that you have someone to be accountable to.
This can be a strong motivator!
Perhaps more important than actually losing weight is the fact that you will learn about why this approach works and why the current, exercise-only orientated approach does not.
Understanding why you're doing what you're doing makes it much easier to complete any task.
You will also be able to share stories and obtain advice regarding what should work best for you.
Indeed, as your experience and success build, you will even be able to inspire others!
Summary
You can avoid the usual pitfalls associated with trying to lose weight by focusing on your diet and using your exercise to increase your metabolism.
This will ensure you stay healthy and reach your weight loss goal; with a lifestyle plan that you can adhere to comfortably for life!
If you've found this information useful, please use the social media buttons on the left, to share it with others.
Until next time, keep being awesome.
Your new friend & health coach,
Here's How Busy Fathers Over 40 Are Finally Burning Stubborn Belly Fat & Getting Healthy Without Restrictive Diets or Time-Consuming Workouts
This proven "Fit Father Program" has helped 38,000 busy men 40+ lose weight, rebuild muscle, and finally keep the weight off.
If you're frustrated with stubborn belly fat, failed diets, and time-consuming workouts, this is the answer you've been looking for…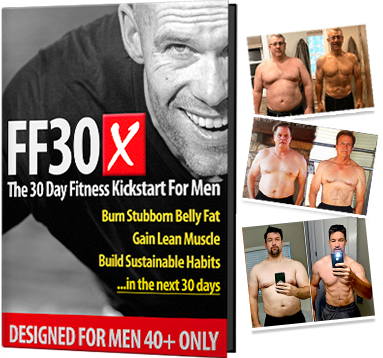 Join
38,000
guys in over
108
countries that are using FF30X to lose weight. You get everything you need to succeed – including:
The Fit Father Meal Plan – with simple & delicious recipes
Safe & Effective Workouts Program – only 90 min/week
VIP Accountability Coaching – our Fit Father Team will personally walk you to success, step-by-step.
LEARN MORE ABOUT FF30X >>
See the FF30X Program overview here. You'll discover how this proven Fit Father Program can help you lose weight and actually keep it off – without the complication and restriction of normal diets. »
Small note about research cited in this article:
*Always remember: weight loss results & health changes/improvements vary from individual to individual. Just because these studies cite certain data does not mean you will experience these results/outcomes. Always consult with your doctor before making decisions about your health. This is not medical advice – simply well-researched information about how you can lose weight fast for men. Thanks for reading!