Losing weight as a couple can be so much easier than going it alone. Here's how this husband and wife lost a combined 200 lbs!
In the beginning of 2019, Lee and Amy were living a very unhealthy lifestyle.
Lee weighed 300 lbs and stood 6 feet tall. Amy weighed 232 lbs.
The husband and wife duo were distracted with work and raising two children. Their health was pushed to the wayside.
"I woke up and I was 49 years old, weighing 300 lbs," reflects Lee. "I was completely out of shape. I started neglecting my health back in 2009 when I broke my ankle and had surgery. Then I ruptured the L4 disc in my back."
"I was on a downward spiral and I was frustrated. I used to be in the Army. I used to do 10-mile runs and 100-mile bike rides. So much had changed in the last decade."
Keep reading to see how Lee and Amy joined forces and took losing weight as a couple to the next level!
Lee's Tipping Point
Lee, like many Fit Fathers, received a health scare before joining the Fit Father Project.
"At my annual physical my doctor told me my blood pressure and cholesterol were up," states Lee. "If I continued down this path, I would need medication very soon. On top of that, I needed to change my relationship with food. I needed to find myself again."
The sad truth is thousands of men over 40 are taking prescription medications that only mask the deeper problem.
The good news: with the right program it is possible to be healthy and strong in the second half of life.
The Proven Program for Men 40+
"After the eye-opening report from my annual physical, I began researching weight loss programs for men over 40," says Lee. "I knew that fad diets were worthless and that I needed a plan with a structure to see real results."
"I came across the Fit Father Project online. Thousands of men over 40 had seen transformational results with Fit Father 30X. I purchased the proven weight loss program for men and convinced my wife to try Fit Mother 30X too!"
Fit Father 30X is designed exclusively for men in their 40s, 50s, 60s, and beyond.
The online program includes delicious meal plans, time-efficient workouts (that don't require a gym membership), daily accountability, and access to the private Members-Only group.
20 lbs Lost in the First Month
"In the first month of following the Fit Father 30X program I lost 20lbs," smiles Lee. "I feel great and I've completely changed my relationship with food. This program is amazing. I have learned a tremendous amount of information on nutrition, supplements, and exercise. And the program includes different meal timing options and workout schedules, so I can select a path that will work for my busy schedule."
"The Fit Father 30X program is the missing piece for working dads with careers, kids, and busy schedules. This program makes it easy to lose weight."
Lee Lost 110 lbs with the FF30X Programs
Some new Fit Father members start their weight loss journey with over 100 lbs to lose.
Other members have a goal to lose the last 20 pounds of stubborn belly fat.
Fit Mother Amy Lost Over 80 lbs
In just 19 months Lee and Amy lost a collective 200 lbs using the Fit Father and Fit Mother programs.
The Fit Mother 30X program is designed exclusively for women over 40.
The online weight loss program includes simple meal plans, time-efficient workouts, daily accountability, and access to the private Members-Only group.
Spouses see the quickest, long-lasting weight loss results when they begin losing weight as a couple.
Most husband and wife duos say the convenience of following the same program, holding each other accountable, and supporting one another makes the difference.
Losing weight as a couple: that's why the Fit Family Bundle was created.
Non-Scale Victories
Fit Fathers and Fit Mothers experience Non-Scale Victories (NSVs) throughout their entire weight loss journey.
NSVs are the moments that prove progress without a scale.
Fit Father Lee went from wearing a size 3XL shirt to an XL. He used to have a 42-inch waist, now he has a 34-inch waist.
"I upgraded to the lifetime access of the Fit Father Project because of the accountability, the structure, and the continuous support," states Lee. "I'm part of a community of men on the same journey to be the best man, father, and husband possible. I am honored to be in the Fit Father Brotherhood."
300 lbs to Marathon Runner
After a year and a half of following the Fit Father programs, Lee is now a healthy 188 lbs.
He is 50 years old and strong. Now he is running marathons.
Since collectively losing 200 lbs, Lee and Amy were given a special opportunity. The husband-wife duo was invited to run in the Fit Family Ragnar race.
Both Lee and Amy participated and ran side by side with Dr. A, the founder of the Fit Father Project and the Fit Mother Project.
Losing Weight As a Couple to Fit for Life
Lee and Amy have a new healthy lease on life.
"Now I know that being healthy is a lifestyle," states Lee. "I am incredibly grateful for the Fit Father programs, the Fit Mother programs, and the Fit Family Support Team. Amy and I could not have done this on our own."
"And for the men out there who are debating trying this program – I lost 110 lbs and completely regained my life at age 50. If I can do it, you can do it!"
Here's How Busy Guys 40+ Are Finally Losing Weight…
If you're in your 40s, 50s, & 60s, you need to eat and exercise differently to lose weight & actually keep it off…
5 Lessons to Learn from Lee's Success
Lesson 1: Age, injuries, and surgeries should not prevent you from being healthy. Lee was 49 years old, 300 lbs, and had multiple injuries when he began the Fit Father 30X program. He ultimately lost 110 lbs. This step-by-step program makes it easy to lose stubborn weight and keep it off.
Lesson 2: Spouses see the best results when losing weight as a couple and following the programs together. If you and your spouse want to lose weight, get strong, and be healthy, the Fit Family Bundle is your answer. This exclusive package includes the Fit Father 30X program and the Fit Mother 30X program.
Lesson 3: Weight loss can be quick if you're following the right program. Fit Father 30X is designed for men over 40. This easy to follow plan has been tested and proven by thousands of men around the world. Fit Fathers lose 5-25 lbs in their first month using Fit Father 30X. You can start losing weight today!
Lesson 4: Accountability is the key to success. With Fit Father 30X and Fit Mother 30X, members receive daily accountability emails. The accountability from the Success Team ensures that each member continues to progress and hit their ultimate weight loss and health goals.
Lesson 5: The Fit Family is a community. When you join the Fit Father 30X program, you gain instant access to the private Members-Only group. The group allows members to connect, ask questions, and support each other throughout their weight loss journey. Join the Fit Father Brotherhood today!
Here's How Busy Fathers Over 40 Are Finally Burning Stubborn Belly Fat & Getting Healthy Without Restrictive Diets or Time-Consuming Workouts
This proven "Fit Father Program" has helped 38,000 busy men 40+ lose weight, rebuild muscle, and finally keep the weight off.
If you're frustrated with stubborn belly fat, failed diets, and time-consuming workouts, this is the answer you've been looking for…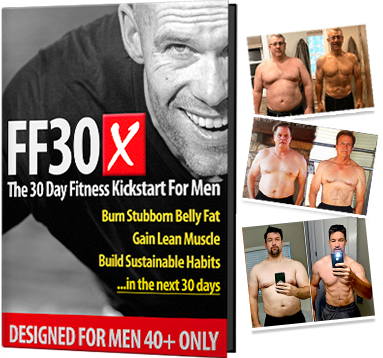 Join 38,000 guys in over 108 countries that are using FF30X to lose weight. You get everything you need to succeed – including:
The Fit Father Meal Plan – with simple & delicious recipes
Safe & Effective Workouts Program – only 90 min/week
VIP Accountability Coaching – our Fit Father Team will personally walk you to success, step-by-step.
LEARN MORE ABOUT FF30X >>
See the FF30X Program overview here. You'll discover how this proven Fit Father Program can help you lose weight and actually keep it off – without the complication and restriction of normal diets. »
*Please know that weight loss results & health changes/improvements vary from individual to individual; you may not achieve similar results. Always consult with your doctor before making health decisions. This is not medical advice – simply very well-researched info on losing weight as a couple and Lee and Amy's story.