S
etting out on a new journey to fitness can be daunting. There is an endless amount of information out there regarding the most popular workout programs. So where do you begin? The truth is, fitness programs are not one size fits all.
Each program is designed with different goals in mind. Certain programs may emphasize strength, where others focus more on cardiovascular training.
Others still may look to improve balance or flexibility.
Time is another component of many popular fitness programs. This includes time for the workouts themselves.
For example, 30 minutes versus 90 minutes to complete each session.
In addition, this includes time to finish the entire program. Many of these plans promise results in a certain number of days.
These things must be kept in mind when looking for a new fitness program.
Fitness programs may also be fully comprehensive, such as FF30X. What I mean by this is that they provide you with exercises, nutrition plans, and community support.
Other programs you may come across may only provide one aspect, such as daily workout routines.
Studies have shown that approaching a diet and exercise plan simultaneously may be more beneficial to maintaining nutrition and fitness goals, compared to working on one of these goals at a time.
Which Plan Is Right for You?
When it comes down to it, the best workout program will be one that you are motivated to start and continue. You need to choose a program that serves your interests, gets you results, and keeps you coming back every day.
Here is a quick breakdown of some of the most popular fitness programs out there today.
Popular Workout Programs
FF30X
The Fit Father Project offers an amazing fitness program for men over 40, called FF30X.
This is a fully comprehensive 30-day program that covers all the key components of an effective fitness plan.
The full-body workouts will target every muscle and get you strong, toned, and feeling like you are in the best shape of your life. Equipment is minimal and can be done with a pair of dumbbells at a gym or in the comfort of your own home.
FF30X also includes a top-notch nutrition plan to follow, along with community support and follow-ups via regular check-ins.
By dedicating 30 days to this program, you will easily lose weight, see strength gains, and experience improvements in your overall health and fitness.
The big difference between FF30X and some of the other fitness programs out there is that it is specifically tailored to men over 40.
Your body changes with age, and what may be effective for someone in their 20's is no longer the best option for older adults.
The FF30X workouts were designed to boost your metabolism and get you on the path to weight loss and fitness in just 30 days.
The Fit Father Project offers you a great 24-minute fat burning workout to try. Simply click the banner below.
Here's A Free 24-Min Fat Burn Workout For Busy Men 40+
This powerful workout will reignite your metabolism to burn fat 24/7 like you did in your 20s…
CrossFit
Unless you've been living under a rock for several years, you have at least heard about CrossFit. CrossFit is not just a fitness program but is touted as more of a lifestyle.
CrossFit is a popular workout program that includes different workouts every day. You will see these abbreviated as "WOD" or Workout of the Day.
While the exercises are at a high intensity, they can be modified to any level of fitness. Anyone can join CrossFit regardless of age or level of fitness.
Functional movements are used to help you avoid injury both when working out and in everyday life.
This makes CrossFit a nice option for older athletes. In addition, there is a very real sense of support within the CrossFit community.
Most CrossFit gyms or "Boxes" offer free introductory classes. Many also offer one on one training, which can be nice if you are just getting back into a workout routine. Here you will learn the correct form and posture for the exercises to avoid injury.
CrossFit is a great option for building strength, cardiovascular fitness, and even flexibility.
A systematic review looking at the benefits and risks of CrossFit found it to be comparable to other high-intensity workout programs in regards to health benefits and risk of injury.
One downside is that CrossFit can be a bit pricey.
However, if you are looking for a group fitness program with great community support, it is definitely something to keep in mind.
P90X
This is a popular workout program offered from BeachBody.
As the title suggests, it is a 90-day workout program centred around 12 intense DVD workouts.
These include strength training, high-intensity plyometric exercises, core strengthening, and stretching/flexibility workouts.
Many of the workouts use bodyweight, but you will also need some dumbbells or resistance bands to complete a number of the strength moves.
A pull-up bar that fits in your doorway is also useful for the back exercises.
If you do not have a pull-up bar, there are modifications that use resistance bands so this is not absolutely necessary.
This program keeps you accountable with monthly calendars and forms to track your progress.
This popular workout program combines strength, cardiovascular fitness, and flexibility training.
All of these things make it a great all-around fitness program that can help you gain muscle strength and shed excess body weight.
Having a goal of 90 days also will keep you motivated to complete the program.
There are different "kits" offered along with the DVDs for these workouts. These include resistance bands, a pull-up bar, and a post-workout supplement.
There is also a nutrition guide included with different phases to help guide you to your weight loss goals and fuel your workouts.
P90X is a complete home workout program that focuses on all muscle groups.
It is definitely more geared toward strength training, although there are a couple of videos that focus on cardio and plyometric training.
It does require equipment for the majority of the workouts. This is important to keep in mind if you are planning on doing these workouts at home.
Insanity
This is another BeachBody program, although with a different approach than P90X. P90X tends to focus more on strength building with a few high-intensity workouts.
The Insanity workouts are all high-intensity interval training exercises that will have your heart pumping and your lungs screaming.
The cardiovascular benefits are apparent immediately in this popular workout program. But there's also a good amount of bodyweight resistance exercises that will build lean muscle and core strength too.
This is a nice program if you are looking for some great cardiovascular HIIT training.
Plus there are a lot of compound resistance movements that will work multiple muscle groups at once with no equipment required. In addition, you will get some great core-strengthening moves.
If you are looking to bulk up your muscles, Insanity is probably not the program for you.
There are no weights used at all in this fitness program.
It is purely bodyweight exercises. But you will still get a great endurance workout and tone up your muscles with this program. It is also a great way to burn calories and lose weight.
High-intensity interval training, like the workouts done in Insanity, is a great way to tone muscles, burn calories, and build cardiovascular fitness.
One 12-week study showed that those who included HIIT based workouts in their training achieved greater improvements in muscle strength, body composition, mobility, and balance when compared to moderate-intensity workouts.
Orangetheory Fitness
Another popular fitness program is Orangetheory Fitness.  This is a studio exercise class that requires a membership.
The workouts are specifically tailored to your individual heart rate zones, so a heart rate monitor is required.
During the high-intensity interval exercises, you target your "orange" heart rate zone, aiming for 12 minutes in this range during the hour-long workout.
The workouts vary, but you typically rotate through intervals on a treadmill, rower, and gym floor exercises.
These workouts are instructor-led by personal trainers.
A large screen above the treadmills displays your name, heart rate, percentage of your max heart rate, calories burned, and "splat points".
These points are based on how many minutes you are in the orange or red zones, which is when your heart rate is up to or over 85 percent of your max heart rate.
This ties into any kind of HIIT training, where these high heart rate zones allow you to continue to burn calories for up to 36 hours after a workout.
If you're looking for an instructor-led course with great community support, this is a great option. The workouts are adjusted to your specific heart rate and current level of fitness.
There is accountability too as you can track your heart rate on the screens in the studio.
However, this does not come cheap.
Drop-in classes and memberships can be rather pricey depending on how many times you go each month. And you have to go at the specific times that classes are offered.
In addition, this is purely an exercise program. There is no dietary guidelines or meal plans included with your membership.
Building Your Own Program
You don't have to start any formal training program to lose weight, improve your health, and gain strength.
The important thing to remember if you are developing your own fitness plan is to include cardio, resistance training, stretching, and balance exercises.
As mentioned above, HIIT training is an efficient way to tone muscles and improve cardiovascular fitness.
You can include a HIIT workout once or twice a week into your own schedule to achieve these benefits.
Weight training and resistance training should also be included at least twice a week. This will allow you to gain strength and increase muscle mass.
In turn, you will have a higher metabolic rate and burn calories more efficiently. Plus, this will help you develop a strong, toned physique.
Flexibility and balance workouts are also essential. Stretching should be included a few times each week as well. Yoga is a great way to improve flexibility and balance.
Many yoga moves also build strength too.
Having flexibility and balance later in life is crucial in being able to perform everyday activities and avoid injury.
However you choose to approach your fitness goals, be sure to include variety and make sure you are emphasizing multiple areas of fitness.
Having big muscles is great, but if you have no cardiovascular endurance, you do not have a well-rounded fitness model.
On the flip side, doing cardio every day is a great way to stay in shape.
However, you need to also include resistance and weight training to maintain and build lean muscle mass in all areas of the body.
Picking The Program For YOU
This is just a small sampling of many different workout programs and fitness trends that are out there today.
I'm sure you've come across a myriad of Challenges, Celebrity Workouts, and 30-Day Fixes.
While many may seem promising, it's important to first determine your goals and motivations. The best program is ultimately one that you'll stick with and that you enjoy.
Fitness programs that encompass not only physical activity, but also include dietary support, nutrition advice, community support, and motivational tips are really going to be your best option.
Health and fitness are multifaceted and requires a comprehensive approach.
It is also important to remember that no matter which program you choose, your fitness goals don't end when that program itself ends.
Fitness and health are about long term lifestyle changes. Many of these programs are a way to jump-start your fitness.
Even when you finish a fitness program, you can take those same workouts and techniques and incorporate them into your weekly workout schedule.
The free meal plans and workouts offered by the Fit Father Project are a great introduction to a new healthier lifestyle.
This can then be followed up with FF30X to really solidify your training and nutrition.
Your new coach and friend,

Here's How Busy Fathers Over 40 Are Finally Burning Stubborn Belly Fat & Getting Healthy Without Restrictive Diets or Time-Consuming Workouts
This proven "Fit Father Program" has helped 25,000 busy men 40+ lose weight, rebuild muscle, and finally keep the weight off.
If you're frustrated with stubborn belly fat, failed diets, and time-consuming workouts, this is the answer you've been looking for…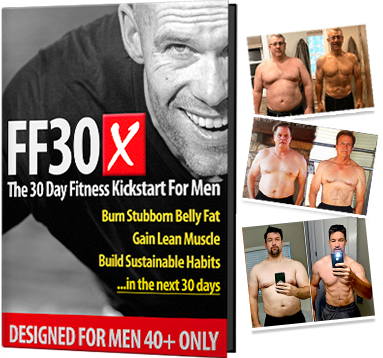 Join 22,000 guys in over 98 countries are using FF30X to lose weight. You get everything you need to succeed – including:
The Fit Father Meal Plan – with simple & delicious recipes
Safe & Effective Workouts Program – only 90 min/week
VIP Accountability Coaching – our Fit Father Team will personally walk you to success, step-by-step.
LEARN MORE ABOUT FF30X >>
See the FF30X Program overview here. You'll discover how this proven Fit Father Program can help you lose weight and actually keep it off – without the complication and restriction of normal diets. »
*Please know that weight loss results & health changes/improvements vary from individual to individual; you may not achieve similar results. Always consult with your doctor before making health decisions. This is not medical advice – simply very well-researched info on the most popular workout programs.