M
ountain climbers are an amazing exercise that combines core stability with metabolism-boosting cardio movement.
They're perfect to include in an alternative cardio session or an abs routine.
Mountain climbers work quite a few secondary and tertiary muscles, like shoulders, quads, and forearms, while also working your obliques, underlying ab muscles (transverse abdominis), and cardiovascular system.
They are such a good overall exercise that they will help you in many sports, especially those that require explosive twisting power, such as golf, tennis, and baseball.
In this tutorial and related video, we'll show you the proper technique of the exercise so you can complete it with confidence and safety.
Completing the exercise properly will mean the best results for you while avoiding the potential of injury.
Learn exactly how to do mountain climbers and when and how to incorporate them into your workout.
Mountain Climbers: A Step-By-Step Guide
Set yourself into a press-up/plank position, with your hands just outside shoulder width apart and a straight line through your head, shoulders, hips, knees, and feet.
Hold your core tight, take a deep breath in, and start driving your knees up towards your chest, alternating legs, as you breathe normally.
Each time you drive your knee up, maintain a straight line through your body, and do not allow your butt to stick up or sag.
Each time you drive your knee up, your toe should remain around an inch from the floor. This will help avoid a jumping motion.
Set a stopwatch for 30-45 seconds and complete the exercise until your time is up. You can do these in sets, or include them in a circuit with other cardio exercises.
Pro Tip: Start by completing the exercise for 30-45 seconds, in sets or circuits.
Here's How Busy Guys 40+ Are Building Age-Defying Muscle And Strength… Working Out Just 3 Hours Per Week...
This proven "Old School Muscle Program For Guys 40+" combines the "old school" bodybuilding secrets with the "new school" science… to produce muscle & strength building results fast.
Only for guys 40+ who want to build muscle.
If you're frustrated with stubborn belly fat, failed diets, and time-consuming workouts, this is the answer you've been looking for…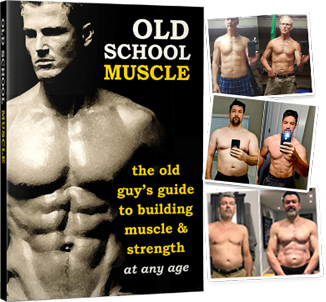 Old School Muscle (OSM) covers every aspect of building muscle for you as a guy 40+:
Old School Muscle (OSM) covers every aspect of building muscle for you as a guy 40+:
The 9-Week Muscle Building Program – safe, joint-friendly exercises
VIP Accountability Coaching – our Fit Father Team will personally walk you to success, step-by-step.
See the Old School Muscle (OSM) Program overview here. You'll discover how this proven program has helped thousands of guys 40+ pack onage-defying muscle and strength – the smart & sustainable way. »
*Please know that weight loss results and health changes/improvements vary from individual to individual; you may not achieve similar results. Always consult with your doctor before making health decisions. This is not medical advice – simply very well-researched info on mountain climbers.