Avoid packing on unwanted holiday pounds this Turkey Day by choosing effective Thanksgiving workouts the day of your feast and all week long!
Doing so is one of the best ways to maintain a lean physique and avoid feeling sluggish this holiday season.
A Thanksgiving workout isn't just beneficial on the day or week of Thanksgiving, as you can incorporate the exercises below into your routine all year long to get or stay ripped!
Remember, it's best not to do a Thanksgiving workout right after a large Thanksgiving feast.
Many people prefer to exercise in the morning or before their Thanksgiving dinner.
After dinner, help clean up the meal, go for walk outside with your family, or do another activity that keeps your body moving.
Then get rolling again on Friday.
Don't let Thanksgiving scare you into thinking that weight gain is inevitable — it's not!
Stay on track all through the holidays with this 30-day December workout plan! 
7-Day Thanksgiving Workout
Consider this 7-day Thanksgiving workout before, during, and after Turkey Day!
Workout 1: Circuit Training
Do each of the exercises in your circuit for a minute.
Then, rest for a minute if needed and complete the following circuit.
Do at least two sets of each circuit in the set.
Add dumbbells or kettlebells if you need extra resistance.
Circuit 1
Mountain climbers
Jump squats
Shoulder-touch planks
Front raises
Circuit 2
Burpees
Sumo squats
Plank jacks
Upright rows
Circuit 3
Rope jumping
Man makers OR squat to press with dumbbells
Plank rows
Lateral raises
Workout 2: HIIT (20-30 minutes), Long Cardio (30-60 minutes), or Weightlifting
Take your pick of workouts on day two, depending on your fitness level, body weight goals, and workout preferences.
Choose weight training exercises, HIIT, longer cardio, or combinations of cardio and strength workouts.
Workout 3: Circuit Training
Do each of the exercises in your circuit for a minute.
Then, rest for a minute if needed and complete the following circuit.
Do at least two sets of each circuit in the set.
Add dumbbells or kettlebells if you need extra resistance.
Circuit 1
Jumping jacks
Jumping lunges
Crunches
Pushups
Circuit 2
High knees
Side lungs
Russian twists
Triceps extensions
Circuit 3
Tuck jumps
Weighted walking lunges
Leg raises
Triceps kickbacks
Workout 4: Rest, Light Cardio, or Yoga
It's your call if you need to take a day of rest, do yoga, or complete light cardio on day four of your Thanksgiving workout week.
Workout 5: Circuit Training
Do each of the exercises in your circuit for a minute.
Then, rest for a minute if needed and complete the following circuit.
Do at least two sets of each circuit in the set.
Add dumbbells or kettlebells if you need extra resistance.
Circuit 1
Box jumps
Deadlifts
Bicycle
Front double biceps curls
Circuit 2
Box step-ups
Bent-over reverse flys
Ab roller exercises
Lateral double biceps curls
Circuit 3
Skaters
Back extensions
Side planks
Alternating biceps curls
Workout 6: HIIT (20-30 minutes), Long Cardio (30-60 minutes), a Turkey Trot, or Weightlifting
Add it to your Thanksgiving workout routine if you'd like to run in a local turkey trot or other race.
If you're not a runner, do other forms of cardio or muscle-toning exercises instead.
Workout 7: Rest, Light Cardio, or Yoga
Choose a lighter workout, yoga, or rest on day seven.
It's important to listen to your body.
Even if you choose to rest, avoid sitting down all day — keep your body moving with activities of daily living!
Muscle-Building Exercises
Use weights you have at home or hit the gym to complete a Thanksgiving muscle-building workout.
You might choose upper-body workouts, lower-body exercises, or full-body weightlifting exercises to train targeted muscles and get your blood pumping.
Examples of muscle-building exercises that work each of the main muscle groups include:
Shoulders
To train your shoulders, try seated or standing shoulder press, incline shoulder press, lateral raises, front raises, bent-over reverse flys, upright rows, seated rows, plank rows, and pike pushups.
Arms
Work your arms by choosing biceps curls with dumbbells, biceps curls with a barbell, hammer curls, incline curls, prone dumbbell curls, triceps extensions, triceps kickbacks, triceps pull-downs, triceps dips, diamond push-ups, skull crushers, reverse curls, and wrist curls.
Back
Train your upper and lower back by doing bent-over dumbbell rows, bent-over reverse flys, lateral pulldowns, seated rows, deadlifts, back extensions, plank rows, wide-grip pullups, pushups, upright rows, kettlebell swings, and good mornings.
Chest
Train your chest by doing wide-grip pushups, narrow-grip push-ups, diamond push-ups, incline pushups, bench presses, incline presses, decline presses, flys, cable crossovers, parallel bar dips, and alternating dumbbell bench presses.
Legs
Don't forget to train your legs regularly by doing squats, jump squats, lunges, leg presses, hamstring curls, leg extensions, calf raises, deadlifts, wall sits, side squats, alternating jumping lungs, walking dumbbell lunges, and box step-ups.
Hips
Strengthen and stretch your hips by using a hip adduction/abduction machine.
You can also incorporate standing lateral leg raises and side-stepping with a resistance band into your weekly routine.
Abs
You can train your abs just about every day if you want to!
Mix and match the following: crunches, planks, sit-ups, weighted sit-ups, lying oblique crunches, standing oblique crunches, side planks, leg raises, leg raises with an exercise ball, the bicycle, and mountain climbers.
Other options include ab roller exercises, hanging knee raises, exercise ball crunches, lying flutter kicks, medicine ball Russian twists, plank jacks, shoulder-touch planks, and V-ups.
You might work on only certain muscle groups during each strength-training routine, combine strength exercises with cardio workouts, or do full-body strength training as part of your Turkey Day workout routine.
Check out the Fit Father Project YouTube Channel to learn how to do the above exercises — and so much more!
Additional Ways to Stay Active on Thanksgiving
In addition to doing fat-burning, muscle-building Thanksgiving workouts, there are other ways to keep active this holiday season and all throughout the year!
Keep your body moving as much as possible by:
Doing yard work
Playing sports
Being active outdoors with your kids
Washing windows
Cleaning the floors
Vacuuming
Walking your dog
Power washing
Hiking
Biking
Grocery shopping
Cooking
Doing dishes
Any activity that keeps your body moving enhances calorie burning and helps you avoid unwelcome holiday weight gain on Thanksgiving — and all year long.
Other Ways to Avoid Holiday Weight Gain
Doing Thanksgiving workouts isn't the only way to avoid holiday weight gain this season.
Get at least 7 hours of sleep regularly, minimize stress, and drink a lot of water throughout the day.
Most importantly, maintaining a healthy diet plan is vital.
Choose nutritious foods, nix high-calorie deserts, and limit or avoid alcohol.
Practice Perfect Plates by filling half of each plate of food with non-starchy vegetables and the other half with fiber-rich starches (sweet potatoes, corn, peas, dried beans, whole grains, etc.), and turkey or other protein-rich foods.
Add heart-healthy fats (olive oil, nuts, seeds, avocados, etc.) to each meal, and don't forget to consume dairy foods or calcium-rich plant-based equivalents three times a day.
Eat your non-starchy vegetables and protein foods first before the higher-carb options to avoid overindulging.
It's usually best to consume frequent meals throughout the day, rather than just two or three larger meals.
That way, you're less likely to get extremely hungry and overindulge during the Thanksgiving feast.
If the holiday season is stressing you out, avoid eating for emotional reasons.
If you find yourself reaching for snacks because you're bored, depressed, anxious, or stressed, go for a walk or do something else you enjoy instead of eating.
Here's How Busy Fathers Over 40 Are Finally Burning Stubborn Belly Fat & Getting Healthy Without Restrictive Diets or Time-Consuming Workouts
This proven "Fit Father Program" has helped 38,000 busy men 40+ lose weight, rebuild muscle, and finally keep the weight off.
If you're frustrated with stubborn belly fat, failed diets, and time-consuming workouts, this is the answer you've been looking for…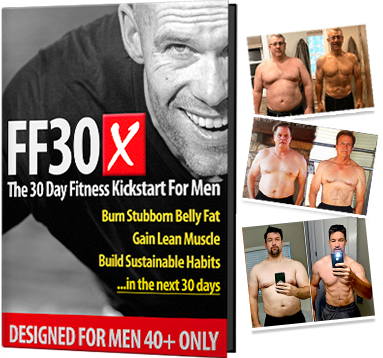 Join 38,000 guys in over 108 countries that are using FF30X to lose weight. You get everything you need to succeed – including:
The Fit Father Meal Plan – with simple & delicious recipes
Safe & Effective Workouts Program – only 90 min/week
VIP Accountability Coaching – our Fit Father Team will personally walk you to success, step-by-step.
LEARN MORE ABOUT FF30X >>
See the FF30X Program overview here. You'll discover how this proven Fit Father Program can help you lose weight and actually keep it off – without the complication and restriction of normal diets. »
*Please know that weight loss results and health changes/improvements vary from individual to individual; you may not achieve similar results. Always consult with your doctor before making health decisions. This is not medical advice – simply very well-researched info on a Thanksgiving workout.