If you're considering fasting for Thanksgiving, knowing more about the pros and cons of this strategy is a must!
When a big Thanksgiving feast looms, you might feel tempted to skip a meal or two to reserve calories for the big event.
But is doing so really a good idea?
Fasting is sometimes beneficial, but is intentionally fasting in order to feast hurting your body and mind?
Read on to learn more about the mental and physical repercussions of fasting to feast for the holidays.
Learn about the benefits of fasting for the body AND the brain!
What is Fasting?
When you fast, you consume no calories, or very few calories in some cases, for a specific period of time.
It's sometimes used as a way to lose weight, avoid weight gain, or cleanse the body.
Different forms of fasting exist.
You might skip just one meal, not eat for an entire day, only eat during specific time periods, or consume certain types of foods (such as soups or juices) along with water during your fast.
But is fasting for Thanksgiving really a good idea? You may want to think twice before trying it.
There are advantages and disadvantages of fasting for Thanksgiving, but the cons often outweigh the pros.
Fasting can help you eat fewer calories, but it may also cause a number of unpleasant side effects.
Examples include physical fatigue, mental fatigue, irritability, and a slowed metabolism.
Furthermore, fasting can make you feel very hungry before the big feast, increasing the chance of you overeating at mealtime or splurging on high-calorie junk foods.
Find out the real truth about intermittent fasting!
Should I Consider Fasting for Thanksgiving?
In addition to fasting for Thanksgiving, there are other, better, ways to avoid weight gain this holiday season.
If you do fast, however, avoid severely restricting your calorie intake.
Some people fast by eating only during certain times of the day (10:00 am to 5:00 pm, for example), which is a better strategy than skipping multiple meals.
Less restrictive fasting, or not fasting at all, helps you avoid severe feelings of hunger, physical and mental fatigue, and splurging during your next meal.
Is intermittent fasting right for YOU? Find out here.
Best Ways to Avoid Holiday Weight Gain
The good news is that you don't have to fast to avoid packing on holiday pounds.
Simply follow a few healthy tips and tricks to control your total calorie intake or burn off excess calories eaten.
Examples of ways to avoid fasting for Thanksgiving include:
Stay Active
Staying active to maximize your calorie expenditure is one of the best ways to fight holiday weight gain this season.
Schedule at least 30 minutes of cardiovascular exercise or other types of workouts most days of the week.
Weight train all of your major muscle groups at least twice weekly to maintain or build muscle and keep your body's metabolism going strong.
Work in at least 45 minutes more of activities of daily living, such as going for a walk, doing yard work, cleaning the house, or playing outside with your kids.
Help prepare Thanksgiving meals or do the dishes afterward to keep your body moving.
Eat Protein and Non-Starchy Vegetables First
One of the best ways to push back against overeating at mealtime is to eat lower-calorie foods before high-calorie options.
Focus on non-starchy vegetables like salad greens, carrots, asparagus, green beans, zucchini, tomatoes, cucumbers, bell peppers, broccoli, cauliflower, onions, and mushrooms.
Eat lean protein foods first too.
Thanksgiving turkey is an excellent high-protein choice, but avoid adding gravy or eating the skin on the turkey.
Meet SuperFuel. The Delicious Protein Shake Packed With 40+ Energy-Boosting Vitamins & Superfoods (Designed For Busy Men)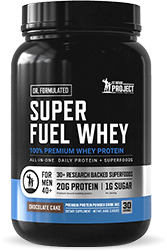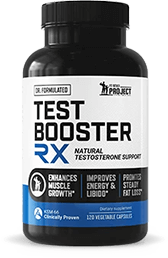 As a busy guy, it's challenging to stay consistent with healthy eating. That's why we created SuperFuel… the delicious "all-in-one" nutrition shake for busy guys 40+ to give your body the protein + key nutrients you need for more energy, fat burning, and muscle building.
Eat Small, Frequent Meals
Rather than fasting and overindulging later in the day, get on a regular meal schedule you can follow daily — not just during the holidays.
Choose smaller, more frequent meals throughout the day rather than just one or two larger meals.
Doing so helps keep your metabolism going strong and reduces your risk of splurging during Thanksgiving and other holiday feasts.
Consume Food Slowly
Whether you've fasted or not, eating food quickly boosts your chance of overeating, as it can take a while for your body's satiety cues to kick in.
Take smaller bites, chew food more, and visit with family or friends during mealtime to help you eat slowly.
Portion Thanksgiving Plates Properly
Even during holiday meals, you can still portion your plate in a healthy way to better control food intake and feel full from fewer calories.
Use the perfect plate method to create your plate this Thanksgiving and every day by doing the following:
Fill half of each plate of food with non-starchy vegetables
Fill one-fourth of your plate with fiber-rich starches (sweet potatoes, corn, peas, dried beans lentils, other legumes, brown rice, quinoa, or other whole grains) AND/OR nutritious fats (olive oil, avocados, nuts, seeds, nut butter, olives, hummus, oil-based salad dressings, etc.)
Fill one-fourth of your plate with healthy protein foods (skinless turkey or chicken, very lean red meat, fish, seafood, eggs, tofu, seitan, etc.)
Using this method is an excellent way to meet your body's nutritional needs, feel full, and avoid overindulging in junk food this holiday season.
You can add to your daily meal plan 2-3 servings of fruits and 3 servings of milk, plant milk, cottage cheese, Greek yogurt, plain kefir, reduced-fat cheese, or other calcium-rich dairy foods.
Learn more about the perfect plate — an easy nutrition strategy that can help you lose weight and eat healthier.
Drink Water Before Thanksgiving Meals
Without fasting for Thanksgiving, you can eat fewer calories and not feel hungry by drinking water before each meal.
Studies show that drinking about 2 1/2 cups of water before meals reduces voluntary food intake in men.
This is the case because water helps fill up your stomach without calories, causing you to feel fuller when you begin eating.
If you struggle to drink enough water, add ice or chunks of fruit to it to enhance palatability.
Limit or Avoid Alcohol
Alcohol might be a part of your holiday tradition, but it adds extra calories that can contribute to holiday weight gain.
Alcohol contributes 7 calories in each gram, vs. 4 calories per gram present in protein and carbohydrates.
Fat contains 9 calories per gram.
Depending on the type of alcoholic drink you choose, some drinks contain up to 500 calories in just a single serving.
If you choose to drink this holiday season, choose lower-calorie alcoholic beverages.
Avoid alcohol entirely if you can to reduce the risk of holiday weight gain, cancer, and other chronic diseases.
Pass on Refined Grains
If you eat high-carb foods this Thanksgiving, choose carbs that are rich in fiber (vegetables, fruits, legumes, nuts, seeds, and whole grains), while passing on the white bread, white rice, white dinner rolls, regular pasta, and other refined grains.
Steer clear of mashed potatoes without the skin that are loaded with butter in favor of baked or roasted sweet potatoes or other nutrient-dense veggies.
Focus on Fiber-Rich Foods
Fiber-rich foods to choose this holiday season are whole plant foods, so add as many of them to your Thanksgiving plate as you can!
Examples include fruits, vegetables, quinoa, brown rice, bulgur, other whole grains, peas, beans, lentils, other legumes, nuts, and seeds. Fresh, minimally processed foods are best!
Pass On Gravy, White Sauces, and Sugary Dressings
Gravy and cream-based sauces or soups often contain animal fats that can pack on extra calories and pounds, as well as increase your risk of high cholesterol.
If you do choose sauces or soups, pick oil-based dressings and broth- or milk-based soups over cream-based soups and sugar-sweetened salad dressings.
Limit or Avoid Sugar-Sweetened Drinks
Soda, sweet tea, lemonade, and sugar-sweetened juices may find their way into many Thanksgiving feasts.
Whether you fast for Thanksgiving or not, avoid sugary drinks whenever possible.
They add empty calories to your meal plan and increase your risk of holiday weight gain. Instead, choose water, unsweetened coffee, unsweetened tea, milk, or 100% fruit juices to quench your thirst.
Steer clear of diet sodas too, many of which contain artificial sweeteners that taste sweet and induce cravings for sweet treats and other unhealthy junk foods.
Meet Burn RX. The Safe & Effective Metabolism Booster To Help You See Faster Results& Feel More Energized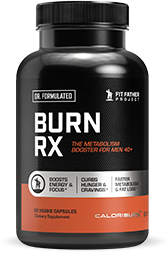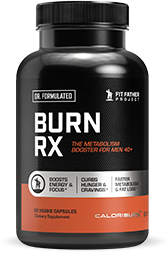 Burn RX is for guys who are working on losing weight and want to see faster and easier results from their eating & exercise efforts. It helps your body burn more fat before, during, and after your workouts, which will improve your body composition while boosting your energy + metabolism.
Bring Healthy Dishes to Pass
If you aren't hosting Thanksgiving this holiday season, bring a healthy dish to pass around at your feast.
Consider bringing vegetables, fresh fruits, or other whole foods you can snack on if you get hungry before the big meal.
You can fill most of your plate up with fresh fruits and veggies to feel full from fewer calories.
Bringing healthy Thanksgiving sides is the best way to ensure you have healthy options — regardless of who prepares the main meal!
If You Do Fast, Fast Mildly
Fasting for Thanksgiving isn't necessary but if you do fast, do so mildly.
Avoid major forms of fasting, such as not eating at all during the day to "save up" your calories for a very large meal.
You might mildly fast by only eating during certain times of the day (10:00 am to 5:00 pm) or replacing breakfast or lunch with a protein shake.
Avoid fasting for long time periods and eating too few calories to meet your body's demands.
Instead, consume smaller, frequent (nutritious) meals every few hours to avoid hunger and keep physical and mental energy levels high.
Skip the Pie
If you're able to skip desserts entirely, do so this holiday season.
If not, choose very small portion sizes or steer clear of higher-calorie desserts like pie.
One slice of pie could contain more than 400 calories, depending on the type of pie you choose.
Pie crust is rich in calories, fat, and carbohydrates, and pie filling often contains added sugar.
If you eat pie for Thanksgiving this season, choose pumpkin pie and avoid eating the crust or adding whipped cream to it.
Use Caution with Cranberry Sauce
Because cranberries are usually tart, many cranberry sauce recipes contain added sugar to enhance flavor.
Because of this, you may want to limit or avoid cranberry sauces with unknown ingredients this Thanksgiving holiday.
Inquire About Meal Times
Plan ahead this Thanksgiving holiday by finding out about meal times and making plans accordingly.
Don't arrive at a Thanksgiving feast very hungry or too full.
Have healthy foods on hand to snack on, such as fresh fruits and vegetables, nuts, seeds, or low-sugar protein shakes or bars, so you don't go too long without eating.
Join the Fit Father Project
Becoming a member of the Fit Father Project, which is a healthy living program designed for busy dads over 40, is one of the best ways to achieve or maintain a healthy weight for life.
The program offers motivational support from other fit dads, online health coaching with medical experts, custom meal plans and menus, fat-burning workouts, recipes, weekly newsletters, and much more!
The Fit Father Project offers advice about avoiding holiday weight gain, taking dietary supplements to stay healthy, and sticking with healthy habits long-term.
Here's How Busy Fathers Over 40 Are Finally Burning Stubborn Belly Fat & Getting Healthy Without Restrictive Diets or Time-Consuming Workouts
This proven "Fit Father Program" has helped 38,000 busy men 40+ lose weight, rebuild muscle, and finally keep the weight off.
If you're frustrated with stubborn belly fat, failed diets, and time-consuming workouts, this is the answer you've been looking for…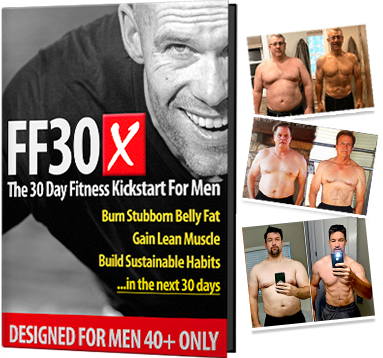 Join 38,000 guys in over 108 countries that are using FF30X to lose weight. You get everything you need to succeed – including:
The Fit Father Meal Plan – with simple & delicious recipes
Safe & Effective Workouts Program – only 90 min/week
VIP Accountability Coaching – our Fit Father Team will personally walk you to success, step-by-step.
LEARN MORE ABOUT FF30X >>
See the FF30X Program overview here. You'll discover how this proven Fit Father Program can help you lose weight and actually keep it off – without the complication and restriction of normal diets. »
*Please know that weight loss results and health changes/improvements vary from individual to individual; you may not achieve similar results. Always consult with your doctor before making health decisions. This is not medical advice – simply very well-researched info on fasting for Thanksgiving.