Strong back muscles are beneficial in numerous ways. Unfortunately, these are some of the most commonly neglected muscles. Strengthening your back muscles helps with posture, prevents injury, and eases the load on daily activities.
Also called the inverted row, the TRX row works great for strengthening the back, upper body, and core. The TRX version is an adaptation of traditional inverted rows, but uses a suspension training system instead of a bar.
Use a dip station or secured barbell on a squat rack if you don't have access to a suspension system. Some gyms have gymnastic rings, which also work very well.
TRX Rows Step by Step Instructions
Step 1: Anchor the suspension system and adjust the straps to hang just below the knee.
Step 2: Grab both handles and make sure they are even.
Step 3: Extend your arms and lean back keeping your spine neutral and walk forward.
Step 4: Pull yourself up so that the handles touch your body.
** Pro Tip #1:  Keep your body in a straight line throughout the entire exercise.
** Pro Tip #2: Squeeze handles firmly throughout the entire lift.
** Pro Tip #3: Go lower to increase the resistance.

Your new friend & health coach,
Stuart Carter
Head Training Staff, The Fit Father Project
Brotherhood Nickname: "The Fit Brit"
Bragging Rights: 16 Years in the fitness industry, Author of 'The Easy Fitness Guide', Father of 4 boys and Husband to a Venezuelan beauty.
If you're interested in a proven and completely laid out "done-for-you" weight loss meal plan & workout routine – designed for you as a busy man…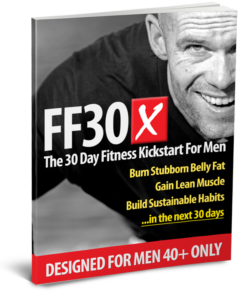 I'd recommend you read the program overview letter for our Fit Father 30-Day Program (FF30X). Inside FF30X, you'll receive:
The simple & delicious Fit Father Meal Plan
The metabolism boosting Fit Father 30X Workout (under 90 min/week)
VIP email coaching where I'll personally walk you through the program
Read the FF30X Program overview letter here to see how our plan can help you lose weight – without the complication & restriction of normal diets.
*Please know that weight loss results & health changes/improvements vary from individual to individual; you may not achieve similar results. Always consult with your doctor before making health decisions. This is not medical advice – simply very well-researched info on the TRX Row.