Not all exercises are created equal. But the worst exercise for you, may not be the worst exercise for other men.
A
s men over 40, we know that our bodies don't feel the same as they did 20 years ago. There are new aches, pains and dietary needs.
In short, our limitations are different than when we were in our 20s. But there is one thing that improves as we age: our wisdom! 
Just as you want to know the best workouts for men over 40, you should also build up your wisdom against the WORST exercises for men over 40.
We've identified the absolute worst exercises for men over 40 here for you. They're a collection of useless routines and moves that are brutal on our bodies.
Some of the moves may surprise you, and you may need to change up your routine, but your body will thank you!
FREE

24-min Fat Burning Workout
All you need is 24 minutes + 10 feet floor space + 1 pair dumbbells
Get yourself back into great shape - at any age the Fit Father way.
The Science Behind Our Changing Bodies
Let's make sure that we're all on the same page when it comes to the fact that as men, our bodies change significantly as we age.
W
hile most of us know this to be true, fewer can actually identify the scientific reasons why this happens.
Allow us to go Bill Nye on you for a moment and give you some details.
Most men's metabolisms actually start slowing after age 25 – yep, that early. Metabolisms continue to decrease about 2 – 4 % per year. We looked into this issue in depth and identified ways you can target your metabolism here.
But it's not just your metabolism – men's hormones also change as we age.
As we've seen, testosterone levels drop about 1% lower every year after you turn 30.
In this article specifically, we'll talk about how doing the wrong types of workouts can actually slow your metabolism and lower your testosterone levels, while the right workouts can help speed it up again.
Worst Workouts Over 40
It's just as important to know what not to do as it is knowing what you should do.
As we take you through the absolute worst workouts for men over 40, keep in mind that some of these could be completely contrary to what you thought.
And even if you've been using some of these exercises as a staple in your routines, don't fret. We will provide you alternative ways to stay lean and strong without any of the harmful exercises.
Let's dive in.
Long Cardio Routines
First thing's first: cardio is a favorite of many who enjoy working out outdoors and believing it keeps them lean.
F
or some, cardio can be a stress reliever and go-to exercise. For those of us over 40, it could also be a huge time waster.
Longform cardio, like extended runs, can trigger the stress hormone cortisol in your body. This can actually make you gain weight.
Hard-hitting cardio – like jumping jacks – can strain your joints. From knee to hip flexors, you could inflict harm on yourself.
Cardio Replacements: Opt for shorter bouts of cardio that integrate breaks (like HIIT classes) or are gentle on the joints (like swimming).
Lower Back Dangers
Tweaking your back is one of the most common injuries for men and women. As bad as it feels, it's even worse that many popular exercises can cause this pain as well.
S
it-ups and crunches are some of the most popular core exercises. Unfortunately, sit-ups and crunches can strain your lower back unless you keep a completely straight back.
In a hovering leg lift, you would lower both of your straightened legs to the floor while tensing your abs. Similar to crunches, the hovering leg lift can damage your back if your muscles aren't already strong and your technique isn't perfect.
Sit-up and Leg Lift Replacement: Try planking instead.
Deadlifts help tone hamstrings, glutes and your lower back. But as great as they are, form can be difficult to perfect. As time goes on, perfect deadlift form is even more elusive and can lead you to injure your lower back.
Deadlift Replacement: Try bent over rows instead.
Not the Knees
Knees are another common injury, at any age. The amount of pressure and stress that our knee joints take over the year is astounding.
B
ut as you age, it becomes very important to protect these precious joints.
Squats are a popular exercise to tone your glutes and legs. However, weighted squats can put even more stress on your joints.
Similarly, leg extensions with heavy weights can endanger your knee ligaments and your ankles.
Squats and Leg Extension Replacement: If squats hurt your knees, try lunges and step ups instead.
Work for YOUR Body
While we just ran through a list of "no-nos," know that there are many workouts that are perfect for your body at every age.
Check out our list of the 20 BEST exercises for men over 40.
We'll take you through the 5 best exercises for men over 40 in the categories of weights, bodyweight, dynamic cardio and core.
But wait.. there's more!
FREE

24-min Fat Burning Workout
All you need is 24 minutes + 10 feet floor space + 1 pair dumbbells
Get yourself back into great shape - at any age the Fit Father way.
Our 24-minute metabolism workout is an excellent complement to our over 40 exercise list.
Using both of these, you'll be able to maximize your time in the gym and minimize any down time from injuries.
Dr. Anthony Balduzzi Founder, The Fit Father Project
Brotherhood Nickname: "Mr. Results"
Bragging Rights: Has helped over 10,000 fathers lose over 75,000lbs and rebuild lean muscle
P.S. If you haven't seen my FREE 1-Day Meal Plan for Men over 40, I highly recommend you click here to get a free copy sent directly to your email. Remember: nutrition is a core foundation of weight loss for men over 40.
If you're interested in a proven and completely laid out "done-for-you" weight loss meal plan & workout routine – designed for you as a busy man…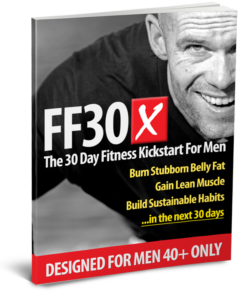 I'd recommend you read the program overview letter for our Fit Father 30-Day Program (FF30X).
Inside FF30X, you'll receive:
The simple & delicious Fit Father Meal Plan
The metabolism boosting Fit Father 30X Workout (under 90 min/week)
VIP email coaching where I'll personally walk you through the program
Read the FF30X Program overview letter here to see how our plan can help you lose weight – without the complication & restriction of normal diets.
*Please know that weight loss results & health changes/improvements vary from individual to individual; you may not achieve similar results. Always consult with your doctor before making health decisions. This is not medical advice – simply very well-researched info on the worst exercises for men.