T
he holiday season is one of the best times of the whole year. You visit with family, have time off of work, and reflect on what makes you truly happy. We want to help you enjoy it as healthy as possible!
But with the merriment comes all kinds of temptations for those on strict diets.
It can seem impossible to resist the seasonal candy, cookies, and endless streams of food!
Some of us have probably sulked around the kitchen just smelling the food we "can't eat."
Maybe we've bargained with ourselves that we can have those marshmallow yams if we go on a run the next day.
But what if I told you there was a way to have a completely guilt-free Thanksgiving?
Our healthy Thanksgiving recipes provide even portions and nutritious ingredients that can help even the strictest dieters stay on track.
It's time to enjoy EVERY part of the Thanksgiving season.
Healthy Thanksgiving Recipes: Start with a Salad
Ah, salads. Us dieters are very familiar with you.
Salads are a great way to begin a feast. You can fill up your stomach with healthy fruits and vegetables to prevent you from over-stuffing yourself on less healthy parts of the meal.
This apple salad with figs and almonds from Mayo Clinic is a seasonal treat.
With only 6 ingredients, you know exactly what you're putting into your body.
Ingredients you'll need:
2 large red apples, cored and diced
6 dried figs, chopped
2 ribs of celery, diced
1/2 cup fat-free lemon yogurt
2 tablespoons slivered almonds
2 carrots, peeled and grated
Visit Mayo Clinic's apple salad with figs and almonds recipe for more directions.
By the way, this delicious salad is only 89 calories.

FREE 1-Day Weight Loss Meal Plan For Men 40+
Lose weight. Eat like a man. Enjoy your life. Over 55,000 men are using this.
Get yourself back into great shape - at any age the Fit Father way.
Healthy Thanksgiving Recipes: Mashed Potatoes
Mashed potatoes are a side dish that no one wants to eliminate from their plate.
Luckily, there is a way to make mashed potatoes as healthy as they are delicious!
The secret ingredient is cauliflower.
Mayo Clinic's cauliflower mashed "potatoes" are a real winner at only 67 calories per serving.
Ingredients you'll need:
1 head cauliflower
Single clove of garlic
1 leek, white only, split in 4 pieces
1 tablespoon soft-tub margarine, nonhydrogenated
Pepper to taste
Delicious AND nutritious.
See the full instructions here.
Healthy Thanksgiving Recipes: Turkey Time
Thanksgiving is not complete without a delicious turkey.
Thankfully, there are healthier ways to dress your bird this year than the usual caloric stuffing.
Try Mayo Clinic's herb-rubbed turkey au jus.
Ingredients for the rub:
2 teaspoons dried sage
1 tablespoon dried thyme
2 tablespoons chopped fresh parsley
1 whole turkey (about 15 pounds), thawed
1 tablespoon olive oil
1/2 cup water
Ingredients for the au jus:
2 teaspoons dried sage
1 tablespoon dried thyme
2 tablespoons chopped fresh parsley
2 tablespoons honey
1/2 cup apple juice
1 cup defatted pan drippings
Visit Mayo Clinic's full recipe for the herb-rubbed turkey and au jus for baking instructions.
Healthy Thanksgiving Recipes: Leaner Gravy
For those of you who like your turkeys the traditional way, there is a solution to your heavy gravy.
Mayo Clinic's low-fat turkey gravy is a great way to satisfy your craving.
4 cups (32 fluid ounces) unsalted turkey stock, divided
2 tablespoons fresh sage, remove from stem and finely chop
2 tablespoons fresh thyme, remove from stem and finely chop
1 cup (8 fluid ounces) skim milk
1/4 cup cornstarch
Check out the rest of Mayo Clinic's gravy recipe for directions.
Healthy Thanksgiving Recipes: End with Dessert
That's right, fellas! You get dessert this year.
Holiday desserts are perhaps the most enjoyable part of dinner. You get to open up your "dessert stomach" and just have a great time with your family.
This apple-cranberry tart recipe from Mayo Clinic only has 197 calories.
Ingredients you'll need:
1/2 cup dried cranberries
1/4 cup apple juice
2 tablespoons cornstarch
4 large tart apples, cored, peeled and sliced
1 teaspoon vanilla extract
1/4 teaspoon ground cinnamon
For the crust:
1 1/4 cups whole-wheat (whole-meal) flour
2 teaspoons sugar
3 tablespoons trans-free margarine
1/4 cup ice water
Visit Mayo Clinic's apple-cranberry tart recipe for baking instructions.
The Recipe for Happiness
As you eat this healthy Thanksgiving feast, think about the fact that the healthy food you're eating today is what's keeping you around for next year's holiday season.
Don't take for granted your ability to choose– a nutritious diet, a healthy exercise plan, and the life you lead.
While we outlined our favorites of Mayo Clinic's healthy Thanksgiving recipes, they have a whole list to choose from.
Invite your whole family to help you plan a healthy Thanksgiving.
There are few lessons that are more important to teach than a healthy lifestyle.
As you talk about everything you're thankful for with your family, consider making some goals with them too.
Our guide to committing to your goals can help your family conquer plans for the new year together, stronger than ever.
Your friend in sustained health,
Dr. Anthony Balduzzi
Founder, The Fit Father Project
Brotherhood Nickname: "Mr. Results"
Bragging Rights: Has helped over 35,000 fathers lose fat, build muscle, & get healthy for their families
P.S. If you haven't seen my FREE 1-Day Meal Plan for Men over 40, I highly recommend you click here to get a free copy sent directly to your email. Remember: nutrition is a core foundation of weight loss for men over 40.
If you're interested in a proven and completely laid out "done-for-you" weight loss meal plan & workout routine – designed for you as a busy man…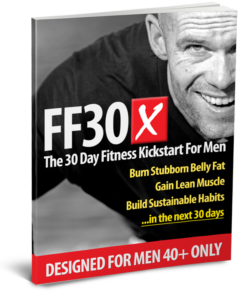 I'd recommend you read the program overview letter for our Fit Father 30-Day Program (FF30X).

Inside FF30X, you'll receive:
The simple & delicious Fit Father Meal Plan
The metabolism boosting Fit Father 30X Workout (under 90 min/week)
VIP email coaching where I'll personally walk you through the program

Read the FF30X Program overview letter here to see how our plan can help you lose weight – without the complication & restriction of normal diets.
Small note about research cited in this article:
*Always remember: weight loss results & health changes/improvements vary from individual to individual. Just because these studies cite certain data does not mean you will experience these results. Always consult with your doctor before making decisions about your health. This is not medical advice – simply very well-researched healthy Thanksgiving recipes.