H
oliday edition of eat this instead of that is here!
The holidays carry a special place in most everyone's hearts.
From family traditions to gifts and food, everyone has something to celebrate.
But when you're on a diet, it can be harder for you to participate fully in the holiday season.
It seems that everywhere you turn, something is tempting you away from your low-calorie pursuits.
That's why we've put together a list of healthy holiday foods that will help you cut cravings and eat the food you want!
Healthy Holiday Foods: Sour Cream Swap
So many holiday sides– like mashed potatoes– require sour cream as an ingredient.
Rather than letting your potatoes taste flat, swap sour cream for Greek yogurt!
Greek yogurt is a healthier alternative that has less lactose and more protein than heavy sour cream.
Greek yogurt also contains healthy bacteria called probiotics that can keep your gut healthy, along with a healthy amount of calcium.
This simple switch will not only provide you more nutrients but also give you the same tangy taste that sour cream is used for.
Healthy Holiday Foods: Ditch the Mashed Potatoes
Mashed potatoes are a side dish that no one wants to do away with.
Whether you have them with cheese, gravy, or garlic, they are essential to so many holiday meals.
But as much as we love potatoes, we can't ignore the fact that there are few nutrients in this basic starch.
If you're looking for a lower-calorie alternative, look no further than cauliflower mash!
Made with your favorite spices, this side dish can taste very similar to its higher calorie counterpart.
Try this recipe for cauliflower mash— it nets out at 61 calories per serving.

Healthy Holiday Foods: Green Bean Casserole
The green bean casserole is a crunchy, creamy side dish that can be hard to pass up.
The cream of mushroom soup and fried onions keep us heaping on seconds.
But the problem is that just one serving is 142 calories.
Luckily, there is another green veggie that can pack flavor and variety at your dinner table.
Roasted Brussels sprouts are a new option to bring a simple but bold flavor.
Try this recipe— each serving is only 41 calories. That's worthy of a second helping!
Healthy Holiday Foods: Dessert Solutions
There's no way we could leave out desserts on this list.
While feasts are a big part of the holidays, desserts might be an even bigger tradition.
Take pumpkin pie, for instance.
This seasonal flavor is a huge favorite– but it's also a huge indulgence!
From the filling to the whipped cream, one slice of pumpkin pie can set you back considerably if you're trying to stay trim.
Say hello to pumpkin pie protein cookies.
With a recipe that can get you down to 78 calories per serving, you better be running to the store for some pumpkin puree.
Healthy Holidays, Healthy Year
For those of you on a diet, the holidays really are a challenging time to conquer.
But the good news is, if you are able to forgo unhealthy foods and sub in healthier ones, you will be putting yourself on track for a healthy new year.
It's the challenging times that really tell us who we are.
It might not seem "that important" to refuse a second serving or to walk away from holiday cookies.
But as we say here at the Fit Father Project: you can't out-exercise a bad diet.
Diet is really the number 1 hurdle that men face to staying fit.
And because we know that the holidays are really about our families, children and our legacies, keep in mind that a healthy you means a healthy life for them.
Your friend in health,
Dr. Anthony Balduzzi
Founder, The Fit Father Project
Brotherhood Nickname: "Mr. Results"
Bragging Rights: Has helped over 35,000 fathers lose fat, build muscle, & get healthy for their families
P.S. If you haven't seen my FREE 1-Day Meal Plan for Men over 40, I highly recommend you click here to get a free copy sent directly to your email. Remember: nutrition is a core foundation of weight loss for men over 40.
If you're interested in a proven and completely laid out "done-for-you" weight loss meal plan & workout routine – designed for you as a busy man…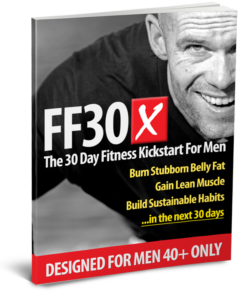 I'd recommend you read the program overview letter for our Fit Father 30-Day Program (FF30X).
Inside FF30X, you'll receive:
The simple & delicious Fit Father Meal Plan
The metabolism boosting Fit Father 30X Workout (under 90 min/week)
VIP email coaching where I'll personally walk you through the program
Read the FF30X Program overview letter here to see how our plan can help you lose weight – without the complication & restriction of normal diets.
A small note about research cited in this article:
*Always remember: weight loss results & health changes/improvements vary from individual to individual. Just because these studies cite certain data does not mean you will experience these results. Always consult with your doctor before making decisions about your health. This is not medical advice – simply very well-researched info into healthy holiday foods.