T
ake a look on the web for the
best ways to celebrate Father's Day
, and you'll see a host of suggestions.
Many of them are as exciting as a pair of socks, a new tie, or a coffee maker!
Really? Is that what you would want to receive? It might not be very manly. But if you're anything like me, then what really counts is quality time.
Let's face it; life is hectic. You spend most of your time fixing things, working, looking after the children, and if you can squeeze it in, a short workout.
Father's Day is a chance to step back and spend time with your children and your own dad. That's why you should be looking at one of these ideas for the best ways to celebrate Father's Day.
Multi-Generational Gathering
Father's Day is a good time of the year. You can't guarantee the weather, but there is a good chance it will be dry, if not hot and sunny.
That's the perfect time for a picnic! It doesn't matter how old the family is, get everyone together at one of your favorite family places. Just bring some food, drink, and a frisbee!
There is no agenda; the gift is simply time. One of the best ways to celebrate Father's Day is to create new memories, and this will do just that.
Go Wild
If money is less of an issue, and your dad has always wanted to fly a plane, jump out of one, or race go-karts, then now is the time.
Find a place near you that offers the service you need and book your dad in. Ideally, you should join him. You'll certainly never forget this bonding moment.
Start A New Regime
Take a leaf out of the Fit Father's and get active with your dad. Sign up with FF30X for hundreds of ideas regarding how to get going with a new fitness plan.
Then commit to starting it on Father's Day with your dad. Getting in better shape together will keep you motivated, create a bonding experience, and keep your dad around for longer.
If you're not quite ready to be this active, commit to starting after Father's Day and cook him a healthy meal. Again, get all the family involved to make it a really memorable occasion.
The bonus is your dad will realize it's possible to enjoy healthy food!

Make Him A Kid Again
Do you remember those carefree childhood days? I certainly do. My children demonstrate it all the time. A complete lack of awareness of anything other than what they want to do.
Believe it or not, you and your dad could do with a day just like that. Raid your children's cupboards or pick up a few toys, such as remote control cars and helicopters.
Then spend the day playing. Your dad may be reluctant at first, but he'll soon get into the swing of it!
Paintballing
There aren't many things that get the blood pumping as much as hiding in the trees, dodging paintballs, and trying to get the enemy's flag.
Providing your dad is still mobile enough, show him the time of his life by signing up for paintballing.
You might just get hooked!
If your dad is less mobile or adverse to paintballs, or you have younger children, then you can always try laser tag. All the fun, just not as painful!
Photo Session
I've already said it, bonding and creating memories are really the best ways to celebrate Father's Day.
That's why booking a family photo session can be a great idea. You can always take him (or let him take you) for a nice meal afterward.
It could even become a tradition!
The Old Coupon Book
This is a time-honored way of avoiding the expense of a present while showing your dad you do appreciate him.
Try to make each voucher or coupon something that your dad would enjoy doing with you. Then he can cash them in whenever he wants.
Enjoy A Film Day
Give your dad a day off and let him have the remote control. This is particularly relevant if you have young children.
For one day make, sure that he doesn't have to do anything!
It doesn't have to be his favorite films back to back. You could play some games or just have old fashioned family time. Board games or computer games are fine as long as everyone can join in.
Go to the Game
If your dad is a sports fan, then what better way to celebrate Father's Day than to take him to a game?
Even better if his favorite team is actually playing!
Just make sure he doesn't have to pay for anything on the day.
Write A Poem
It can be difficult to express the emotions you feel for your dad, especially face to face.
But you don't need to, and you don't need to be a wordsmith to create a beautiful poem. You just need to write from the heart.
You can read the poem or simply give it to your dad. But whichever you do, you can be sure your dad will treasure it forever.
The Party
What could be better than inviting your friends and their families over for a party or even a barbeque?
The children can play together, giving dad much needed adult time. This is an excellent way for your dad to feel really special while having a great night!
Join Us
You can always join us at the FF30X for inspiration regarding losing weight, building muscle, eating healthier, or simply the best Father's Day gift ideas.
In fact, create a membership for your dad. It will give him the support he needs and deserves no matter what he wants to achieve. He'll always have you to thank for that.

Summing Up The Best Ways To Celebrate Father's Day
Time is the greatest gift of all. Simply creating memories and bonding will probably make your father much happier than any expensive gift. Of course, he's not going to say no to the drone or the new 50-inch television!
But, most importantly, you need to put some thought into your gift. It doesn't matter if you have one dad or a dad and a stepdad, or any other family situation. Providing you think about the best way to spend time with your dad, you are guaranteed to give him a Father's Day to remember for the right reasons!
Your new friend & health coach,
Stuart Carter
Head Training Staff, The Fit Father Project
Brotherhood Nickname: "The Fit Brit"
Bragging Rights: 16 Years in the fitness industry, Author of 'The Easy Fitness Guide', Father of 4 boys and Husband to a Venezuelan beauty.
If you're interested in a proven and completely laid out "done-for-you" weight loss meal plan & workout routine – designed for you as a busy man…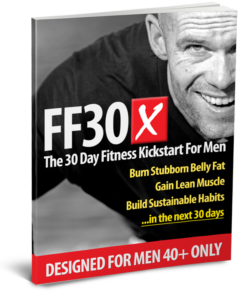 I'd recommend you read the program overview letter for our Fit Father 30-Day Program (FF30X). Inside FF30X, you'll receive:
The simple & delicious Fit Father Meal Plan
The metabolism boosting Fit Father 30X Workout (under 90 min/week)
VIP email coaching where I'll personally walk you through the program
Read the FF30X Program overview letter here to see how our plan can help you lose weight – without the complication & restriction of normal diets.
*Please know that weight loss results & health changes/improvements vary from individual to individual; you may not achieve similar results. Always consult with your doctor before making health decisions. This is not medical advice – simply very well-researched info on the best ways to celebrate Father's Day.